We took on the task of collecting the 14 best Android Auto apps that you have to install if you want to have a complete experience while driving on the road.
Among the Google- owned operating systems, aside from Chrome OS and Android, is Android Auto, which has added important new features and functions in recent months.
It is an advanced software platform that allows users to connect their mobile phones to the screen of the car's entertainment.
A technology that competes with other systems, such as Apple CarPlay, which allows access to a variety of applications and services on your Android mobile, easily and simply.
You have the opportunity to make and receive calls, send and receive text messages, play music from streaming platforms, such as Spotify or YouTube Music, use navigation apps, among other things from the car.
There are a lot of free apps available on Android Auto right now, so it can be quite overwhelming to choose the right apps from the thousands inside Google Play. 
After the jump, you will find a list with the best apps available for the platform. Each and every one of them is free to download, and they will be essential to have a pleasant user experience while driving. 
Google Maps
If you have a car with Android Auto, Google Maps is one of the essential apps, you must have it installed at all costs. When you are going to drive and you want to get to a place avoiding the city traffic, this application is your solution and ideal companion. 
From the car screen you must press the voice search button, say the name or the destination address, and in a matter of seconds the system will show the most relevant details, and the shortcuts that will save you travel time.
In the same way, the app notifies you of traffic in real time, bumpy roads, gas stations, nearby restaurants, and a lot of ideal information that will be very helpful while driving.
Messenger
Instant messaging apps are ideal for engaging in communication while driving. In Android Auto it gives you the opportunity to install Facebook Messenger to chat with your friends or family.
You can send messages through voice commands and you can also listen to them being read on the speaker from the car speakers.
The hands-free function is of great help, since while you are driving, you can listen to all incoming messages, this ensures that you keep your attention on the road and protects you from having an accident. 
Scanner Radio
The Scanner Radio application is free on the Play Store, and its function is to be able to listen to live broadcasts from more than 7,000 fire and police departments, as well as NOAA weather radio stations and radios from around the world.
All the audio you hear in this app comes from volunteers, police and fire departments for Broadcastify.
While you drive you can receive alerts for hurricanes, accidents and you can listen to emergency broadcasts from your city to detect problems that block the roads. Also, it can send you a notification when a radio has passed 2000 listeners.
Autovaras: The car assistant 
Autovaras: The Car assistant is an app for Android Auto that reminds you of the expiration dates of the periodic inspection of the car, as well as the circulation tax, the insurance and the driver's license.
You just have to pay attention to the visual suggestions that the app shows, and most important of all, the information is displayed directly on the car's screen.
It can be a simple application, but quite functional, especially since it shows the rates and due dates to renew the license or pay the auto insurance, etc.
Spotify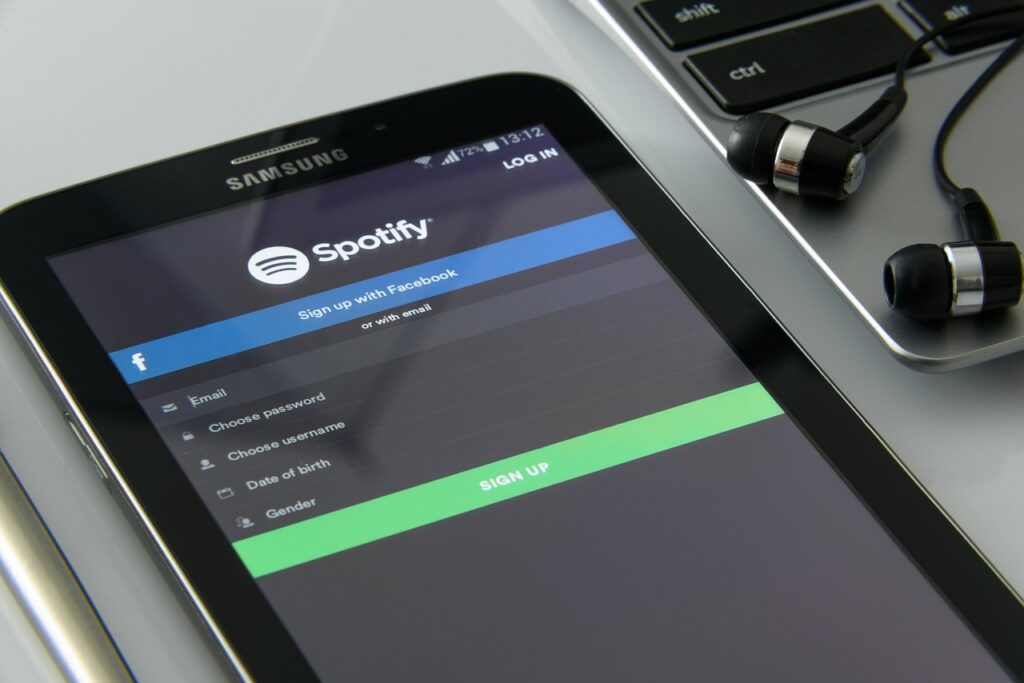 With Spotify you will have a fun, joyful trip and you will stay well informed thanks to podcasts. This app is by far the best app as it provides a vast music library and offline music. 
To avoid distractions while driving, the application is compatible with Google voice commands, so you only have to invoke the Google assistant and ask it to play the desired song or a specific playlist. 
The good news is that you don't need Spotify Premium to use the app on Android Auto, however, from time to time you will be skipped by ads, but they can be easily skipped. 
Telegram
Telegram is another of the apps available for Android Auto. Like Facebook Messenger, with this application you can send and receive messages quickly, easily and functionally. 
It comes with support for Google Assistant, this means you can compose messages via voice commands while driving. In summary, it is one of the best apps that integrates perfectly with the platform. 
Audible
One of the most complete apps that should not be missing from your phone if you have Android Auto is Audible. It is ideal for all audiobook fans, you can easily access your library directly from the car's operating system. 
In addition to offering a large selection of audiobooks, the app also allows you to purchase audiobooks along with eBooks from the Amazon store. 
Additionally, Audible has important features that allow you to pick up where you left off listening and pick up parts you missed. Overall, the app is a great option if you want to enjoy audiobooks while driving.
Waze Navigation and Traffic
We arrive with another of the most important map applications for Android Auto, Waze. If you have a car with this platform, it is essential that you install this app. 
Unlike Google Maps, Waze Navigation & Traffic uses community collaboration to provide real-time information about delays and accidents on the road. In this way drivers can make more efficient decisions in real time. 
It is important to mention that, although it does not support offline operation, the app provides real-time traffic accurately and integrates well with Android phones , but especially Android Auto.
Undoubtedly, Waze is an excellent option for those who want a navigation application that perfectly adapts to driving needs and preferences.
Pocket Cats
One of the most interesting and complete podcast apps for Android Auto is undoubtedly Pocket Casts, which, as the name suggests, is a dedicated podcast service with an intuitive user interface.
Among its functions, the queue playback that facilitates the configuration of a list to listen to the favorite programs stands out. As expected, it seamlessly integrates with the cars system as well as Google Assistant, allowing hands-free control of the app while driving .
Pocket Casts is perfect for those looking for a complete podcast app for long road trips.
TomTom Go Navigation
TomTom Go Navigation is one of the oldest navigation apps in the industry, it has been with us for several years, so over time it has been improving its functions and features to offer a complete user experience.
It offers offline maps, real-time traffic alerts, and turn-by-turn navigation instructions. It should be noted that the app is the full version of TomTom, so it has a paid version, but it offers a free trial for 30 days where you can experience all its news. 
Poweramp
While there are plenty of music player apps out there, Poweramp is one of the best of its kind. It is a powerful music player for Android, offering a clear audio experience and compatible with a wide variety of formats, including FLAC.
The most attractive thing is its graphic equalizer of more than 10 bands and it comes with support for Android Auto. The application is offered as a full trial version for 15 days, this means that it is paid. 
To unlock the full version you must pay 5.49 dollars on Google Play and you will have access to support for high-resolution audio, 64-bit internal processing, configurable output options, dithering options, among many other features. 
TuneIn Radio
If you love listening to the radio while driving, TuneIn is for you. It is an all-in-one app that offers access to more than 100,000 AM, FM and Internet radio stations for free.
It has news stations, live sports, music of different genres, and you can even listen to popular podcasts as well. As expected, it is compatible with Android Auto.
You have a large number of radio stations at your disposal, even the selection of stations is much better than what most car radios offer, which makes listening to music while driving a pleasant experience. 
Podcast and Radio addict
Podcast & Radio Addict is a Swiss Army knife as it allows you to manage podcasts, internet radio, audiobooks, YouTube channels and RSS news feeds from a single application.
In addition, the user interface offers the ability to customize the location of the buttons on the screen to facilitate navigation while driving.
The application offers access to many popular podcasts, although it contains ads that can be removed through a subscription, but this already depends on the needs of each user.  
Player for Rainwave
This is a powerful music player, but with a different use than the others available on Google Play. Player for Rainwave is focused on video game music, with built-in Android Auto support.
The app is free and backed by user contributions, offers frequent updates, and you can rate songs and bookmark your favorites to further personalize the experience. 
This article presents a list of the best free apps for Android Auto, which we believe are the best for this platform today. Each of them will offer you a unique experience while driving. 
The applications cover a wide variety of needs and preferences. We are sure that with these options you will find the right app, whether you want to find a specific address, Google Maps, Waze or TomTom Go Navigation are the best alternatives.