If you want to start editing video on your smartphone and you never know which app to use, you've come to the right place: these are 10 free video editing apps that we recommend here.
There are several reasons why someone might want to use a video editing app on their smartphone. Convenience first: We all carry our smartphones with us at all times, so having the ability to edit videos anytime, anywhere is helpful.
Then there is the ease of use. Many smartphone video editing apps are very intuitive and easy to use. We don't have to be video editing experts to be able to create a quality video with a decent montage.
Nor can we forget the saving of time that this entails. By using a video editing app on your smartphone, you can save time in the editing process. There is no need to transfer the video to a computer and then transfer it back to the smartphone to share it. You record and edit on the same hardware.
And finally we have the enormous options when it comes to sharing the final result. Smartphone video editing apps often have sharing options built right into the app, making it easy to distribute your video via Twitter, Instagram, WhatsApp, and more.
The 10 best apps to edit videos for free with your mobile
PowerDirector
PowerDirector is the world's first application that allows users to produce animated videos. Its powerful features and intuitive interface allow you to get down to business even if you don't have editing experience.
PowerDirector condenses all the functionality of its desktop version into a streamlined mobile interface. That includes 4K and multitrack editing, giving your videos a professional touch so they stand out on social media.
Promeus
Promeo is a video editing application that allows you to save time and create promotional content on social networks in 3 steps. With access to more than 10,000 ready-to-use templates, Promeo is ideal for creating a wide variety of content on Facebook, Instagram, TikTok…
Posts can be created by simply choosing a favorite template, replacing the image or videos with the ones you like best, and sharing them directly with your followers. You can create content with your own videos and photos, or you can use public libraries.
iMovie
iMovie straddles the line between professional and entry-level video production. For example, it supports 4K and multitrack editing, has a wide variety of filters, and allows you to insert free music that automatically adjusts to the length of the video.
One of the most notable features is the iMovie theme set. Some of the pre-programmed themes are Photo Album, Sports, Travel, Comic and Neon. Each option comes with music, transitions, and text overlays, saving you time and effort during the editing process.
Splice
Let's say you want to create a video of your latest hiking adventure, this app is perfect. After uploading your clips and placing them on the appropriate tracks, you can trim them with a couple of taps. The result is cleaner, smoother footage, even though you can't edit in 4K.
You can add a sonic touch with Splice 's extensive free library of music and sound effects. Touch the track you want and drag it to the desired point on the timeline. Splice also allows you to insert transitions, apply video effects and share directly on social networks.
Quik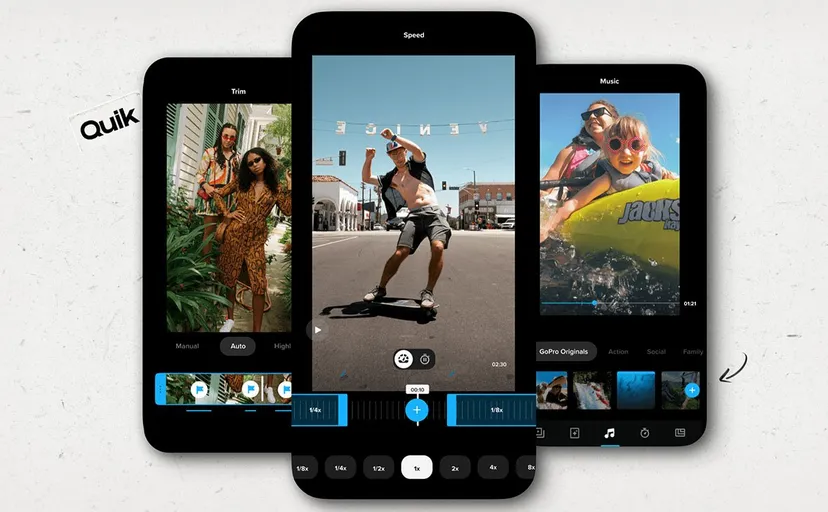 GoPro designed Quik for fast, fun videos. It lets you mix and match clips, add a theme or soundtrack, and export them in a matter of minutes. So if you want to create a short video for Instagram, Quik is the app to do it.
Quik allows you to make a few edits to your masterpiece. You can add filters, titles, fonts, and decorations, giving it your personal touch from start to finish. Quik also provides access to 28 different video formats for further customization.
KineMaster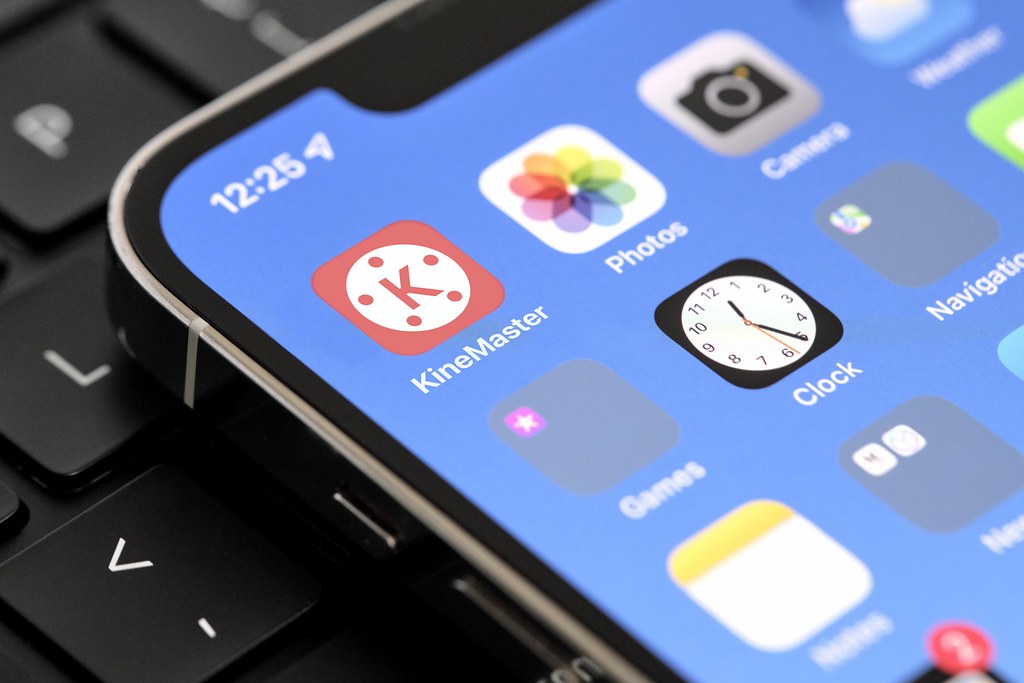 KineMaster lacks a traditional timeline, so your clips will overlap rather than go under a separate track if you're used to editing in other apps or software.
However, you can add images, video effects, and text to create a sophisticated final product. Please note that you will need to upgrade to the Pro version if you want to remove the watermarks.
Filmmaker Pro
Filmmaker Pro puts professional video editing in the palm of your hand. The app includes the advanced tools you need to make award-winning productions. The control is total, both to edit clips on green screen and to toggle chroma.
Although the app doesn't have a multitrack editor, Filmmaker Pro makes up for it in many other ways. For example, it allows you to customize 4K clips with 30 filters and 17 transitions. It also comes with an audiometer, so it's easy to add a voiceover in a matter of minutes.
InShot
InShot is oriented towards the creation of content for social networks. The app has essential editing tools and a manageable learning curve. It even has some features, like speed adjustments, that you won't find in other editing apps.
The all-in-one app takes care of your video and image editing needs. It has pre-built templates for various social media channels, like TikTok and Instagram. Its elegant interface makes it easy to import, edit and customize your videos, even if you have no video editing experience.
VivaVideo
VivaVideo is a robust video editing application for all types of editors. It offers basic video editing features for everyday use, but it also gives you a little more than the rest.
The app also has a lot of commercial-use stock content ranging from cartoons to realistic videos. Lastly, VivaVideo comes with a variety of AI effects that automatically detect the object.
As we said before, editing video from the mobile is all advantages, especially when we make the videos with the smartphone itself and our terminal is powerful and of high quality enough to record in 4K and edit said recording.
If what you are looking for is to choose a free video editing apps for your Android or iOS, one of these 10 options that we have given you will surely fit your needs. If not, you will have to try your luck with the paid ones.
Also Read: The best free apps for Android Auto