If you need a video editor for Windows and you don't know which one to use, take note of the best programs to create your content at home and without too much effort.
Video is increasingly present in our lives thanks to social networks and streaming video platforms such as YouTube or Twitch that allow any user to create their channel and share their videos with other users.
For these videos to have an acceptable quality, they inevitably have to go through an editing process in which to cut the fragments of video that do not work and join those that are really interesting, or simply add titles, intros or special effects to your videos to make the content more attractive and attract more visits.
To achieve this it is necessary to have a suitable video editor and this is where many users can find their main stumbling block: finding free video editors to use on Windows.
We have selected for you a list of the 10 best free video editors for Windows 10 with which you can edit your videos from your PC, and always taking into account your experience in this type of program.
Thus, in this selection you will find options to edit your videos online, do it with very basic editors for the most inexperienced users or use powerful programs. Choose the one that best suits your needs.
Best video editors for Windows
Clipchamp
We started our selection of the 10 best free video editors for Windows with Clipchamp one of the most versatile and accessible video editors since it is an online video editor.
Clipchamp is a free online video editor with which you can edit your videos from any computer since you don't need more than an Internet connection to use it. You upload and the video to your platform, edit and download or share it on Facebook, YouYube, Vimeo or Google Drive. No facilities or problems.
Clipchamp has a paid version with which some functions are unlocked and the number of videos is expanded, but its free version is perfect for sporadic video editing since it allows you to edit up to 5 videos per month.
To use Clipchamp's video editor you just have to register to create a user account, then just drag a video into the editor and you can now cut it, trim its resolution, rotate or flip it or apply various color adjustments. When you're done, you can download it by converting your videos to other formats or compressing them to reduce their weight.
Clipchamp also allows you to create videos directly from your webcam, and then edit and share them without having to download it to your computer, something that will be very useful if you are using someone else's computer.
More information about Clipchamp.
VideoPad
Despite being a video editing veteran, VideoPad is not among the most popular video editors for Windows. However, those who have used it can attest to its good performance and ease of use.
With VideoPad we reach a level of video editing where you can start to obtain professional results easily thanks to tools such as the replacement of backgrounds with chroma, create advanced audio and video effects since it includes an extensive library of transitions and fused to change planes.
Another feature that makes VideoPad one of the 10 best free video editors to use on Windows is that it allows you to publish the edited videos directly to streaming video services such as YouTube, social networks or upload the videos directly to your cloud in Dropbox or Google Drive. Of course, you can also export them directly to formats like DVD, Blu-ray.
More information about VideoPad
VSDC Video Editor
Before getting into editors geared towards professional users, we must make a stop at VSDC Video Editor, a minimalist and easy-to-use video editor that, by applying filters and effects, can considerably improve the appearance of your videos with just a couple of adjustments.
In the free version of VSDC Video Editor for Windows, it is a non-linear editor, so you can alternate clips to interleave them and insert audio and video effects, including mask-type effects with which you can hide or highlight different elements of your video.
But without a doubt one of the most interesting functions is to be able to apply Instagram-style filters to your videos to change their appearance quickly and easily.
VSDC Video Editor allows export in multiple video formats, including 4K, Full HD or fast formats adapted to the characteristics of social networks, video platforms or portable devices.
VSDC Video Editor is a simple to use video tool, but it has some professional functions such as video stabilization with which you can stabilize the image recorded from drones or action cameras , giving your video a more professional touch.
More information about VSDC Video Editor
IvsEdits
Despite the fact that high resolution displays are increasingly common in smartphones, monitors and televisions, and that cameras and smartphones are already ready to record content in 4K, high resolution content is still in short supply. IvsEdits is a powerful program with which to edit videos with 4k resolutions in Windows.
Interactive Video Systems Editor can be considered one of the best as it allows you to edit videos with professional quality. This means that its use requires some prior learning to master its interface and take better advantage of its functions.
IvsEdits allows you to capture live video and audio from different sources on your PC, so you can create your videos by connecting a webcam to your computer and directly adding effects, subtitles or any other resource.
How could it be otherwise, IvsEdits is compatible with a large number of video formats with which you will not have compatibility problems when editing and exporting your videos from Windows.
More information on IvsEdits
InVideo
This is an increasingly popular tool in our country that has reached 1.5 million users in 190 countries thanks to the advantages it brings to anyone who wants to mount original videos.
Among the advantages in which it stands out is that it has more than 4,000 templates available to users and an image bank with more than 8 million options to embed in any video.
But it also adds a function rarely seen: to be able to automatically transfer a text to video format to make presentations or present a project. A particularly useful possibility to which you can then add all the changes you want to customize it.
InVideo has a free trial period that lets you create, edit and export more than 60 videos with its interface and with a particularly striking detail: the videos never have a watermark .
More information about InVideo
Lightworks
Lightworks is known to be one of the hottest alternatives to Adobe Premiere as a professional video editor for Windows. So much so that it has even been used to edit some of the biggest cinema hits in the last 25 years such as Pulp Fiction, The King's Speech, The Wolf of Wall Street or The Incredible Will Hunting among others. Imagine what you could do with your videos?
This powerful video editing tool has a paid version for a monthly use license for %19.99 euros or annually for $134.99. However, Lightworks also has a free version that, despite having some limitations such as not having 4K support or limiting the number of effects and functions, can be very useful to make your videos look professional.
As it is a professional video editing program, you will need a prior learning period to master its functions, something that is incredibly simple thanks to the video tutorials that you will find on the program page itself and with which you can carry out your first projects without any problem.
Lightworks is multiplatform, so if you use computers with GNU/Linux or macOS in addition to Windows, you can continue using it without problems on all of them.
Learn more about Lightworks
Jahshaka
It may be one of the strangest names for a video editor for Windows, but behind Jahshaka we find one of the most established open source and cross-platform video editors behind it. Its name comes from the nickname of its creator, Jah Shaka.
Formerly known as CineFX, Jahshaka has grown and added more and more tools and functions to go from being a video effects engine to a complete video editing and special effects program.
Many compare it to Adobe After Effects for its capabilities to create special effects for videos, but its use can go a bit further to delve into video editing.
We are talking about a powerful free video editing tool that can be considered fully professional to use and therefore not easy to use. Therefore, if you are an inexperienced user or have never used a professional video editor, Adobe After Effects or Combustion, you could find yourself very lost in an interface with so many advanced options and settings.
Once you master its use, Jahshaka becomes an essential tool to achieve spectacular results in your videos.
With it you can create animations, add special effects to your videos in a few steps, mix the music to create a soundtrack or alternate video clips to create more elaborate videos with a greater wealth of shots.
More information about Jahshaka
Blender
Another free video editing program that you have to consider is Blender. Although it is a more complete animation suite that allows you to carry out more complex tasks, it also has a free video editor.
This open source program provides you with basic and easy-to-use video editing tools, so you don't need to be an expert to easily retouch your content.
The application includes many interesting functions, from the simplest to cut and join your videos, to more advanced ones, such as video masking. It features live preview, vectorscope, waveform, and historiogram, gives you tools to mix and sync audio, and also gives you control over speed, transitions, filters, and keyframes.
More information about Blender
HitFilm Express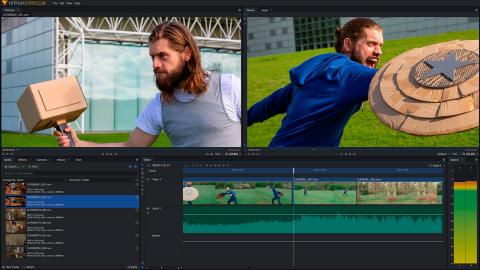 Are you looking for a free professional video editor? In that case, a highly recommended alternative is HitFilm Express, a program that puts a wide range of functions at your fingertips to obtain high-quality results.
HitFilm Express allows you to enjoy complete VFX and video editing software completely free of charge. In addition to the basic editing functions, it offers you functions for working with layers, animation tools, timelines and other professional editing functions, full 2D and 3D composition, unlimited tracks and transitions, and more than 400 effects so you can use in your projects.
And if you need a little practice, the program offers you video tutorials and free projects so that you can learn the basic fundamentals of working with this application.
More information on HitFilm Express
OpenShot
OpenShot is another of the 10 best free video editors for Windows, which is also compatible with Mac and Linux. It is an open source program that is characterized by having a very simple, intuitive and easy-to-use interface, so it will not be difficult for you to get hold of it.
This free video editing program allows you to perform simple tasks, such as cutting video, adding effects, scaling, rotating, or entering and editing titles and transitions. It also offers you more advanced features, such as creating 3D animations, applying time and slow motion effects, or using unlimited tracks and layers.
More information about OpenShot