You are allowed to recover deleted files on Dropbox cloud storage. Dropbox is the ideal place to store your files and keep them safe. If you are a user of this storage platform, you will know that it has some important advantages. For example, it is cross-platform. So you can access your data from your mobile or from your computer. The operating system of your device does not matter. Actually, Dropbox is compatible with Android, iOS, macOS, Linux, and Windows.
Another advantage is that it is capable of creating backup copies of your most important documents. In the event that your computer is damaged or lost, all information will remain available in the cloud. However, you may be wondering how to recover deleted files on Dropbox when they have been deleted by mistake. In this article we tell you how to do it and solve some frequent doubts that arise around this question.
Can Dropbox deleted files older than 30 days be recovered?
Dropbox deleted files are located in a specific section. It is about Deleted Files, a kind of recycle bin that helps you recover your documents after deleting them. You can use it in the following way: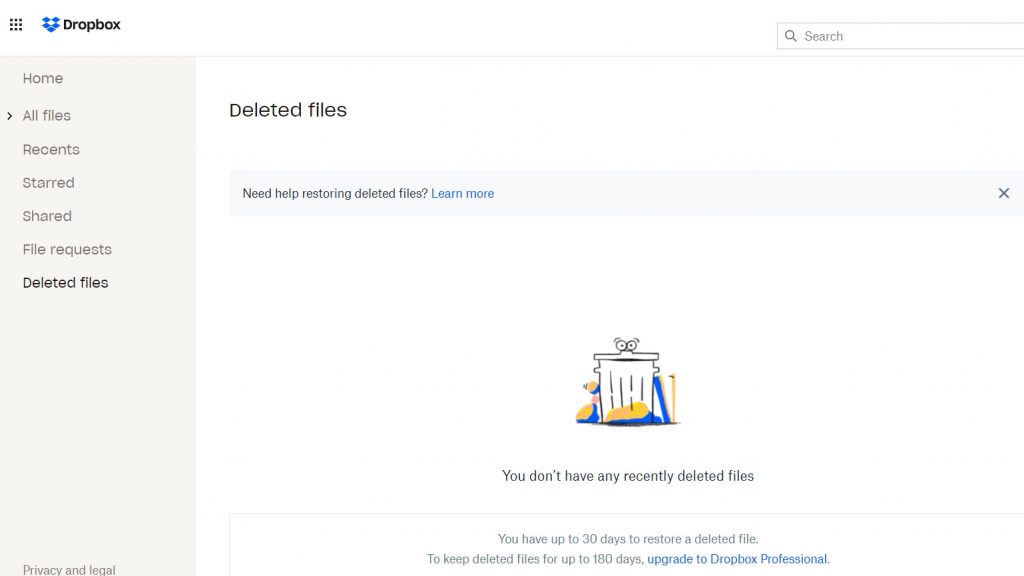 Access Dropbox and log in with your account.
Direct your attention to the left side menu. There you will see various sections.
Click Deleted files.
Select the document you want to recover.
Click Recover.
The restored document will be placed in its original folder. If you have a long list of deleted files, use the filters that you will see on the right side of the screen. With them you will be able to define the date and other criteria in order to locate the files more quickly. In the same way, it is possible to recover entire directories. Bear in mind that if the number of files to recover is very high, the process may take time. But how long do you have to retrieve a document?
Dropbox keeps deleted items in the Deleted Files folder for 30 days. If it has been more than 30 days since you deleted a document, a photo or any other file, you will have lost it forever. If you have a Dropbox Professional account, the final deletion period is extended to 180 days. In the event that you have lost a file after 30 days, we advise you to look for a copy in another storage service or in the internal memory of your devices.
Why has Dropbox deleted files for me
Dropbox does not delete user files. And if you are thinking about content protected by copyright, Dropbox allows its synchronization. Of course, it is likely that sometimes it will prevent them from being shared publicly. So why can't you find your files in Dropbox?
There are at least two reasons. The first is that you have relocated the file to another folder. To be sure, use the Dropbox search engine and try to locate it. If you are successful, see what folder it is currently in. The second is that you have unintentionally deleted your documents. It is even possible that you did it from another device. In this case, look in the Deleted Files folder.
How to recover files from a shared folder
The last course that we propose is to recover files from a shared folder. It is necessary that you apply the same procedure that we describe in the first section of this article. However, there is something you should be clear about. The shared files that can be recovered are those that you have access to as an editor. If you only have read access, it is no case that you will be able to recover them.
In Technoeager | Top 5 Ways to Recover Deleted Files on Windows 10