Nintendo is a company used to receiving indiscriminate hate on networks with each new launch, with each new announcement. It ignores it and does well because it knows that it has its (very abundant) regular audience, who have been looking for constant features in their console almost since the days of the NES: accessible and recognizable visual design, notable but not radical or experimental playable innovation, and accessibility total in the mechanics. And for decades, familiar faces and recurring franchises. A constant that seems to be accentuated over time.
In the last Nintendo Direct it has become very clear that, of the thirty games and novelties presented, there is very little completely original or exclusive material. Let's review the event launches (we removed very minor news such as the arrival of new fighters to 'Super Smash Bros. Ultimate' ):
Fall Guys – Ultimate Knockout: Multiplatform that arrives months late on Switch.
Outer Wilds: Multiplatform that came out a year ago on other consoles.
Legend of Mana: Multiplatform Remake.
Stubbs the Zombie: Remake, possibly not exclusive, but we must recognize the originality: it comes from a cult classic from the first Xbox.
Star Wars Hunters: Semi-exclusive. Switch will be the only console that has it, but it will also appear on Android and iOS.
Detective Cliu – The Missing Heir and The Girl Who Stand Behind : Remakes of Famicom classics.
Tales from the Bordelands: Multiplatform sequel that arrives with a notable delay.
Capcom Arcade Stadium: Compilation of classics.
Neon White: Exclusive on console, but will also come to PC.
Plants vs Zombies. Battle for Neighborville: Multiplatform Sequel.
SaGa Frontier Remastered: Multiplatform Remake.
Apex Legends: Multiplatform.
Bravely Default II: Exclusive sequel.
No More Heroes 3: Exclusive Sequel.
Miitopia: Exclusive remake
Mario Golf Super Rush: Exclusive Sequel.
Ghosts'n Goblins Resurrection: Sequel / remake. For the moment, possibly multiplatform in the future.
The Legend Of Zelda Skyward Sword: Exclusive Remaster.
Splatoon 3: Exclusive Sequel.
Monster Hunter Rise: Exclusive Sequel.
DC Super Hero Girls: Teen Power: Apparently exclusive, but belonging to a hyper-exploited franchise, like 'Star Wars Hunters'.
That is to say, leaving aside the issue of exclusivities, which is still surprising that games like 'Apex Legends' or 'Tales from the Borderlands' come to Switch at this point, few games are seen that do not belong to established franchises or are not remakes. or sequels (there is even a compilation).
That leaves us with a single strict novelty that is neither a pre-series nor a remake: the Direct's true new ad, 'Project Triangle Strategy' (working title), a Square Enix tactical RPG that highlighted its playable innovations in aspects such as attack strategies and turn-based combat.
Nintendo problem or sign of the times?
It would be naive to say that this lack of originality is a problem with the Nintendo catalog, when it is clearly an endemic problem in the industry. The new IPs are enthusiastically celebrated for how rare they are, and their triumphs (to say a couple of cases of very opposite styles, 'Fall Guys – Ultimate Knockout' and 'Ghost of Tsushima') are the exception, not the norm. The lists are filled with new installments of ' The Last of Us ', ' Doom ', 'Call of Duty', ' Spider-Man ' or ' Assassin's Creed '. Game extraordinary in many cases, but also significant nature: sequels, remakes or derivatives franchise.
But the truth is that Nintendo has such a number of successful franchises under its belt that it is not that it is squeezing them to the fullest, it is that it takes all the calm in the world to produce new installments of absolute myths like 'Metroid Prime', perhaps one of the most prestigious games in its history. Possibly the problem with Nintendo is its tendency to rehash successful formulas. If 'Mario Golf' works, its mechanics are hardly touched.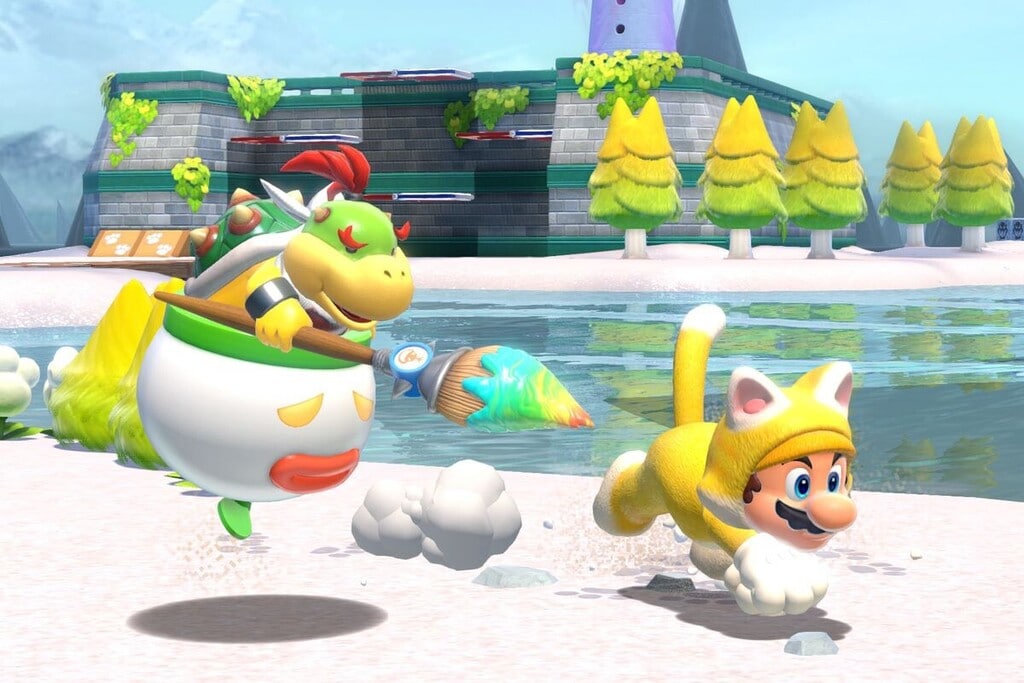 This happens with iconic sagas such as 'Mario Kart' or 'Super Smash Bros.', among many others: again without this being an obstacle for the resulting games to be great, or even extraordinary, the feeling is often "everything the above plus some slight changes ". The latest example, 'Bowser's Fury'. Along with a literal remake of a Wii U game, another great title, but it tastes like you've already played.
This is not an absolute rule. In fact, Switch has behind its back a few titles belonging to large franchises, whose quality and innovation is beyond doubt. Without going any further, the last two main installments of Nintendo's most powerful sagas, 'Super Mario Odyssey' and 'The Legend of Zelda: The Breath of the Wild', maintain the right balance between what we hope to find and a multitude of innovations . What should be a perfect sequel, come on.
The image of Nintendo, the same as always
So is this a problem? Could this lack of originality end up impacting the image of Nintendo? Let's remember that in our selection of the 27 best Switch games in 2020, 18 were sequels or remakes. And of them, some were decidedly minor titles, such as '51 Worldwide Games' or 'Two Point Hospital,' and others were multiplatform like 'Hades' or' The Outer Worlds', that is, their originality was not due to Nintendo.
There is an almost institutionalized lack of originality in the Nintendo launches, and that the last Nintendo Direct was responsible for corroborating, by active and by passive (replaced the announcement of a "Zelda 'sequel by a literal remake of a But to the question of whether this can be a problem, the answer is that no, because Nintendo has the AS in the sleeve of the exclusivity and of the Nintendo brand itself.
Leaving aside a handful of multiplatform games (which in most cases are played primarily in other consoles) and the Indie reef, which Nintendo has been found a bit by chance (but that is exploiting greatly), SW success games Little matter if 'SPLATOON 3' will be a sequel something derivative, an extension of a past success. What matters is that it will only be played on Switch and that will take the Nintendo seal: you can bet on a minimum of quality, fun and moderate originality.
That is Nintendo's current policy: innovate and experiment with small steps (from 'Super Mario Bros. 35', almost a stubborn under indie philosophy on a million-dollar franchise) while ensuring the commercial shot with more or less foreseeable refracts. And, on the other hand, reserve the steps of giant for your main surrender of Super Mario, Zelda, Animal Crossing or what you touch.
Is it a perfect plan in an ideal world? NO: In that ideal world, there would be recurrent that would allow us to play Wii titles without going through a box, as it will happen with 'The Legend of Zelda – Skyward Sword'. But as a business, Nintendo serves him for the catalog to grow and, above all, that his franchises consolidate as what he has been to be: unombnamed myths (and therefore, infinitely refiniteable) of popular culture.