Monster Hunter Stories 2: Wings of Ruin has another fascinating story to play. The Monster Hunter series is about much more than taking down wyverns and mind-blowing beasts with colossal weapons – it's a unique way of approaching role-playing and fantasy through emotion itself. Especially when it is shared. Monster Hunter Stories 2: Wings of Ruin is a change of record, of course, but also a masterful way to expand the Monster Hunter universe. And, in the process, it crowns itself as a must-have JRPG.
Because if Capcom has managed to hone the sensations of epicity and emotion and perfect the original formula with Monster Hunter Rise, it is also capable of taking apart the original premises and reassembling them, replacing the spectacular action with explosive turn-based combat. Achieving it with remarkable success. And in the process, he preserves in Wings of Ruin everything that makes the Monster Hunter saga cult worldwide.
After all, the sequel to Monster Hunter Stories is a reinvention of Monster Hunter. It stands out intentionally, and with remarkable success, from the main saga. Retaining everything that distinguishes it from its substitutes. Positioning itself not only as a different installment, but just as essential for fans of Capcom's star license, but also as a JRPG that is already a must for those passionate about the genre and fighting in turn.
Not that glorious battles with monsters of all shapes and sizes are dispensed with. That is totally implicit in Monster Hunter Stories 2. What's more, as in practically all deliveries, we will also have to collect minerals, herbs and bugs between adventure and adventure, and improving our weapons and costumes is not optional.
Exploration is a central part of the game, of course. As a Monster Hunter game, the essence of the saga is retained in an integral way, but the format and theme goes in another direction. In other words: Monster Hunter Stories 2 refuses to offer the same but with another combat system: it is a JRPG in its own right, with an emphasis on characters and a captivating plot. A new way of approaching this fascinating universe that also complements it, expands it and opens it up to new players.
In this aspect, the way in which Wings of Ruin differs from what was seen in Monster Hunter World, or MH Generations is not limited to the game mechanics or its artistic section, very much aligned with the anime or the most recent productions of Level 5; but because, from the outset, in Monster Hunter Stories 2 we will not be hunters, but Monster Riders and not just any Rider, by the way.
Our hero is the descendant of a legend who managed to make friends with monsters. Especially with a powerful wyvern known as the Guardian Ratha a creature linked to the Wings of Ruin.
Monster Hunter Stories 2: Wings of Ruin Prophecy
The Rathalos are disappearing. The mighty beasts have begun to flap their wings and migrate into the unknown. At the same time, a series of bizarre events has begun to disrupt monsters globally and affect the environment, putting hunters on the ropes.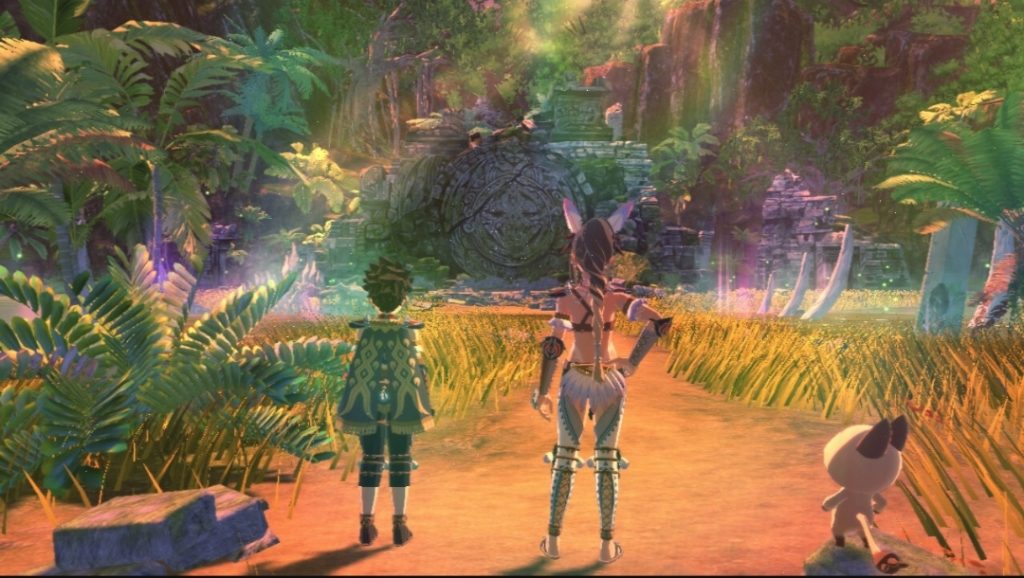 The manifestation of this phenomenon has reached the paradise Mahana, the village in the center of Hakolo Island protected for years by Guardian Ratha and the spirit of Red, a hero respected throughout the world. A legend who, in life, earned the recognition of men and Wyverians, and the affection of monsters.
Luckily, Red's will lives on through his grandson, who may be the key to solving this mysterious event. Now, like all the inhabitants of Mahana, our protagonist is not a hunter, but a Rider. A monster rider, or monsties, capable of establishing a special bond with any creature.
Red's grandson has only just begun to get used to the idea that he has just been named a rider by the head of his village when he is faced with an unexpected surprise: Ena, a Wyverian girl who knew Red, entrusts him with an egg containing a baby Rathalos.
At first, our little monster will have little wings with which he is not even able to start the flight. Little by little, and as we discover the events that torment the world and the monsters themselves, we will discover the prophecy of the legendary Rathalos. A being whose wings, it is said, will unleash calamity on earth.
In Monster Hunter Stories 2: Wings of Ruin we will be the grandson of Red. A hero that we will create with the appearance and the name we want, determined to discover what it is that torments the world. A rider who has inherited the will of his grandfather, but who will earn the respect of humans, Wyverians and monsters through friendship and courage in the most delicate moments.
Monster Hunter Stories 2: Wings of Ruin is a total expansion of the Monster Hunter universe, allowing us to explore large and lively regions on the back of our monsties, exotic villages with stories to tell and shops in which to trade what we find and, for of course, regions dominated by awesome dangers. Fortunately, we will not be defenseless, nor will we fight alone.
Turn-based battles with all the excitement of Monster Hunter
That we are riders and we make friends with the monsties does not imply that the epic combats are left out of the playable proposal of Monster Hunter Stories 2. Rather, the opposite: Capcom has reimagined battles in such a way that we will not only have to take down imposing creatures or small groups of monsters, but we will fight side by side with the monsters.
Monster Hunter Stories 2's comparisons with Dragon Quest are very well founded: the fighting is turn-based and the use of special abilities, items, and combo attacks are the general trend. To which we must add, and this is the essential thing, that the prior knowledge we have of the monsters will make a difference.
Engaged in combat, there is a battle scheme in which the type of weapon or the type of initiative will give us priority or condition the effect of our assault. As in Monster Hunter, there are types of weapons that are more effective in certain areas of the body of large monsters and the same applies to our actions. To which must be added, of course, the level statistics and the improvements of our weapon.
This that seems more or less complex is really well simplified through a classic combat interface but very well integrated, promoting that we be creative and experiment. Rewarding our accumulated experience and, above all, our way of empathizing with our teammates. Including the monsties themselves.
Although we will only control our hero, although we can give instructions to our monstie, in battle we will not only be able to alternate weapon or monster, but we will also be able to mount it to make new attacks or perform amazing combined assaults. So that the meetings are not only a show in themselves, but also communication is promoted or that we adapt to what our colleagues do.
Like all JRPG, the more we fight, the more rewards we will obtain. And from our performance and success in combat, which will be evaluated, we will obtain valuable rewards and even spare parts of monsters with which to further improve our armor or forge better weapons. In this regard, the system is essentially the same as in the other Monster Hunters.
However, one of our absolute references will be the Monsterpedia that we will complete as we advance in the game. A kind of Pokédex with very precise and even more valuable information about each beast and wyvern. Of course, before filling in each entry, we must defeat the monsters in question.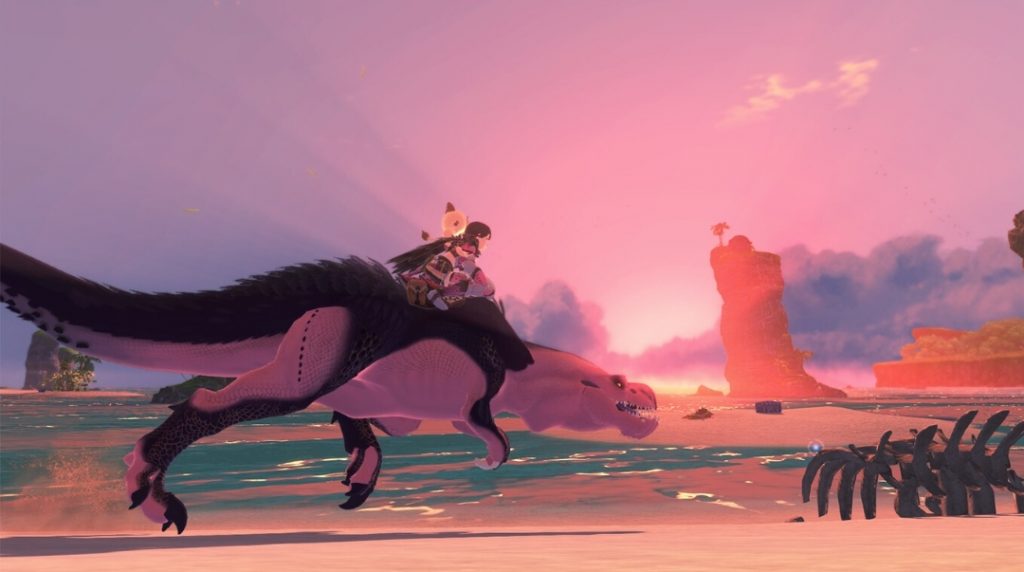 The meeting system is also a success. As in Monster Hunter Rise, the sequel to Monster Hunter Stories is a set of great scenarios that we will approach from the different villages. The ways to start combat are, basically, through following the story itself or approaching the monsters (as in Dragon Quest XI ). Being able to catch them by surprise, but also exposing ourselves to being surprised.
Which brings us to a very reasonable doubt: how can we add monsties to our cause? Well, that's the most original and interesting aspect of this sub-series: as in Pokémon, in Monster Hunter Stories 2 we are invited to get hold of all the monsters in the game. But in fairness, The Pokémon Company should take good note of what Capcom does.
The Monsties, the heart of Monster Hunter Stories 2
The monsties are our allies in the game, and they will not only fight alongside us, but they will also serve as mounts for the Riders. Encouraging exploration and promoting that our forays into the unknown, throughout natural territories, are an experience in itself.
Not all frames are the same. Or rather, each type of monstie has unique abilities: some jump, some swim, some climb, others keep the other monsters away and intimidated and some of them will help us collect materials. And the best thing is that we can switch between them at any time of the game.
Our hero will be accompanied by his own team of monsties, so that we can adapt to each terrain and expand our exploration as we meet new species of wyverns and beasts. The same happens in battle, so that we can change from monstie to another that we have on the bench without having to give up our action on the turn.
It is precisely through the exploration itself that we will obtain new monsties: throughout each scenario there are nests of monsters distributed , most of them well guarded, in which we can get hold of an egg. When hatching them, a monstie baby will be born with unique abilities that we can add to our team or leave in the care of the villages where we are passing through.
While we compare the combat system to Dragon Quest, it is only fair to bond with Pokémon in this regard: obtaining monsties is a central part of the experience. Many of them we will obtain throughout history and others based on browsing. But making them strong and improving their attributes will gradually become our priority; the maximum claim of the endgame (the content when completing the game) and what will make the difference in multiplayer.
A unique feature of Monster Hunter Stories 2 is its way of staying true to the classic JRPG experience and introducing essential elements of the Monster Hunter series. And, in that aspect, the multiplayer could not be left out. Capcom will offer two types of online experience through Wings of Ruin : collaborative expeditions and duels. Two added claims and two superb ways to round out an already essential game.