A new official Google extension has come to Chrome and its purpose is none other than to make clear what ads are on each web page you visit and who is behind them. Chrome now tells information about ads on websites. A move that joins others made by Chrome in recent times to improve the current situation of advertising and privacy for the user, such as the decision not to allow more third-party trackers .
The extension, under the name of Ads Transparency Spotlight , is now available on the official Chrome extensions store. At the moment in alpha phase (a trial version that can give many errors), but anyone can download it and use it for free. Once installed, it will appear along with the other extensions at the top of the browser.
According to Google, they have designed this new extension to make it easier for the user to understand how and why ads are displayed on web pages . It's similar to what 'Why this ad' does, a little button that appears with every Google Ads ad. In this case it extends to all the ads, regardless of whether they are from Google or not.
A similar tool was recently deployed by Apple in its Safari browser. This is Privacy Report and the idea behind it is to show a list of all the trackers that each web page has and to whom they belong. In this case, Safari also blocks the sharing of information between different pages to avoid user tracking. Google Chrome tells information about ads on websites and takes users to respective company.
What information does Ads Transparency Spotlight offer
It really depends on the website we visit and the amount of ads and trackers it contains. Firstly, the extension will reflect which ad platforms are on the website, such as Google Ads itself. It will then display the list of companies that have placed code in those ads to track the user. Finally it is shown what type of information they collect : location, demographics, interests, if they have participated in any advertiser marketing campaign …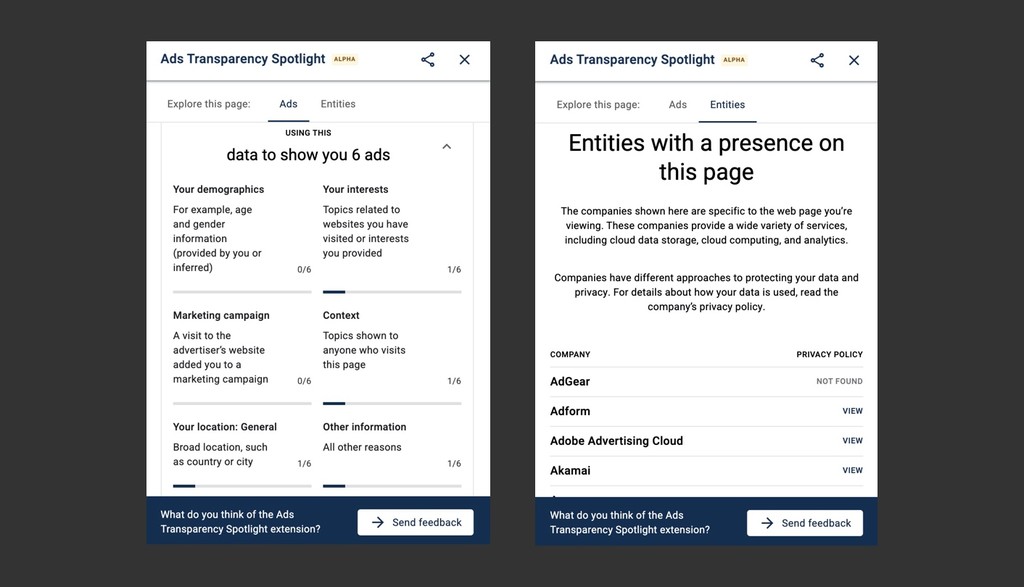 On the other hand, Ads Transparency Spotlight also shows a list of "entities present on this website" , in other words, companies that in some way or another offer tools or collect information. Here also enter companies that put for example social media buttons or any other script that is not specifically an advertisement or is visible. Next to each of them a link is offered to go to the privacy policy of the companies (if they have one).
In general, Ads Transparency Spotlight seeks to restore users' trust in advertising in a way . Other measures taken have been the aforementioned ban on third-party trackers (and using your own alternative ) or for example the decision to include your own ad blocker in Chrome. Also, ads that take up too much space directly blocks them .