The world of streaming devices is vast and varied, and in this highly competitive space, the Amazon Fire TV Cube stands out as an interesting option. Combining the streaming capabilities of Amazon Fire TV and Alexa functionality, this small device promises to become the entertainment center of any home.
The Fire TV Cube is the big brother of the Fire TV Stick, with enhanced capabilities and additional functionality. Features this device offers include voice control, 4K, HDR and Dolby Vision support, and the ability to control other devices in your home using voice commands.
In this review, we'll take a deep dive into the Amazon Fire TV Cube, digging into its features, evaluating its performance, and checking whether it really lives up to the promises it makes. If you're considering getting a streaming stick or just wondering what the Fire TV Cube has to offer, read on for our detailed review.
Package content
The Amazon Fire TV Cube comes in a compact cardboard box, the minimalist design of which follows the general aesthetic of the Amazon brand. Opening the box, we were immediately met with the Fire TV Cube itself. This device is quite small, barely bigger than a Rubik's cube, with a glossy black plastic casing.
In addition to the Fire TV Cube, the box includes several essential accessories for the operation of the device. First up is the remote control, which is a comfortable size in the hand and comes with two AAA batteries included, ready to use.
Then, there is the power adapter to power the device. The length of the cord is adequate for most living room setups, but could be a problem if your power outlet is a long way from your TV.
The IR Extender is not included for those who need to place the Fire TV Cube inside a TV cabinet or out of sight. Neither is the Ethernet cable for those who prefer a wired connection over Wi-Fi.
Design
Design of the Fire TV Cube
The Amazon Fire TV Cube features a minimalist and modern design, which fits perfectly in any living room or entertainment space. As the name suggests, it is a cube, more specifically, a cube with a side of 86.1mm, which has a glossy black plastic casing.
The cube design is sleek and understated, allowing the device to blend in with most home entertainment systems without being a visual distraction. At the top, we find a series of buttons, including the mute button, volume and the button to activate or deactivate the microphone. It has a blue light ring that lights up when Alexa is listening or processing a command.
Quality of the materials used
In terms of material quality, the Fire TV Cube is well built and feels solid. The plastic used is of high quality and does not appear to break or wear easily. The glossy finish gives it a premium look, although it can be prone to fingerprints. The buttons on top are responsive to touch, providing adequate tactile feedback when pressed.
Available connections and buttons
As for the connections, on the back of the device we find an HDMI port, a power port, a micro USB port and an input for the Ethernet adapter, in case you prefer a cable connection to the Internet instead of using Wifi. It should be noted that unlike other streaming devices, the Fire TV Cube does not have a separate audio output.
At the top of the cube, as I mentioned earlier, are the control buttons. The mute button allows you to disable the device's built-in microphones for added privacy. Next to this are the volume buttons, which let you control the volume of Alexa's voice, and the action button, which lets you activate Alexa without saying the "Alexa" voice command.
Setting
Steps for initial setup and the ease of this process
Setting up the Amazon Fire TV Cube is pretty straightforward and straightforward. Here are the steps to follow:
Connect the Amazon Fire TV Cube to your television using the HDMI cable that came in the box. Make sure the device is in a location where it can hear your voice commands.
Connect the device to power with the included power adapter.
Turn on your television and select the HDMI input corresponding to the port where you have connected the Fire TV Cube.
Follow the onscreen instructions to connect Fire TV Cube to your Wi-Fi network. It is important to note that you will need an internet connection to set up and use the device.
Sign in to your Amazon account. If you don't have one, you'll need to create one.
Set your device preferences, such as language and location.
Finally, follow the instructions on the screen to connect any additional equipment, such as a home theater system or AV receiver.
The setup process is friendly, and the on-screen instructions are clear and easy to follow. You shouldn't have any problems even if you have no previous experience with these types of devices.
software update
During initial setup, the Amazon Fire TV Cube can automatically detect and download available software updates. This process can take a few minutes, but it's essential to make sure your device has the latest features and security enhancements.
After the initial setup, the Fire TV Cube will continue to automatically check for and download software updates when it's in sleep mode. If you prefer to update it manually, you can also do it through the settings menu.
User interface and applications
user interface
The user interface of the Amazon Fire TV Cube is intuitive and easy to navigate. When you start the device, you find a main menu that is divided into several sections: Home, Your Videos, Movies, TV Series, Applications and Settings.
The home menu features a content carousel that displays a mix of recommendations based on your viewing patterns, along with featured content from Amazon and other installed apps. You can move through the sections with ease using the remote, and Alexa can help you find specific content if you prefer.
Apps and games are displayed in rows on the main page, but you can also access all available apps in the dedicated "Apps" section. Each app is represented by a large, easy-to-recognize icon, and you can customize the order in which they appear to suit your preferences.
Available applications
Amazon Fire TV Cube offers a wide variety of apps, including all the major streaming platforms like Netflix, Prime Video, Disney+, and YouTube, among others. You'll also find music apps like Spotify, plus a selection of games and other entertainment apps.
App speed and performance largely depends on your internet connection, but generally speaking, apps load quickly and streaming is smooth. Some apps, like Netflix and Prime Video, also offer 4K content, which is a bonus if you have a compatible TV.
The Fire TV Cube allows you to install third-party applications through the "sideloading" function, which further expands the possibilities of content, and has a wide number of options in the settings section, including parental controls.
Remote control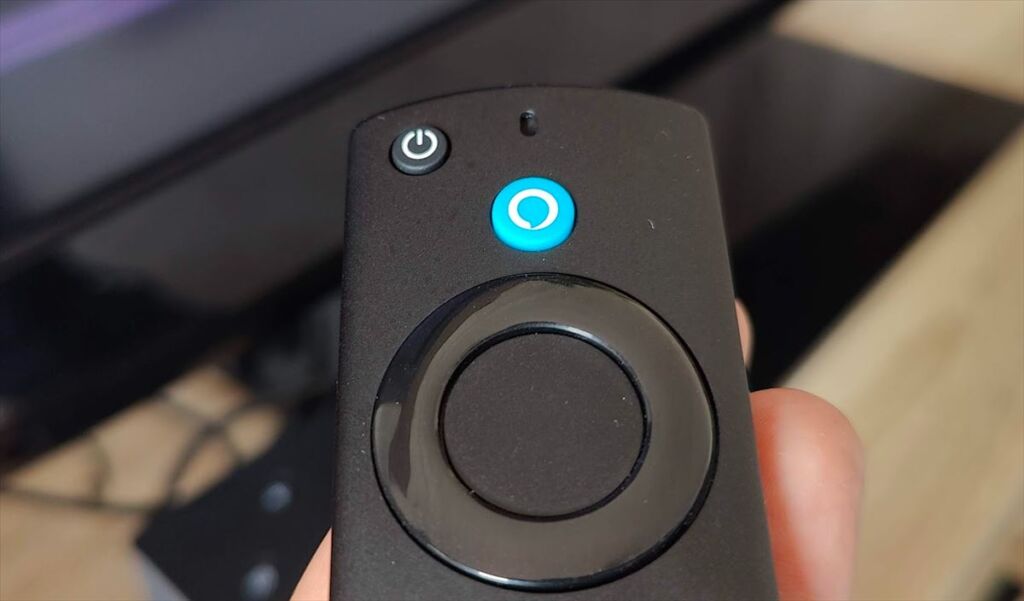 The remote that accompanies the Amazon Fire TV Cube is compact, well-designed, and easy to use. It resembles previous Amazon Fire TV remotes, with a sleek black design that feels comfortable in the hand. The remote features soft-touch rubber buttons that are logically arranged and easy to remember, even in the dark.
The top of the remote has a circular navigation button that is used to move through menus and select options. Right in the center, we find the selection button. Below this are the home, back, and menu buttons.
Further down, we have the playback controls with the play/pause, forward and back buttons. Volume and mute buttons are also included, a very useful addition that allows you to control the volume of your TV or sound bar without having to have another remote control at hand.
Additionally, at the top of the remote is the Alexa activation button, allowing you to use voice commands to search for content, open apps, control playback, and more. This functionality feels intuitive and responsive, making the user experience much more fluid and comfortable.
The central button gives us access to Internet TV channels, as in the case of Pluto, for example:
Alexa and voice commands
One of the most outstanding features of the Amazon Fire TV Cube is its integration with Alexa, Amazon's virtual assistant. Unlike other streaming devices that require a remote for interaction, the Fire TV Cube allows you to control most of its features through voice commands.
Alexa is capable of performing a number of tasks on the Fire TV Cube, such as searching for TV shows or movies, pausing, fast-forwarding or rewinding content, and even launching apps. Additionally, Alexa can perform more general functions like providing the weather forecast, answering general questions, and controlling other smart devices in the home.
During our tests, we found voice commands to be generally accurate and quick. For example, when you say "Alexa, find action movies," the Fire TV Cube would display a list of action movies available in various apps. It was also effective for controlling content playback, with commands like "Alexa, pause" or "Alexa, skip ahead 10 minutes" working without a hitch.
In more complex scenarios, such as searching for specific content in a specific app, Alexa performed satisfactorily, but there is still room for improvement. For example, saying "Alexa, search for the latest season of The Witcher on Netflix" would sometimes bring up the desired results and sometimes not.
Video and Audio Quality
The Amazon Fire TV Cube stands out for its impressive video and audio quality. Supporting 4K Ultra HD, HDR, and Dolby Vision, Fire TV Cube delivers unmatched clarity and a wide color gamut that bring content to life on your TV. Images are reproduced with amazing detail and color depth that really enhances the viewing experience.
For those with high-end TVs, Dolby Vision support is a welcome addition, as this format offers a significant improvement in contrast and color compared to standard HDR. HLG support is also important for the future as many streaming services and broadcasters are starting to adopt this format for streaming HDR content.
When it comes to audio, the Fire TV Cube also shines. Compatible with Dolby Atmos, this device offers immersive three-dimensional sound that improves the quality of the viewing experience, especially if you have a compatible sound system. Dialogue is clear, sound effects are crisp, and the music has a tonal richness that really draws you into the action.
It is important to mention that the final quality of the video and audio will also depend on the quality of the content you are playing and your audio and video equipment. However, the Fire TV Cube is equipped to offer the best quality possible with today's technology. Without a doubt, this device has been designed to meet the needs of the most demanding users in terms of audio and video quality.
Performance
As we delve into the performance evaluation of the Amazon Fire TV Cube, the first thing to note is its remarkable processing power. This device comes equipped with a hexa-core processor, allowing it to smoothly handle multiple applications and tasks at the same time. This superior performance translates into a very fluid and fast browsing experience, without the delays or lags that you might experience on less capable devices.
One of the most impressive aspects of the Fire TV Cube is its upload speed. Applications launch quickly and transitions between menus and applications are smooth and seamless. Also, video streaming is excellent, with minimal loading times and no stuttering, even when streaming 4K videos.
Regarding fluidity, the Fire TV Cube stands out enormously. Navigating the interface is a real pleasure thanks to instant response to commands, whether using the remote control or voice commands. The transition between applications and switching from one task to another is so fast that sometimes you forget that you are using a streaming device and not a high-end computer.
In terms of stability, the Fire TV Cube is also very reliable. During our tests, the device ran smoothly, with no crashes or unexpected reboots. In addition, software updates take place regularly and without interruption, ensuring that your device is always up to date and performing at its best.
I was quite surprised, honestly, I imagined more problems in this regard.

Is there fee for Fire tv cube
No, there is no monthly fee for the Amazon Fire TV Cube. You only need to pay the one-time device purchase fee of $119.99. You can use the Fire TV Cube to stream content from a variety of apps, including Netflix, Hulu, Amazon Prime Video, and Disney+.
Is there a 3rd generation Amazon Fire TV Cube?
Yes, there is a 3rd generation Amazon Fire TV Cube. It was released in October 2021. The 3rd generation Fire TV Cube is a significant upgrade over the previous generation, with a faster processor, more memory, and support for Wi-Fi 6E. It also has a new design that is more compact and easier to hide behind your TV.
Does Fire TV Cube have WIFI?
Yes, the Fire TV Cube has Wi-Fi. It supports 802.11a/b/g/n/ac Wi-Fi networks, including the latest Wi-Fi 6E standard.
Can you use fire cube without TV?
Yes, you can use a Fire TV Cube without a TV. You can connect it to an external speaker and use it as a standalone smart speaker. You can also use it to control other smart home devices with your voice.