With cloud services becoming more expensive, if you share a lot of content between different devices, it is worth setting up your own NAS server, and not depending on subscriptions.
A NAS server is a small computer connected to your WiFi (it also works via Ethernet cable) focused on data storage and transmission. That's why it usually has several hard drives.
NAS servers are used to create a private cloud that only you have access to. You can store videos, music, games, photos, or whatever you want, and access it from your mobile phone, PC, tablet, or any device on which you can install the software that manages the NAS, usually Plex, Kodi or similar.
The content can be downloaded, or transmitted in streaming mode. A private cloud that you use however you want, without having to pay subscriptions, and without being spied on.
NAS servers are not very cheap products, nor are they easy to handle, as with all technology there is a learning curve. But what we can assure you is that once you see the long-term savings and you do them, you will never be able to think about not having a NAS server in your life again.
You just have to access them from the web browser or from your own application to manage it, view saved files or install and uninstall applications.
The most famous brands in NAS servers are Synology and QNAP, although you will find many more on the market. They are normally sold without hard drives, although there are options with a disk already installed that you can replace in the future to increase its capacity.
Is a NAS worth it? It depends on each person, but if you don't want to pay more subscriptions to watch videos, save your photos and videos and have a backup copy of your mobile, a NAS can be an investment that in the long run will give you more than one joy, not to mention of savings.
These are the NAS servers that we can recommend to you right now, always with at least two bays because this way you have a redundant copy or at least you can use two disks to combine their capacity.
Synology DS223
This DiskStation DS223 NAS server is within Synology's range of "essential" products, perfect for first users who want to see what the possibilities of these products are.
It has two bays for 3.5″ hard drives or 2.5″ SSD drives, a 1.7 GHz quad-core CPU, 2GB of RAM and DiskStation Manager (DSM), the operating system to which You access it via the web and it is very easy to use.
It has a 1 Gigabit Ethernet port to connect to the Internet and your local network, as well as a USB port that can be used to copy files from pen drives or hard drives to or from the NAS.
Synology DS118 NAS Server
The good, pretty and cheap version of Synology. For less than 200 euros you will have what you need if you want to have a NAS server for personal use and do not require raid configurations with a lot of storage capacity. It is fine for storing backup copies or videos, but not serving too many clients at the same time, since its processor and reading and writing speed is limited.
QNAP TS-231K
QNAP TS-231K is a NAS server very similar to the previous one from Synology, also with two hard drive bays, with a 1.7GHz quad-core processor and 1GB of RAM. But where it really differs is in connectivity.
It has two 1 Gigabit Ethernet ports on the back, as well as a total of 3 USB 3.2 Gen 1 ports for transferring files at maximum speed.
You can install all kinds of applications on this server, such as Plex or through containers with Docker.
TerraMaster F2-223
Another option with two hard drive bays is this TerraMaster F2-223. It comes with a 2 GHz dual-core processor, 2GB of RAM expandable to 4GB that allows you to transcode 4K video for programs like Plex.
It is quite versatile and like the other options it allows you to install applications of all kinds, from Plex, a web server to do your tests with WordPress, a Box or Dropbox file manager, an iTunes music server, Docker and many more.
TerraMaster F2-210
If the previous TerraMaster model is too expensive for you, this other variant is somewhat more affordable.
TerraMster F2-210 also has two bays for two hard drives of up to 16 TB, 1 Gbps Ethernet connection, and has its own management app. You can also use Plex, emby, Roku, or DLNA.
It has a 4-core processor and 1 GB of RAM. It can also be configured in Raid 0 mode. It is a good product from a specialist brand.
Asustor Drivestor 2 AS1102T
Asustor is another well-known brand, which has numerous NAS server models in its catalog.
Asustor Drivestor 2 has two bays so you can install one or two hard drives. It uses a 1.4 GHz 4-core Realtek RTD1296 processor, with 1 GB of DDR4 RAM.
It has enough power to transcode 10-bit 4H videos with the H.265 codec, and decode by hardware.
It has a 2 Gbps Ethernet cable connection. The manufacturer offers a 3-year warranty.
Zyxel NAS326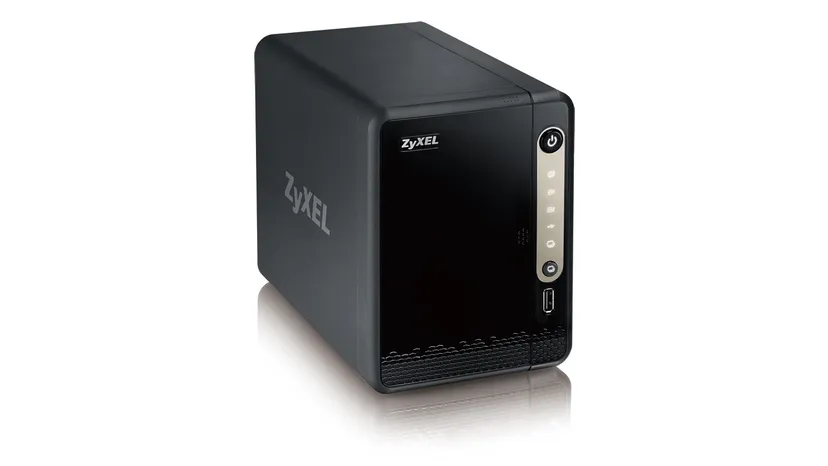 A much simpler and cheaper 2-bay server can be this Zyxel NAS326. It is a less powerful model that focuses primarily on serving your personal files rather than installing applications.
It has a decent processor for machines of this type and has a mobile app so you can access your files wherever you are and make backup copies in your own cloud.
Western Digital My Cloud EX2
If you don't want to fight with the prices of hard drives and you just want a NAS server that is ready to use, you can always opt for solutions like this Western Digital My Cloud EX2 Ultra. Especially in high capacities like this 8TB one, although you can buy versions of up to 32TB.
You just have to connect it via network and it will be ready to use. Download the application and make backup copies. From its web portal you can install some applications like Plex. Although it is not as powerful or versatile as other NAS, it is a simpler way and with integrated hard drives to get started.
Western Digital My Cloud Home
Following the line of the latest Western Digital model, this one in particular is intended for less demanding users, but who nevertheless need a personal cloud for their data. In the long run, it will be cheaper than hiring a third-party cloud, and you will always know where you have your stuff. It is ready to use, very easy to use and comes with a multitude of capabilities to choose from. 
Also Read : LTO Tapes: Best Storage Devices For Teras Of Data