We are going to explain what a NAS is and how to configure it, so that if you want to set up your own cloud you can do it without problem. NAS servers have long been a very interesting alternative, an external hard drive that is connected to the Internet, and which you will be able to access remotely to use the files you have on it.
This is going to be a video article, in which we are going to start the article by explaining what a NAS server is and what its main characteristics are, also differentiating it from conventional hard drives. Then, we will tell you how to configure your server. In this case, we are going to do it based on the NAS of the manufacturer QNap.
What is a NAS and how to configure it, in video
What is a NAS server
A NAS server is a network attached storage device. Its function is to make backup copies of the files that you indicate in the configuration, both those of your personal computer and those of any other mobile device, although it also has many other functionalities. The only thing you will need is to use the different applications that each manufacturer has.
For practical purposes, the main function of these devices is to act as a storage unit, acting as an external hard drive or allowing you to create your own storage in the cloud. The difference with the clouds of other companies is that in this case the hard drives where your data is stored are in your own home, and not on the servers belonging to the company that lends you the storage.
A NAS is a computer with its own operating system that is adapted to run all day. In them you can distinguish two sets of components, being on the one hand what is the NAS itself with its RAM, its processor and all its circuitry, and on the other hand the hard drives that you can add to its slots. Depending on the model or manufacturer, these hard drives may be included when you buy them or you will have to buy them separately.
Although its main functionality is the same, that of storing your files, you do not have to confuse NAS with external hard drives. An external hard drive is just that, a storage unit that you connect and disconnect, while the NAS works more like a computer connected to the network that you can access from various devices, and whose functionalities you can expand with applications.
This type of device can have two different profiles. On the one hand, there are those focused on home users, who prioritize ease of use above all else, and then you have those that are focused on small and medium-sized companies, and that may have a good number of hard disk slots.
Home users also have several options when setting up their NAS. For example, if you have one with two hard drive slots, you will be able to choose between taking advantage of both to add as much storage as possible or having one copy all the content of the other to have a double backup with which to reinforce security against breakdowns. In addition, as we have already said, to expand the applications that you can install to add new functionalities.
How to set up NAS server
When configuring a NAS server, the procedure and menus will depend on each manufacturer, although you will have several points in common. For example, if you bought a NAS with two hard drive slots, you can choose between adding the storage of the drives or having one copy the content of the other. If you opt for the first option, you will have more space, and if you opt for the second you will be protected against any failure of one of the disks.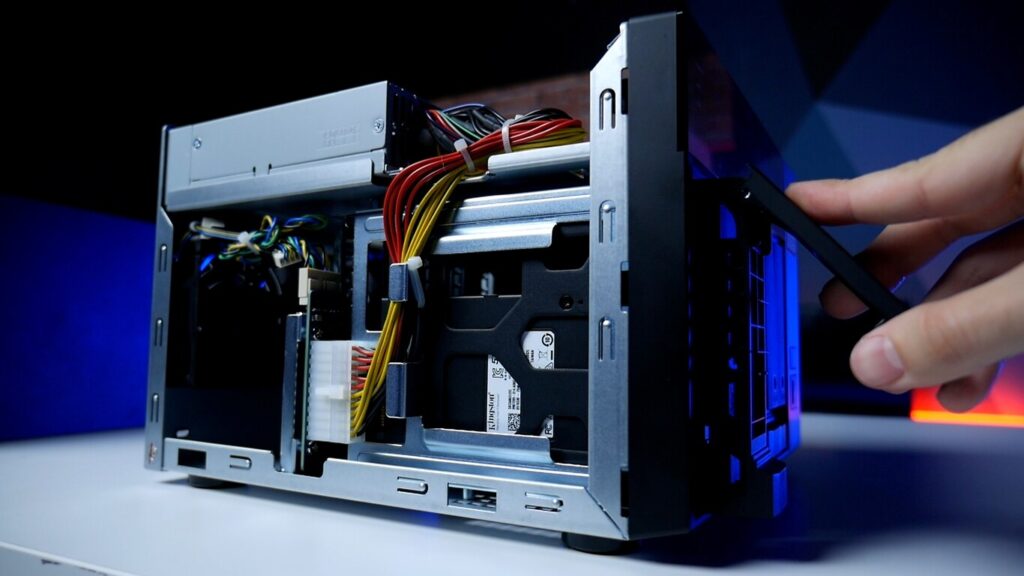 But while the NAS most designed for a conventional user have one or two slots, there are also those that have even more. In these cases, you will be able to combine different ways of storing our data, known as RAID modes, to increase its performance and guarantee that we do not lose our information in the event of an unexpected accident.
When it comes to configuring it, you also have many possibilities. However, the simplest and most recommended for home users is to plug it directly into the router and the closest outlet. In this way, the NAS will have a direct and faster connection to both the local network and the Internet itself, and will not have connection restrictions due to losses that it could have in the WiFi, or when updating.
Once your NAS server is connected, you can access it from your main computer. This is not difficult, since they both share the same connection, and you can usually do it directly from the browser. You can also configure user accounts and everything else from the PC.
On the other hand, you will have the possibility of installing applications on your computer or mobile devices with which to configure the files that you want to copy to the NAS, something that will generally be done over the Internet and without having to physically connect them to it.
There are several reputable manufacturers in the world of NAS, and the experience you will find depends on each one. Some focus more on the user experience to get everything done faster, while others focus on giving more advanced features and options. In both cases, the initial setup shouldn't take more than 15-30 minutes.
Depending on the manufacturer, you will find some NAS that focus more on making the user experience as simple and affordable as possible, while others will focus on offering more features and third-party applications to increase their versatility.
Even so, in general you can do the initial configuration in just 15 and 30 minutes, although for the rest of the extra functionalities everything will depend on the time you want to invest in testing your applications.
The possibilities of a NAS depend mainly on the applications that you can install, and as each manufacturer has an operating system with its own ecosystem of apps, the functionalities may vary depending on the model you buy. If you want to know all the possibilities, we leave you a link in the description so that you can find out which one interests you the most.
What to look at when you go to buy a NAS
If everything you can do with one of these NAS has convinced you and you want to buy one, you will have to look at some features, from its processor and RAM to the number of bays it has, through its operating system, or if includes hard drives or you have to buy them separately. So here are some notes on some of the things you have to keep in mind when choosing a NAS.
The processor and RAM of the NAS itself
A NAS is still a computer, so it is important to take into account its processor and RAM. You will not need as much as a PC with which to move games, that is true, but it is essential to choose one with a processor powerful enough to perform without problems, as well as a RAM memory that provides speed that prevents it from going too slow.
As for the minimum RAM and processor you can buy, this depends on the use you are going to give it. If you only want it to store and manage backups from your own computer, you will not need to pay too much attention, since the NAS will always have the minimum necessary for it. But if you want to use it to play content at home or manage files remotely, you are going to need a more powerful one.
In general, for normal use of the NAS as a multimedia device, playing HD content, 1 GB of RAM is sufficient. But if you are going to use it exclusively as a player, and especially when you plan to go to large video resolutions, then it may be better to look directly for at least 2 GB of RAM.
Number of bays and total storage
The amount of storage you want to have is also important, and therefore, before buying a NAS you have to think about what you are going to use it for, the amount of files you are going to accumulate and the space that they are going to occupy. Each NAS can mount a maximum storage on hard drives, such as 2TB, 4TB, 8TB, 16TB, 32TB… think about what you need.
The slots that the NAS has for hard drives are called bays, and it is also important to decide how many you want to have. For conventional home users there are usually one and two bay models, although there are also more advanced devices with more of them. Here, think about the more hard drives, the more storage capacity you will have, but you will also need to increase the specifications such as the processor and RAM.
Therefore, to choose well you have to ask yourself how much total storage you want to have and how many hard drives are you going to use to get it. Also think if you are going to settle for adding the storage of these disks or if you want one to act as a mirror to make an extra backup. And finally, when evaluating the price, see if the NAS you are going to buy has hard drives included or if you need to buy others separately.
Available operating system and applications
In general, each manufacturer has its own operating system for its NAS, so the interface and your experience when navigating its menus and settings will largely depend on the brand you are betting on. In this regard, there are brands that are more committed to the versatility of a good ecosystem of applications, while others are content to simplify the experience as much as possible so that anyone can use their product.
The idea here is the same as with the rest of the elements, think about how you want to use the NAS and then find out if certain brands offer the possibility of doing what you want and how they do it. For example, if you want to act as a media player with applications like Plex, you have to see if the NAS you are going to buy has that application.
Therefore, it is recommended that you think about what you want, that you enter the pages of manufacturers such as Synology, WD or QNAP and see the available applications, and from seeing which repertoires are best suited to you, make a decision.
The importance of the records that you are going to put on it
It is useless to have the most powerful NAS on the market if the disks that it has inside do not perform to measure. Some NAS come directly with hard drives inside, but in most cases you will have to buy them separately. It is essential to look not so much in the capacity as in the speed of reading and writing.
In the current market, the best hard drives offered for NAS devices is Western Digital with its Red range. They are hard drives prepared to perform correctly in NAS devices and surely the best choice. But still, it is advisable to inform yourself about the different models of each manufacturer.
In Technoeager | How to connect to WiFi network in Windows 10 when nothing works