For Microsoft, telecommuting is here to stay. . That is why today they present Microsoft Viva, the new platform that wants to become the number one option for employees and companies that want to implement teleworking. Instead of having different connected applications, Microsoft Viva wants to be a single tool from which to access all the telework needs, be it communicating with the rest of the team, keeping an organization of tasks or keeping a record of our working hours.
Viva is available from today, although several of its functions will arrive throughout 2021. This is not a website or an application, but a platform that combines several sections and will be integrated into Microsoft Teams. The four Microsoft Viva modules are Connections, Insights, Topics, and Learning.
Microsoft Viva is the way forward to strengthen telecommuting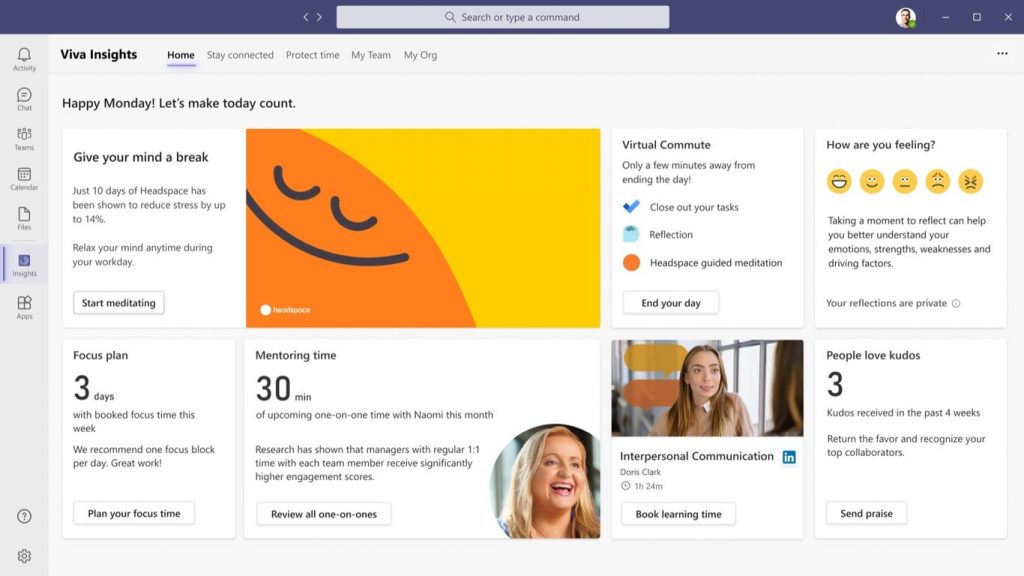 If you open the chat, if you mark the event on the calendar, if you put the task as completed. And don't forget to sign in before you turn off the computer. Those of us who telecommute have different tools at our disposal and most of them work very well, but Microsoft knows that we still need a more generic and ambitious platform that collects all this in the same space.
"Microsoft Viva is a groundbreaking Employee Experience Platform, ushering in a new enterprise software category that focuses entirely on the daily needs of employees at work," said Josh Bersin, research analyst and noted expert on employee experience technology. "Viva will enable companies to integrate their fragmented workplace tools and provide them in the flow of work."
Microsoft Viva is the most complete service presented to date in that direction. "We need to stop thinking of work as a place and start thinking about how to maintain the culture, connect employees and harness human ingenuity in a hybrid world," they explain from Microsoft.
The first section of connections includes the chat and the internal communication mechanisms of the companies. It would be like the gateway to the company, the main portal. This includes an area where you can receive company news and access important resources. A kind of portal to connect with the rest. This part will be available during the first half of 2021 on desktop and by the end of the year on mobile.
The second section is that of insights. This is the section of the platform where company managers can analyze employee statistics. Microsoft ensures that this feature is designed with the individual worker's privacy in mind.
The third point is that of learning. This is where content from LinkedIn Learning and Microsoft Learn are combined. From this section is where workers can receive training courses and other content of this type, both from the company itself and from third parties.
Finally we have the Topics section, a kind of Wiki to get organized. With this function, Microsoft will allow you to find recommended documents, videos, people and cards with different topics that may be interesting, according to the criteria of the algorithm.
During the past year, more than 115 million users used Microsoft Teams. According to Satya Nadella, "we have participated in the largest scale remote work experiment in the world" and in this situation, she expresses that "Viva brings together everything an employee needs to be successful, from day one, in a single integrated experience".
Microsoft resurrects in a way what we knew in the past with Yammer, its own business social network. Now he returns with a more profiled appearance, with the experience gained with Microsoft Teams and trying to take advantage of the winds of this new situation caused by the pandemic.
More Information | Microsoft