Audiobooks have been widely used by all age groups. Today we will list free audiobooks for children for educational purposes.
The audiobooks have become a resource increasingly used and very effective for consuming content, offering titles in different genres that cater for all tastes.
That is why it is not surprising that there is a dedicated children's audiobook sector for the little ones in the house, which have titles that will be to their liking.
In this sense, there are both free and paid portals and applications that offer children the opportunity to access children's audiobooks to enjoy them from their mobile at any time they want.
Next, we will give you some options for children's audiobooks so that your children can enjoy the best children's content. Following are best and free audiobooks for children…
It is an educational web portal in which children can have the opportunity to access a wide variety of books for free, including the most popular and well-known titles of children's literature and with which we are sure they will enjoy a lot.
When you enter the website you will find the audio stories classified into 3 categories: classic, original and funny, in order to facilitate your selection.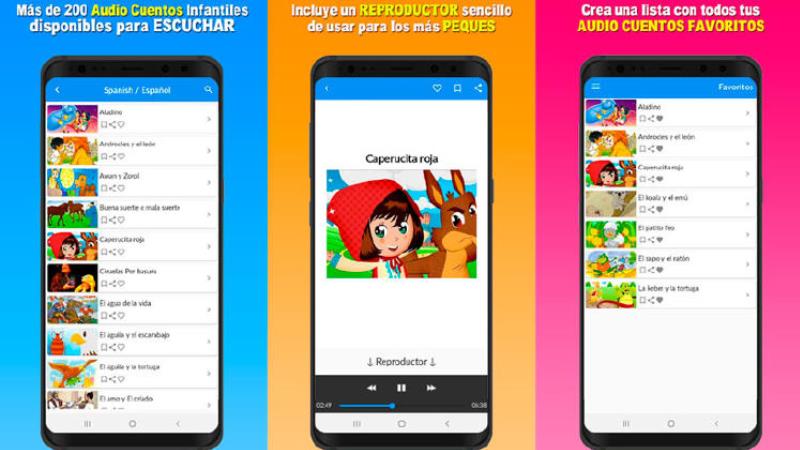 Available for the Play Store, this children's audiobook app offers a wide collection of the most popular classic stories that will capture the interest and attention of children, keeping them entertained.
Some of the titles that stand out are Little Red Riding Hood, Pinocchio, The 3 Little Pigs, among others. In addition, you can mark children's favorite stories and configure the audio in English so that children listen to their favorite stories in this language.
This is another audiobook app for children that presents an interface with an attractive and simple design with which children can enjoy their favorite stories.
This is how Once Upon a Time gives children the option of listening to their favorite stories from any device. Each of the titles available in this app are exposed in a way that effectively captures the child's attention.
Audible is owned by Amazon, and presents an interface in which it is possible to find a wide variety of children's stories that can be listened to after paying a fee. Both the organization of the audiobooks and the style of narration are outstanding features in this app.
In Storytel there is a category dedicated to juvenile literature, with such well-known titles as The Endless Story.
In Technoeager | How Mobile devices distract children digital education: a problem in the new normal