It is common to have battle between two competitor that we have seen now in Facebook vs Apple. The new feature 'App Tracking Transparency' in iOS 14 has been the last straw. For years, the companies of Mark Zuckerberg and Tim Cook have exchanged criticism for each other, but the harshness of the statements by the two CEOs has reached a new level in recent weeks. In the background there is a battle to implement its business model, a fight for user data and the freedom to work within its ecosystem.
While the CEO of Apple expresses that "we can not continue to turn a deaf ear", the CEO and founder of Facebook has recognized during the last meeting of investors that he expects Apple to suppose a "very relevant competitive overlap". These have been their latest moves against each other, the statements of Cook and Zuckerberg and the reason why these two tech giants are raising the tone of their message. Below are some of the points that create dispute between Facebook vs Apple.
Apple changes the rules of the game with iOS 14
The trigger has been the arrival of 'App Tracking Transparency', a function that will be available in early spring and where a notice will be launched in which to accept or reject the request when an app wants to access the identifier of our device. That is, developers must ask users when apps want to track their data. And in case the user does not accept, the application will not be able to use the system's advertising identifier.
The feature basically requires companies to request explicit permission for advertising to work as it has been until now. It is a tool that puts against the ropes those companies that base their business model directly on advertising, as is the case with Facebook.
In a tweet, Tim Cook, pointed directly against Facebook while announcing the new iOS tool: "We believe that users should be able to choose between the data that is collected about them and how it is used."
In the settings section of iOS 14, iPadOS 14 and tvOS 14 you can see which apps have requested permission and change it later. Mark Zuckerberg himself expressed his discomfort, according to Bloomberg, with the following words:
"Apple has every incentive to use its dominant platform position to interfere with the functioning of our applications and other applications, something they do regularly. They say they do it to help people, but the movements clearly respond to their competitive interests. "
To continue with the commitment to privacy, on January 28, Apple presented a PDF entitled 'A day in the life of your data', where the company reviews the uses of our data and what would happen if its own services were used as Safari or Apple Maps. A recommendation in contrast to those companies that "know where the family lives, the park they have visited or the news that the father has read."
Recently, Facebook has shown how the notification will be used in iOS 14. The screenshot shows that Facebook will request permissions, but exposes it under the argument of "getting more personalized ads" and "supporting companies that depend on ads for reach customers".
The type of notification and language used by Facebook to adapt to the new feature of iOS 14 has caused the reaction of organizations such as Mozilla, which have shown their astonishment through social networks.
The announcement of discord: "Apple against the free internet"
In December 2020, Facebook directly attacked Apple with several full-page print ads in US newspapers. Zuckerberg's company explained that it intended to defend small businesses.
The New York Times, Wall Street Journal, and Washington Post carried this ad with the headline "We're defending Apple for small businesses everywhere." An announcement explaining the changes in iOS 13 around advertising and how small businesses were going to be the hardest hit.
It was not the only announcement, as weeks later Facebook launched a similar campaign under the title "Apple against the free internet." In it, Facebook says that Apple's privacy changes "will change the internet as we know it" and that it will force web pages and applications to "start charging subscriptions and fees."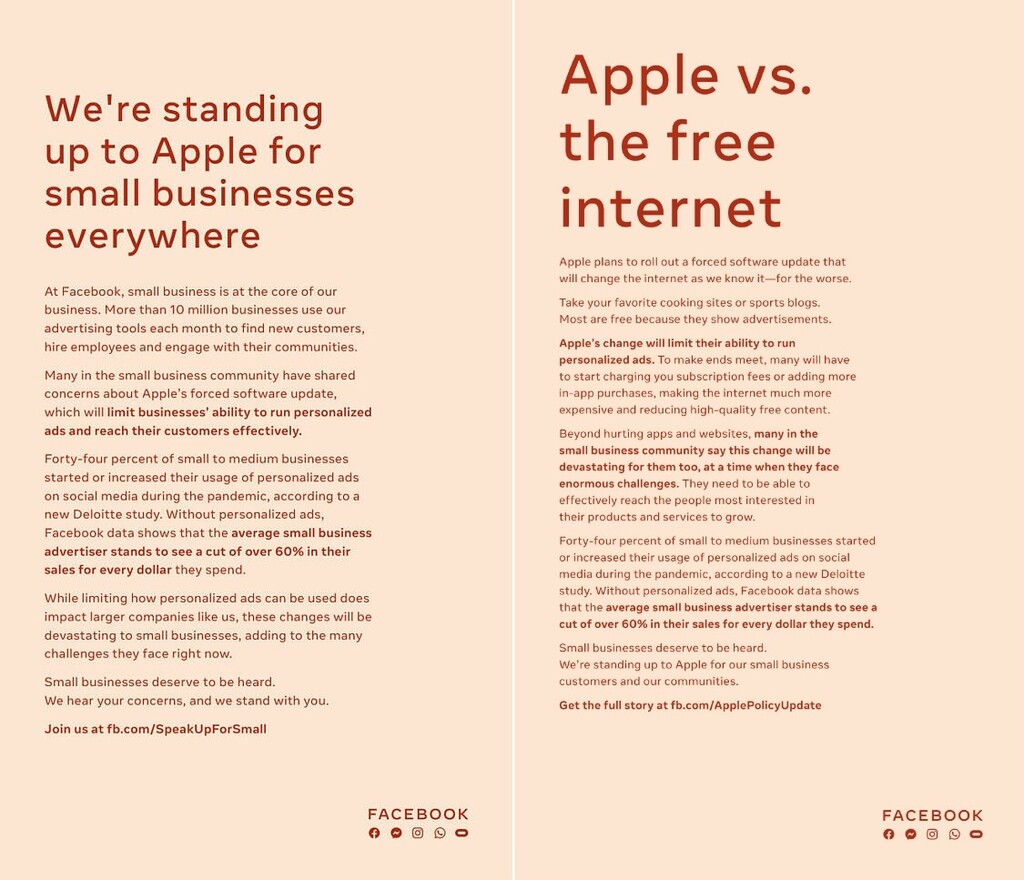 The reproaches between Facebook and Apple have been a constant. In 2018, an interviewer asked Tim Cook what he would have done if he were Zuckerberg about the Cambridge Analytica case. The answer made Apple's position very clear: "What would I do? I wouldn't be in that situation."
With the advent of the Digital Markets Directive (DMA), Facebook expressed hope that "limits will also be set for Apple."
From the other side, in a reply letter to the Electronic Frontier Foundation, Apple explained its belligerent take on Facebook:
"Not only do they allow the grouping of users into smaller segments, but they use detailed data about online browsing activity to target ads. Facebook executives have made it clear that their intention is to collect as much data as possible on products. both their own and third parties to develop and monetize detailed profiles of their users, and this disregard for user privacy continues to expand to include more of their products. "
Facebook considers suing Apple for antitrust practices
The dispute is not only between Facebook vs Apple, other companies are also against Apple. In this battle, Facebook is not alone. Companies like Spotify and Epic Games have openly criticized Apple for what they see as a brake on innovation, and have even gone to court for it. They all complain about the same thing: Apple impacts severely by acting as an intermediary. A dynamic that has already been dubbed the " Apple tax."
Despite internal resistance from some employees, Mark Zuckerberg's company is contacting an external legal advisor with the intention of filing an antitrust lawsuit against Apple, according to The Information.
Facebook would join other companies in suing Apple, arguing that developers must abide by App Store rules that Apple's own applications do not have to follow. A lawsuit that could also include Apple's practice of limiting third-party messaging apps on the iPhone.
Facebook Vs Apple: Position of Facebook
The battle with Apple occurs at the same time that Zuckerberg's company is trying to get away from privacy issues, but instead of focusing on Facebook itself, the social network's argument revolves around the problems it generates for small businesses. "They will see a cut of more than 60% in their sales for every dollar they spend," says Zuckerberg. The Facebook vs Apple battle is not only related to privacy issues but also other factors.
"Apple may say that it is doing this to help people, but the movements clearly follow their interests," explains the CEO of Facebook. Under Zuckerberg's vision, Apple is now one of Facebook's biggest competitors. With Apple's decision, the online advertising industry expects to be affected as a percentage of users may choose not to share that information.
"iMessage is a key axis of its ecosystem. It comes pre-installed on all iPhones and has a preference for APIs and private permissions. That is why iMessage is the most widely used messaging service in the US," Zuckerberg explains, while explains that Apple is increasingly based on its services and applications. "Apple has every incentive to use its dominant position to interfere with the operation of our applications and other apps, which they often do to prefer their own."
In addition to the battle over the use of data, it is more than likely that the rivalry between Apple and Facebook will move to the world of virtual and augmented reality, where the two companies are working on bringing their own headsets.
Tim Cook replies to Zuckerberg without naming Facebook
In the Facebook vs Apple battle Tim Cook notices what Zuckerberg think about Apple. The day after Zuckerberg's remarks, Tim Cook gave a talk on privacy at a conference in Brussels. Without actually naming Facebook during the entire conversation, he did make the case in reference to Apple's position.
"If a company is based on deceiving users, on the exploitation of data, on options that are not options at all, it does not deserve our praise. It deserves reforms," ​​Cook explained, in a clear escalation in tone. "Technology doesn't need large amounts of personal data, bundled together across dozens of websites and applications, to be successful. Advertising has existed and thrived for decades without it."
"At a time of rampant misinformation and algorithm-driven conspiracy theories, we can no longer turn a deaf ear to a theory of technology that says that all engagement is good engagement. And all with the goal of collecting the most data. as possible. It is time to stop pretending that this approach does not have a cost: polarization, loss of trust and, yes, violence, "argues the CEO of Apple.
In clear reference to the Netflix documentary 'The Social Media Dilemma', Tim Cook concludes that "a social dilemma cannot be allowed to turn into a social catastrophe."
The conflict between Apple and Facebook brings thousands of companies that base their business on advertising in the middle. But it also marks the lines of how big tech companies should work with our data. While these giants are in the midst of their own lawsuits for antitrust practices, they now look to their rivals to impose not only their products and services, but also their views on which business strategy should prevail.