If you are tired of the social network doing with your personal information "whatever it wants", or you have simply tired of living in this global neighborhood yard, we will tell you how to delete a Facebook account forever.
Facebook is at the center of an unprecedented storm due to the improper data access of more than 50 million users by Cambridge Analytica . So much so, that Mark Zuckerberg himself has been summoned to explain this data leak to a committee of the British Parliament and to the European Parliament. Although the manager does not have the obligation to appear, he is expected to accept this "suggestion" due to the media pressure he is having.
Therefore, if you were wondering whether to permanently delete your Facebook and this has helped you make the final decision, we have prepared an article with all the steps to follow.
Be careful, before starting we already warn you that you face a process that is not easy, not because of its difficulty, but rather because of the many obstacles and stones in the way that Facebook tries to put you during the process. But don't despair, with our help you will know how to eliminate Facebook from your life forever.
These types of practices are common in our day to day, we have all gone through the trouble of trying to unsubscribe from a telephone operator, change electricity companies or simply return something we no longer want, so you have social networks They were not going to be less as we could also see when we tried to delete or delete an Instagram account forever, for example.
As with Instagram, Facebook does not make it easy for you to know how to delete a Facebook account. First, it always gives you two options in order to avoid or delay your march as much as possible: delete a Facebook account temporarily or permanently .
Before starting, and whatever your decision, our recommendation is that you make a copy of your Facebook data on your computer's hard drive, in this way you make sure not to lose the photos, video, friends or comments that you have published on your wall to date.
How to remove Facebook from our Phone and Computer
Three, two, one … Will you really be able to live without Facebook? If at this point you are still considering it, we recommend that before deleting your Facebook account you better consider the option of deactivating your account indefinitely.
What do you get out of this? Simple, your Facebook information will not be publicly available, not even to your friends, so you will not be able to interact with anyone, you can even stop receiving Facebook emails for the duration of the deactivation. It is a way to delete a Facebook account from your life but with less risk.
What does this mean? Easy, if you regret it, you just have to identify yourself with your usual data, et, voilà, you will come back to life on the social network, because Facebook will have saved all your data waiting for your long-awaited return. Mind you, you must live forever knowing that you have been defeated by Mark Zuckerberg, we are sorry.
To deactivate -not delete- your Facebook profile you have to follow these simple steps:
Deactivate Facebook Account Temporarily
Account> Setting & Privacy
Click on the Account menu in the upper right corner of the Facebook page and there click on Setting & Privacy.
Now, click on Setting, at the top left of the menu.
Now in new window click on Your Facebook Information.
Click on Deactivation and Deletion option in Your Facebook Information page.
Among all the options you will have option: Deactivate account.
Select any of the reason for deactivation account then click on Deactivate
Next, you will have to Click on Deactivate Now option (Enter password if asked).
Between funny and gloomy is the emotional blackmail that Facebook subjects you to on your way to deactivation, after a new verification of your password. A list among which you will find some of the friends you have had contact with will say goodbye to you, they will " miss you a lot". Overcome this trance and respond to the reasons why you have made this decision. Get a boost and click Disable. You haven't finished yet.
As international treaties, which require signature and ratification after binding, the deactivating your Facebook account is a multistage process. This is the last one. Click on Deactivate now, and your account will be deactivated, although, remember, Facebook will keep your data in case you regret it. You can easily sign in the account you have deactivated whenever you want until it will not be visible.
How to delete a Facebook account permanently forever
In this case there will be no going back, if you are convinced that you do not want to be in the social network of our friend Mark and above all, you do not want him to save and "traffic" with your personal data , you can also leave to not return requesting his permanent erasure. It's easy, but subtly complicated at the same time :
Getting to the link that allows you, not to deactivate, but to know how to delete my Facebook account forever is not easy. We have found it well hidden in the FAQs (Frequently Asked Questions) of Facebook. In them, hidden under the "subtle word": let us know, you will find a precious link to delete Facebook permanently.
Select Delete Account instead of Deactivate Account as in Step 5 before
In the Next window click on Delete Account option; this will also delete Messenger data
Once we click on the link, it takes us to the mysterious screen that will allow us to deactivate our profile and delete all data from the social network, forever. Notice first:
And the final notice, in which you will have to solve a curious puzzle. And Finally enter, once again, your password:
Still, in fact, you may regret it even if you click OK, since Facebook gives you (given) two weeks of leeway to close a Facebook account permanently. Can you resist them?
How to delete your Facebook account from mobile App
Yes you can easily delete your Facebook account from app of our mobile phone. Deleting Facebook account is simpler in mobile app. The steps are a bit varied then of computer. You can easily deactivate your Facebook account from mobile app but permanently deletion is not now available from mobile. Follow these steps to delete a Facebook account from mobile app:
Log in to your Facebook account on mobile
Click on menu available on the right corner of the app with three horizontal lines.
Scroll down and expand Setting & Privacy Tab then click on Setting Tab.
Next Account Setting option will open and click on Personal information
Next Click on Manage account option in Personal information Page
Account Deactivate option will be seen and click on that
Next select any deactivation reason and click on Continue
On next page it will show some information based on your reason selected in previous step; Simply click Continue
Again on next page it will show all managed pages and groups and other developer options for our shake. Also check Opt out setting that stops receiving requests after deactivation
Then click on Deactivate and it will ask for password and enter your password and press on Continue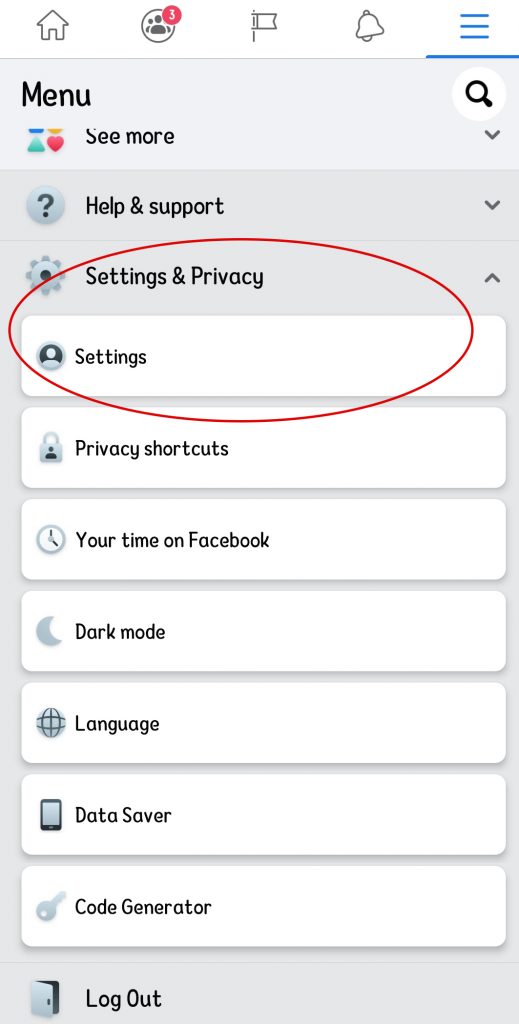 Some steps are different to delete a Facebook account for new version and old version of Facebook. We will update if Facebook changes the way of deactivating or deleting Facebook account.