The MP4 and MP3 formats are among the most used in multimedia. MP4 can be used in both audio and video, while MP3 can be viewed only as audio. If you are looking for how to convert one of the files in the recognized mp4 videos to mp3 format as is the case that you find a song of very good quality, but it is in video, we will tell you how you can do it easily with programs and websites. We have made a selection with the best MP4 to audio converter tools so that you can choose the one that best suits your needs or requirements. Thus, you can always take the music with you wherever you go.
How to choose a converter
Choosing a good program to transform MP4 videos into MP3 format is a complicated decision, since, although there are many options at your disposal, you must find one that suits your requirements, perfectly fulfills its function and is also safe. For this reason, we show you some of the best programs and websites so that you can make the transformation easily and in a few seconds, at most in minutes. First of all, we give you some tips to make the best decision.
Easy to use
It is something that you will want to do easily and in a short time, so it is best to look for a service to go to MP3 that has an intuitive design and is easy to use. If you only have to include the video link and convert it is more than enough. Especially if you don't have a lot of computer skills. If you are also looking for some additional functionality, it must be easy to access and use.
Security
It is very important that the selected tool is totally safe, so that it does not access your data, information or software and misuse them or even affect your computer. Therefore, you should only use trusted services that have good opinions from their users and provide you with maximum security. Cybercriminals are on the lookout at any time, so only download on trusted pages, and at the slightest suspicion do not use that service.
Compatibility
You should also take into account in which devices and browsers you can use it, as well as the requirements for use, to know if it is compatible with your device. If a program is very good, but you cannot use it on your computer, or on your mobile in case you prefer this option or you don't have a computer, it will not help because it is not what you are looking for. Therefore, this is an important aspect.
Price
The price of the service is another factor to look at when choosing this type of software. Although your main interest will be that it is free, you may consider looking for a payment option if the service offers you additional benefits that are more useful, eliminates limitations, advertising and gives you maximum security. In this case, you have to check that the price is accessible for you and appropriate according to what the program offers you.
Advertising
In the case of free software and websites, you may find several services that have advertising, the vast majority. However, the key is to find a service that does not invade you with advertising and hinders the process or even links to pages that may damage your computer or not be the most appropriate. Therefore, how advertising is handled in the service is an aspect to consider.
Converters programs from mp4 videos to mp3 format
If you have thought about converting any video, or audio in MP3, to the desired sound format because it is the one you can use, the one that interests you or simply gives you greater confidence, we will tell you about some software with which you can do this task easily and in very little time. They are trusted tools designed specifically for this function and that many use to convert YouTube videos to MP3, among many other uses.
For free
Regarding software, we are going to start with those that you can download safely and for which you do not have to pay anything, although there are some that have a paid version that could be of interest to you if you want to expand features or need anything else. Without further ado, check out some of the best free programs you can find for these features today.
Video Converter Any Format is a well-received free application with which you can modify and compress videos. Supports MOV, MP4, AVI, WMV, AV, MPEG, MP3, RVL, FLV, VOB, OGG, MKV, AMV, 3GP, M4P, MPG, MP2, MPE, M2V, M4V, 3G2 formats and more. You can get it for free in the Microsoft application store , so it is only available at least for Xbox One and Windows 10 version 15063.0 or later.
Any Video Converter Freeware is a free video software that also works as a video editor and DVD burner that does not include ads or malicious files. Available for Windows and Mac, use the videos from your computer, or download them from the internet, to convert them to practically any format you want, including MP3. It has a paid version, but what you need in this case is more than enough with the free one.
Online Audio Converter is an application in which you can convert the MP4 videos to mp3 format that you have on your computer, Google Drive, Dropbox or link other formats. You can do it with different qualities. They are the most economical quality (which occupies and takes less time), standard, good or the best. In addition, it has several advanced options and the ability to edit song information. If you want to remove the ads and improve their performance somewhat, you can opt for the premium option, otherwise the free one may be enough.
Freemake is a program for converting videos and movies to many more formats, capable of sharing in almost any format. You will find it free, in Spanish and trustworthy. It supports more than 500 formats and is capable of using content from Video, Facebook, Dailymotion and other sites.It has a large number of functions and does not lose quality. There are several possibilities, so you choose one of them, the file format, add it and convert to MP3 to get a good quality audio easily.
Format Factory is a free tool with which you can change practically whatever you want, of course you can transfer different files to this or other formats if you wish. You can download files from video sites and much more in a way that will be easy for you once you start using it. You may not see it as simple as others at first, but this is because you have to choose between different functions.
Payment
You will also find some programs with which you can perform these functions that provide you with greater benefits at the cost of a payment, with some free modality. It is interesting that you meet them if you need more than what the free software that we have mentioned offers you. Therefore, know some high quality and security software that may interest you. If you need professional results, go ahead and try them
Wondershare UniConverter is an MP4 to MP3 tool for Windows and Mac with which you can change many other formats if you wish. Also, you can burn videos to DVD disc, download YouTube videos, and much more. You can download it for free for Windows 7 64-bit or newer version or Mac Os 10.10 or higher.
You have the option of choosing an annual, quarterly, or perpetual plan. These paid plans include all the basic features and three add-ons. The trial version is more limited, but you can use it if you want to save on the purchase and don't need more.
Switch, music and audio converter is a very efficient and fast program that you can use on Windows, Mac Os X, Android and Kindle to transform and encode files. In all formats, it is capable of automatically normalizing audio. Compress sounds in minutes, and you can do it in batches. It has a free version for non-commercial use and a more complete version for commercial use.
Website to convert MP4 to Mp3
If you are looking for a specific music or sound, but you are not able to achieve it in any other way than finding them in video format, or it turns out that you have found that the songs of certain videos are of better quality than if you download them directly as a video file audio, so you thought it might be a good idea to use them to get the music that interests you from there.
In any case, we are going to show you some websites where you can make your conversions to MP3 for free or paid with maximum security and confidence, so that you can choose the one that best suits you or is more comfortable for you to use. You will find different options, so surely there is one that offers you what you are looking for.
For free
You will find different websites from which you can convert your videos to audio format from anywhere and at any time, just with an internet connection. Most without registration, all of them free, at most with some payment option to improve their benefits. Only with a browser and internet access you can download them at any time and place. We present you some of the best free solutions.
Go Mp3 is a free website where you can transform videos to MP3 without installing any program, compatible with all browsers and devices. It promises good speed, no registration, no download limit and 100% safe, no ads. It becomes a good alternative if you are looking for a free trustworthy tool.
Just copy the YouTube video link and easily downloaded to your computer. It is a very simple tool whose downside is that you can only stream videos from Google's audiovisual content website.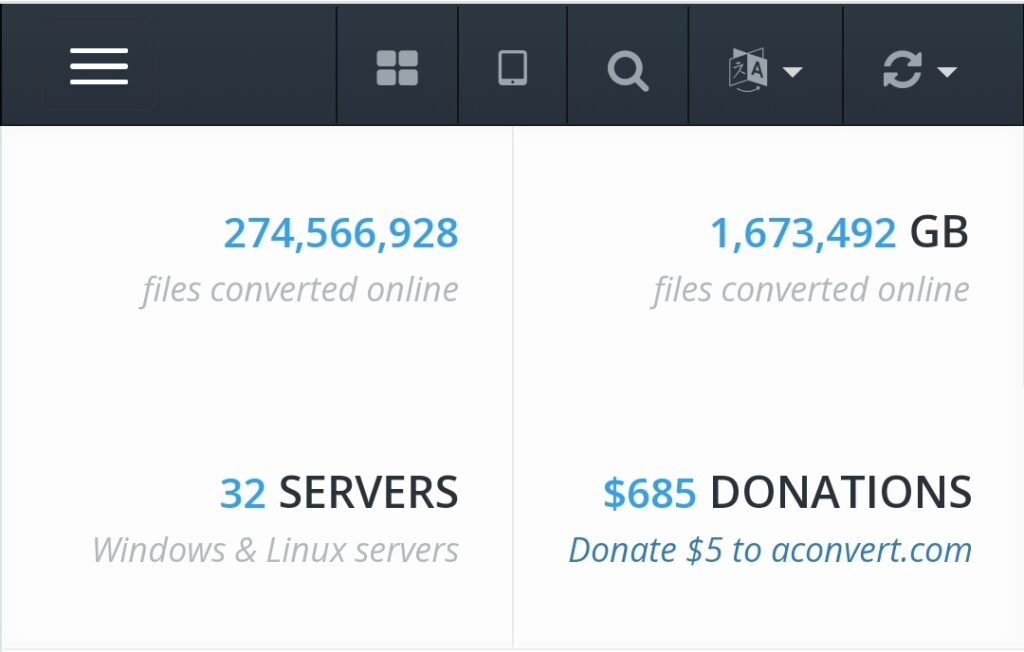 Aconvert is a very complete online tool in which you can see the options that exist. You can open a file from your computer or a link that you indicate. You choose the type of output format when opening the file, the bitrate and the sampling frequency and click Start of Conversation, but not before choosing the file by uploading it (file) or with a link (URL). The process will appear indicating the approximate time it takes to complete.
Anyconv is a very simple program to update files because you only have to add the file for conversion or use the Choose file option. Then you give to convert and the process is completed so you can download it. This may take a few seconds or more depending on your internet connection, the file used, and so on. The files are deleted after an hour and no one else has access to them. You can use it on Windows, Mac Os and Linux, as well as any operating system with a web browser.
This is a tool compatible with the most used browsers that provides you with security, speed and a free service. You just have to copy and paste the link of the video and you can transform it in seconds without registration. Supports all kinds of video links from YouTube, Facebook, Twitter, Vimeo and other services. You just have to indicate the link and hit Convert to start working.
Payment
If you are looking for something else, want professional results or go beyond the limitations offered by the free versions, we will tell you about some paid programs that will be able to perform this function with maximum efficiency, safety, with very good results and at affordable prices. Without further ado, we present them to you so that you can choose the one that is most convenient for you.
Convertio is a simple as well as complete tool with which you can convert your files from MP4 to MP3 easily. You can import files from Dropbox, Drive and URL, in addition to your computer. You can upload files of maximum 100 MB or register. There are several plans that may be of interest to you, from the cheapest that allows 25 simultaneous transformations and files of a maximum 500 MB to the most complete. Remember that with the limits indicated you can enjoy its free online version.
Zamzar is an online tool in which you can transfer files on any operating system to the desired format. It has been in use for many years, so it provides high quality. You can change what you want anywhere as long as you have an internet connection. Although it has a free version, this one interests you only in files that do not exceed 50 MB. It has superior plans with unlimited downloads, but that differ in other features such as maximum file size, online storage, and more.