Everyone who has at least a little knowledge on the subject of digital graphics knows perfectly well how tedious and complicated it can be to create digital art. However, thanks to technological advances, today we can have artificial intelligence tools capable of creating a painting or an image based on a text you write.
Having said that and knowing the great potential and the amazing results that certain platforms can give, today we will be showing you the 10 best systems there are to go from text to image, so if you want to create AI art from words, pay attention and keep reading.
Remember that Google is working on Imagen, and that Dall-E is already available to the public, but there are still more surprises in this sector.
Dall-E and Dall-E Mini
The Dall-E program from OpenIA is without a doubt the benchmark of AI text-to-image generators, the best known of all those on the internet. In fact, now the best-known program is Dall-E 2, which has just been reported to integrate Designer, Microsoft's new graphic design app.
Even so, a clear alternative, fast and safe version that you can try is Dall-E Mini, an open source creation that is based on the original AI model and is available to the public. As you can see, you do not need to register to start producing your images, and you will only need to write the key phrase and click on the Run button.
What sets Dall-E Mini apart is the ability to create all the images you want for free (nine will be shown for each search you do), although there are no improvements or customizations that can be made.
Along with Dall-E, Midjourney is one of today's most popular AI tools for creating text-based images, so if you want a piece of art that's about what a mountain with chocolate rivers looks like in space, you can do it from there thanks to the artificial intelligence that the program presents.
Midjourney works through a Discord server, so you will need an account for this service and there to join the beta program that is being developed. You can do this by entering the following link, with your Discord session previously started.
As such, the program offers different payment plans, and the first involves creating up to 25 images for free, although of course there are some limitations in this plan as you do not have to pay anything. However, there are other packages that allow you to make many more images with more tools and settings, all for a few dollars a month.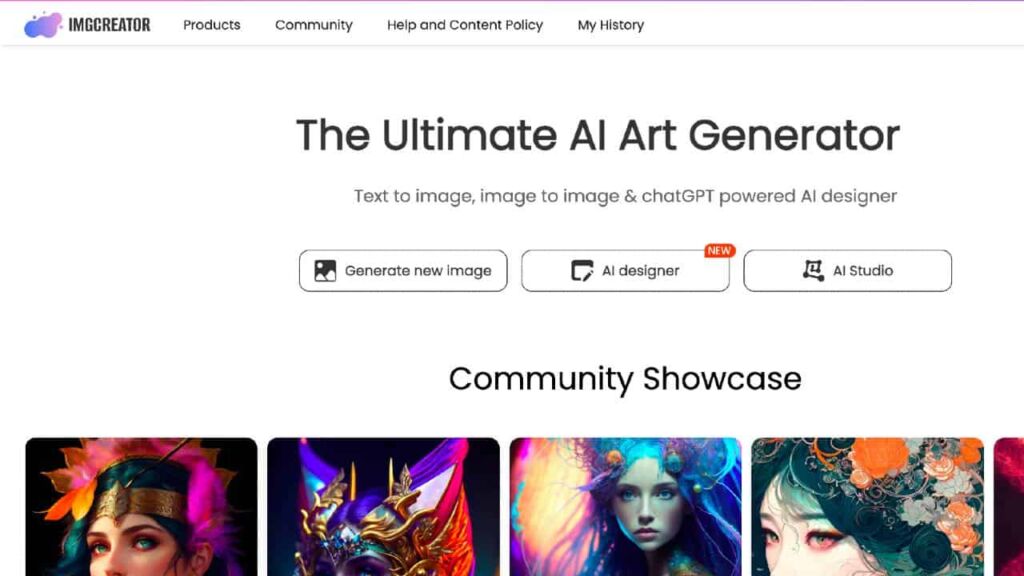 We are now faced with another quality alternative to generate AI images. Imgcreator is a site with a remarkable interface, good resolution in the art created, coherence, among other attributes that make it worthy of a place at this table.
Once you have written the text about what you want to see in the image, it will be possible to access a new work room where you can configure the category, style, medium or type of art and even the artist, having available names of the stature of Leonardo da Vinci, Vincent van Gogh, Picasso, Salvador Dalí, among other references.
Please note that this is another site where credits are used to create artwork. However, initially there are up to nine free images to try the experience and see how it goes.
Stable Diffusion has been an open source image generation model, on which the DreamStudio tool was derived. Being a project created by a large community of developers, the beta version of the program can currently be accessed from a computer.
In general, the results have been quite decent and the work area to adjust the creations also turns out to be in optimal conditions. And yes, the site also has a limit of images that can be downloaded for free
Just by typing a sentence of what you want to convert to an image, the site will process it and use its AI to transform your words into an image. As you can see in the image on the site, there is the bar to write the text you want and just below are the different artistic styles that you can choose from , such as oil painting, epic, neo-impressionism, etc.
Keep in mind that this is a site that works based on credits, which are used to change all those settings you want on an image. When you create an account, you get 5 free credits, in addition to 5 that you get daily as well.
Although it is capable of doing the same as the other sites that we will be presenting in this post, Starry IA could certainly be considered one of the best options for creating art with word-based AI.
The site has a much more polished and worked interface compared to Nightcafe, not to mention that you can make 5 creations a day for free, and without watermarks, which is quite good. In addition to this, it is also possible to earn credits by watching ads or sharing creations on social networks.
Regarding the image creation process, you must first choose one of the three AI engines : Altaïr to produce dreamlike (dreamlike or abstract) images, Orión to generate unreal images, and finally Argó to create artistic renderings. and products. Once the AI ​​engine has been chosen, you will only need to write the text, add a style filter and then click on the green Create button.
It is an application for Android and iPhone mobiles that allows you to create images based on texts without any type of limitation, that is, it does not run with any type of credit system or anything like that, since all creations are They are free and can be created unlimitedly.
In Dream by Wombo, all you have to do is create an account, write the word or text you have in mind, select one of the many styles there are and finally click on the Create button. While it is true that the mobile version of this program has some extra functions, it can also be used in its web version without any problem.
Pixray is a direct, simple, easy-to-use and free alternative to making images and text-based art, all from the comfort of your computer. As you can see when you enter the official page of this generator, the first thing to do is add the sentence or phrase, then choose between the different rendering engines that exist (pixel, vqgan, clipdraw, line_sketch, etc.), and finally modify the last section of Settings .
There in Settings is where the fun is, so to speak, since here you can adjust the AI ​​by adding styles, artists, quality itself, iterations, among other things. Although there is no coding involved as such, this part is a bit heavy.
Google also gets on the boat of programs to invent art from text, and does so officially with DreamFusion, its new AI capable of creating 3D objects and images using the same fundamentals used by all the sites previously mentioned in this post..
According to Ben Poole, research scientist at Google Brain and co-author of the article, DreamFusion turns out to be a kind of evolution of Dream Fields, another Google 3D image generator that was presented last year. And while DreamFusion is still in the research and development stage (not available to the public for now), it is already possible to see some examples of coherent models with correct proportions and details.
Closely linked to the previous Stable Diffusion option, we now find DiffusionBee, an exclusive program for Mac that can be downloaded with a single click and that has a very simple and minimalist, but at the same time sophisticated, interface.
From there, you just have to write what you want in the bar and then click on the Generate button, that's all you need to start creating images based on text in DiffusionBee.