Today we are going to talk about the XGIMI Halo +, a portable projector that has been improved and optimized to offer an even more impressive viewing experience. This compact and powerful device has been designed for those looking for a high-quality projection solution that is easy to use and transport. With increased brightness, standard 1080p resolution, and a host of exciting new features, the XGIMI HALO+ promises to take your movie, gaming, and presentation sessions to the next level. Join us as we take an in-depth look at what this projector has to offer.
Specifications of Xgimi Halo plus
We start with the specifications section, the boring one, the one that can be read in any manual or web page, but in this case I will talk about them giving a bit of context so that you understand why they are important.
Display technique and chip : The HALO + uses the DLP (Digital Light Processing) display technique, a technology that offers sharp images and vibrant colors. The 0.33″ DMD chip is at the heart of this technology, allowing millions of pixels to be projected for detailed image resolution. This is especially useful for viewing high-definition content, such as movies or games, where every detail counts.
Brightness : With a brightness of 900 ANSI lumens, the HALO+ is capable of projecting bright, clear images, even in rooms with ambient light. This means you can enjoy your favorite movies or important presentations without having to completely darken the room.
Standard Resolution : HALO+'s 1920 × 1080 pixel standard resolution ensures your images are projected in high definition. This is ideal for watching Blu-ray content, streaming in high definition, or playing video games with detailed graphics.
Lamp Life : With a 25,000 hour lamp life, the HALO+ is built to last. This is equivalent to more than 3 years of continuous viewing, which means you can enjoy your favorite movies, series and video games for years without having to worry about replacing the lamp.
3D and MEMC Support The HALO+ is compatible with 3D content, allowing you to enjoy movies and games in a whole new dimension. In addition, MEMC (Motion Estimation, Motion Compensation) technology helps smooth moving images, which is especially useful when watching sports or playing fast-paced video games.
Throw Ratio : With a throw ratio of 1.2:1, the HALO+ can project a great image even in tight spaces. This makes it ideal for small rooms or to take it with you to meetings, events or even camping.
Auto Focus and Auto Keystone Correction : These features allow the HALO+ to automatically adjust itself to deliver the best possible image. Autofocus ensures that the image is always sharp, while automatic keystone correction adjusts the image so that it is always perfectly aligned, regardless of the projection surface. This is especially useful if you plan to move the projector frequently.
Intelligent Obstacle Avoidance : This feature allows the HALO+ to detect and avoid obstacles, which can be useful if you have children or pets that might walk past the projector.
Projection method and image size The HALO+ offers a variety of projection methods, including front, rear, front ceiling, and rear ceiling, giving you the flexibility to configure the projector in the way that best suits your needs. space. In addition, it can project images from 40″ to 200″, allowing you to have a home theater experience, regardless of the size of your room.
Speakers : The HALO + has two Harman/Kardon speakers of 5W each. These speakers are designed to deliver high-quality sound, greatly enhancing your viewing experience. Whether you're watching a movie, playing a video game, or giving a presentation, the clear, powerful sound from these speakers will immerse you in the experience.
Audio Support : The HALO+ supports DTS-HD, DTS-Studio Sound, Dolby Audio, Dolby Digital (DD), and Dolby Digital Plus (DD+). These high-definition audio formats let you enjoy high-quality, immersive sound, further enhancing the viewing experience.
System & Storage HALO+ works with Android TV, giving you access to a wide range of apps and streaming services. Plus, with 2GB of RAM and 16GB of storage, you have enough space to download your favorite apps and save content for offline viewing.
Connectivity – The HALO+ features a variety of connectivity options, including HDMI (with ARC support), USB, dual-band WiFi, and Bluetooth 5.0/BLE. This allows you to connect a variety of devices to the projector, from your mobile phone to your game console.
Electrical noise and power consumption With electrical noise of less than 30dB, the HALO+ is a quiet projector, allowing you to focus on what you're watching or listening to. Also, with a power consumption of 90W, it is an energy efficient device.
Battery : The HALO +'s 59,454Wh battery allows you to use the projector for several hours without having to connect it to the mains. This is especially useful if you plan to use the projector on the go or in places where there isn't easy access to a power outlet.
As you can see, the XGIMI HALO+ is a feature-rich portable projector that offers a high-quality viewing experience, whether you use it to watch movies, play games, give presentations, or simply enjoy your favorite photos and videos.
Unboxing and design
From the moment you receive the XGIMI HALO + box, you realize that you are dealing with a high-quality product. The elegant black box features a minimalist design with the product name and brand clearly visible. When you open the box, you find the projector carefully packaged, protected by high-density foam that guarantees its safety during transport.
The first item you find when you open the box is the projector. Its compact and portable design immediately catches the eye. With dimensions of 113.5 × 145 × 171.5 mm and a weight of 1.6 kg, it is clear that this projector has been designed with portability in mind. Its rounded shape and its attractive black finish give it a modern and elegant look.
Along with the projector, you'll find a number of essential accessories. First, there's the power cord, needed to charge the projector's battery. Below you will find the warranty card, which provides peace of mind by ensuring manufacturer support in the event of any issues. A Bluetooth remote control is also included, making it easy to navigate the projector's menus and functions. Last but not least, a detailed user manual is included, which provides clear and simple instructions for the use and maintenance of the projector.
The design of the XGIMI HALO + attracts attention. Despite its compact size, this projector is packed with features. On the rear, you'll find a number of ports, including an ARC-compatible HDMI port, a USB port, and a 3.5mm headphone jack. There is also a DC power port to charge the projector's battery.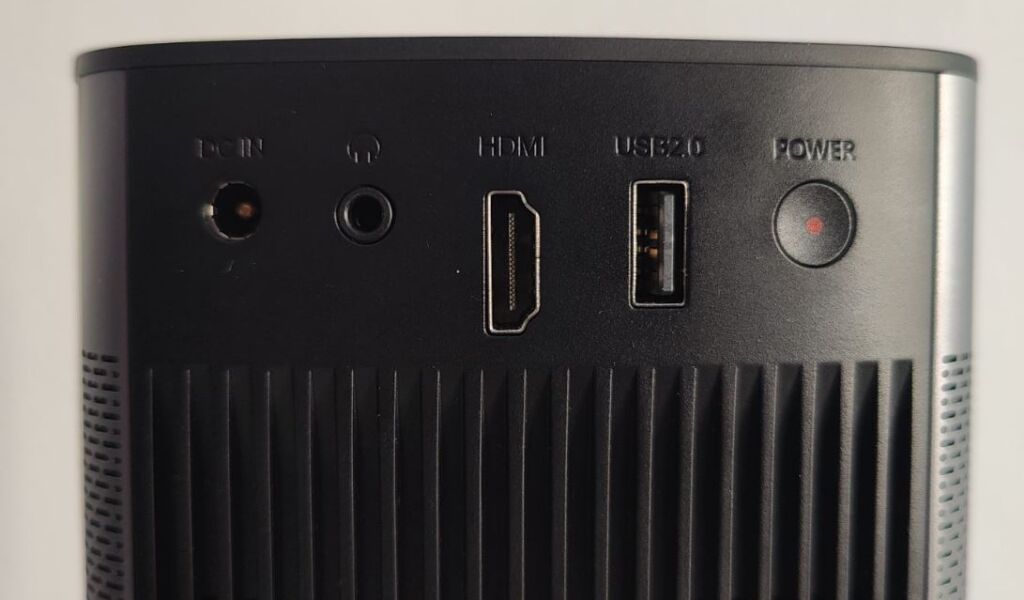 On the front of the projector, you'll find the projection lens, protected by a sliding cover. Just below the lens, there is a small camera, which is responsible for the autofocus function and automatic keystone correction. This camera is one of the main differences between the XGIMI HALO+ and its predecessor, and is a welcome addition that significantly improves the projector's ease of use.
On top of the projector, you'll find a series of touch controls, including volume controls and play and pause buttons. There is also a status LED that indicates the operating status of the projector.
On the bottom of the projector is a solid rubber base that provides stability for the projector when placed on a flat surface. There is also a small stand that allows you to tilt the projector to adjust the projection angle. Additionally, there is a tripod mount hole, providing even more placement options.
Overall, the XGIMI HALO+ impresses with both its design and build. Despite its compact size, this projector is packed with features and details that make it stand out. From its sleek black finish to its array of ports and touch controls, every element of HALO+'s design has been carefully thought out to provide an exceptional user experience.
Projector interface and settings
The XGIMI HALO+ works with Android TV 10, providing a smooth and fast user interface. This operating system allows easy navigation and access to a wide range of applications and streaming services, such as Netflix, which works smoothly right out of the box.
The projector offers several settings that allow you to customize your viewing experience. These include:
Brightness : The projector has a brightness of 900 ANSI lumens, making it suitable for use in a variety of lighting conditions. You can adjust the brightness according to your needs.
Auto Focus and Auto Keystone Correction : These features allow the projector to automatically adjust focus and image alignment each time it is turned on or moved, making it easy to set up and use.
Projection Settings : You can adjust the projection orientation depending on where you place the projector (front, rear, front ceiling, rear ceiling).
Image Size – The projector can produce an image between 40″ and 120″, allowing you to fit the display to your space with a 1.2:1 throw ratio.
In these images you can see some screens of the available configuration:
The main configuration menu is the one that gives access to the rest of the options that you see below:
image quality
The XGIMI HALO + is a portable projector that offers exceptional image quality for its size. It manages to produce crisp, clear images, and support for HDR10 and HLG ensures a wide color gamut and high contrast, resulting in vibrant, lifelike images.
One of the most impressive aspects of the HALO+ is its brightness. As I said before, it has 900 ANSI lumens, thus being capable of producing bright and colorful images even in rooms with a certain amount of ambient light. This is especially useful for those who plan to use the projector in different environments, since it is not always possible to fully control the lighting conditions.
Evaluation of image quality in different lighting conditions
To assess the image quality of the XGIMI HALO+, it is important to consider how it behaves in different lighting conditions. In a completely dark environment, the projector literally shines. Images are sharp and clear, with vibrant colors and impressive contrast. Blacks are deep and rich, while whites are bright and pure. The projector's high resolution ensures that fine details are accurately reproduced, which is especially noticeable when viewing HD or 4K content.
In a room with ambient light, the HALO+'s performance is still impressive. Although image quality can be slightly affected by additional light, the projector's high brightness helps to compensate for this. Images are still viewable and colourful, although blacks can appear a little grayer and colors a little less vibrant. However, compared to many other portable projectors, the HALO+ performs exceptionally well in ambient light conditions.
When used in a bright environment, such as a room with lots of windows or lights on, the HALO+ struggles a bit more. Although the images are still viewable, the image quality is significantly affected. Colors appear washed out and details can be hard to discern. However, this is a common problem with all projectors and is not unique to the HALO+.
Overall, the XGIMI HALO+ offers impressive image quality for a projector of its size and price. Although its performance can be affected by ambient light, it is still capable of producing sharp, colorful images in a variety of lighting conditions. Whether you plan to use it to watch movies, play video games, or give presentations.
file playback
The XGIMI HALO + comes equipped with a powerful system that allows the playback of high definition and 4K video files. Although the projector has a native resolution of 1080p, it can accept 4K input signals and scale them down to their native resolution. This means that you can enjoy 4K content, even though it will be displayed in 1080p.
During testing I used a very demanding video file, a 140 megabit per second 4K HEVC 10 bit file. He managed to do it with only a few moments of delay and stutter. I also tried a 60 megabits per second HD file, and it played back with no problem. There were no noticeable lags or stutters, indicating that the projector can easily handle playback of high-definition files.
Gaming experience with the projector
It's time to use my beloved Xbox and see how the Halo + behaves
Image quality is sharp and smooth, displaying gaming graphics in 1080p at 60 frames per second without a hitch. No input lag or image tearing is noticeable, which is essential for a seamless and immersive gaming experience. Even when moving the camera quickly in-game, the image remains stable and distortion-free. You can already imagine the immersion provided by playing on a screen of up to 120 inches, mainly with car games.
The combination of a clear and smooth picture, together with the impressive sound of the Harman/Kardon speakers, makes for a truly immersive gaming experience.
integrated speakers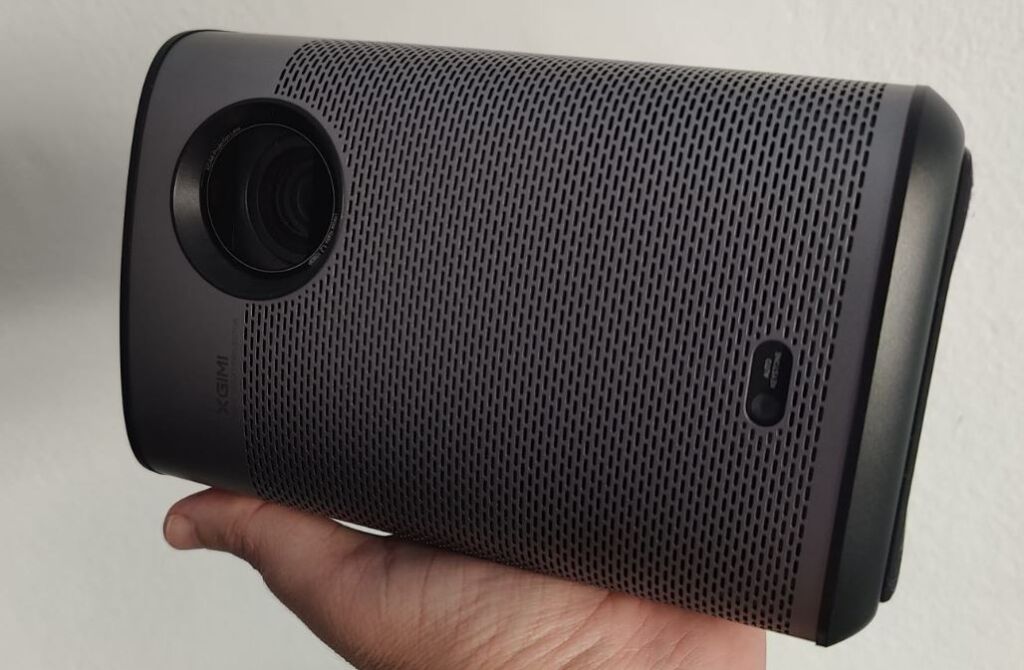 The XGIMI HALO+ comes with built-in 2 × 5W Harman/Kardon speakers, providing impressive sound quality for a projector of its size. These speakers are tuned to deliver rich, clear sound with good mids and highs.
During the test, a music sample was played at 100% volume to assess the sound quality. The results were quite impressive. Despite its compact size, the HALO+'s speakers managed to produce rich, powerful sound. Bass is remarkably good for a projector of this size, and the mids and highs are also clear and well defined.
It's important to note that while the HALO+'s built-in speakers are great for a portable projector, they can't replace a full surround sound or 2.1 sound system. However, for use as a portable projector or music player, the built-in speakers are more than enough.
fan noise
We reached the point where almost all projects sin, the noise of the fan.
I was surprised that the HALO+ stays quite low, below 30dB, which is good news for users who are sensitive to noise. I managed to watch Blade Runner without the fan ruining the soundtrack, and that's saying a lot.
During the review, the fan noise was not observed to increase in RPM, which means that the noise level remains constant regardless of the intensity of use of the projector. This is especially important during long viewing sessions, where an increase in fan noise could be annoying.
Conclusion
The XGIMI Halo + is a great choice for anyone looking for a portable projector with a sharp image and long battery life. It is easy to use and has a variety of features that make it perfect for watching movies, playing games, or streaming TV shows.
Here are some of the key features of the XGIMI Halo +:
1080p resolution
800 ANSI lumens
Long battery life of up to 2.5 hours
Built-in Harman Kardon sound system
Runs on Android TV
Overall, the XGIMI Halo + is a great value for the price and is a great choice for anyone looking for a portable projector.