Microsoft could present, at the next event that Apple will carry out and in which it is expected that they will announce new Mac computers, a new cloud service. This is Cloud PC, a tool that would allow Apple computers to run Windows (including Office), but in the cloud.
The rumor (and the leaks on this topic) is not new and ensures that Microsoft is working on enabling a virtualized Windows experience called Cloud PC. In this way, any computer (even a thin client) could remotely access Windows desktops and software such as Office.
Microsoft continues to bet on the cloud
Since Staya Nadella took the reins of Microsoft and proclaimed that of "Cloud First, Mobile First" (the cloud and mobility first), the cloud is behind almost every move of the company.
According to the latest leaked data from these PC, this service could be offered as part of Microsoft 365 and, as its name suggests, is cloud-based. According to WalkingCat, Microsoft will sell Cloud PCs in three types of versions (medium, intensive and advanced). Each of them would offer various virtual CPUs with varying amounts of SSD and RAM storage.
The middle tier has two virtual CPUs, 4GB of RAM, and 96GB of SSD storage. The intensive tier comes with two virtual CPUs, 8GB of RAM, and 96GB of SSD storage. The advanced tier has three virtual CPUs, 8GB of RAM, and 40GB of SSD storage.
As a good virtual machine, in order to use the Cloud PC it would be necessary to install Microsoft Remote Desktop to access the service, which is available for Mac, iPhones, iPads, Android and, of course, Windows. In this sense it is no different from any other virtual machine.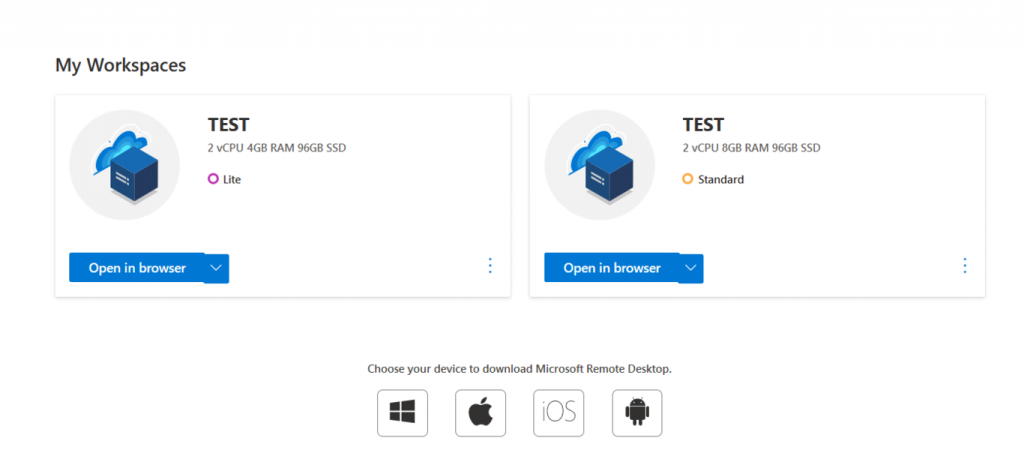 WalkingCat has published in this leak the logo that could have a service and ensures that some web pages are linked to this PC, such as cloudpc.microsoft.com and deschutes.microsoft.com.
Also Read | Microsoft will offer free Office version for Windows 10 and macOS soon