Do you want to activate WhatsApp without a phone number or don't want to use your personal number. Then you can do it by following these methods explained below. The instant messaging application  WhatsApp is the most popular and widespread in its category, but that does not mean that it is the best or the most complete. It has important shortcomings compared to some of its competitors. And it gives some problems when, for example, users want to activate WhatsApp without a phone number. But, although Mark Zuckerberg's company does not make it easy for users in this regard, it is possible to do so by following this procedure.
WhatsApp, unlike other instant messaging applications, forces users to use a phone number to register user. That is, if we want to have a WhatsApp account, we are necessarily going to have to use a phone number, it is not possible with an "@alias" or with an email address, for example. We need a phone number where we will receive a verification code from WhatsApp. However, what we can do is register an account with a WhatsApp phone number that is not ours. Specifically, through applications that allow you to create a virtual phone number. And no, there are not few applications that exist for it.
Why you shouldn't use your phone number on WhatsApp
WhatsApp is a service that requires the use of a phone number to use the application. Taking into account that the messaging application is being used sooner, we could say that many adolescents have a phone number in their name before their own ID. Something that has caused the phone number to become a method of identification.
In the case of WhatsApp, our phone number is the username to use the tool. In other services it is necessary to give a username or email and password, but in WhatsApp it is only our phone number.
Using this data as an identification method can have its risks. SIM cards can be duplicated, therefore someone could steal our WhatsApp account and impersonate us. But unfortunately this is not the only danger, since today, many people use two-factor verification systems to protect their accounts.
Systems that usually use the sending of a security code through a text message or SMS, therefore, the fact that someone can impersonate us with the duplicate of our card, will have access to a lot of our confidential information. That is why we are going to show below how we can create a WhatsApp account without using our phone number.
How to create an account on WhatsApp without a phone number
Though we cannot create account on WhatsApp without a phone number but we may not require to use our real number . While Snapchat, Facebook Messenger or Telegram accept user registration with alternative methods to the phone number, WhatsApp does not allow it. So, as an alternative to using our own number, or to be able to have a secondary account, we can get a virtual phone number in the following way:
With a virtual phone number
Many apps are available which allow you to set up a virtual phone number. TextNow is one of the biggest out there, and one of the simplest to use. Here's how to verify WhatsApp via a TextNow phone number.
Download TextNow from the Google Play Store or App Store, depending on your device. https://3024526cc1ce8c7931a5189c14d19b3a.safeframe.googlesyndication.com/safeframe/1-0-38/html/container.html
Tap Get Started.
Enter your email address and tap the arrow.
Enter a password and tap Create Account.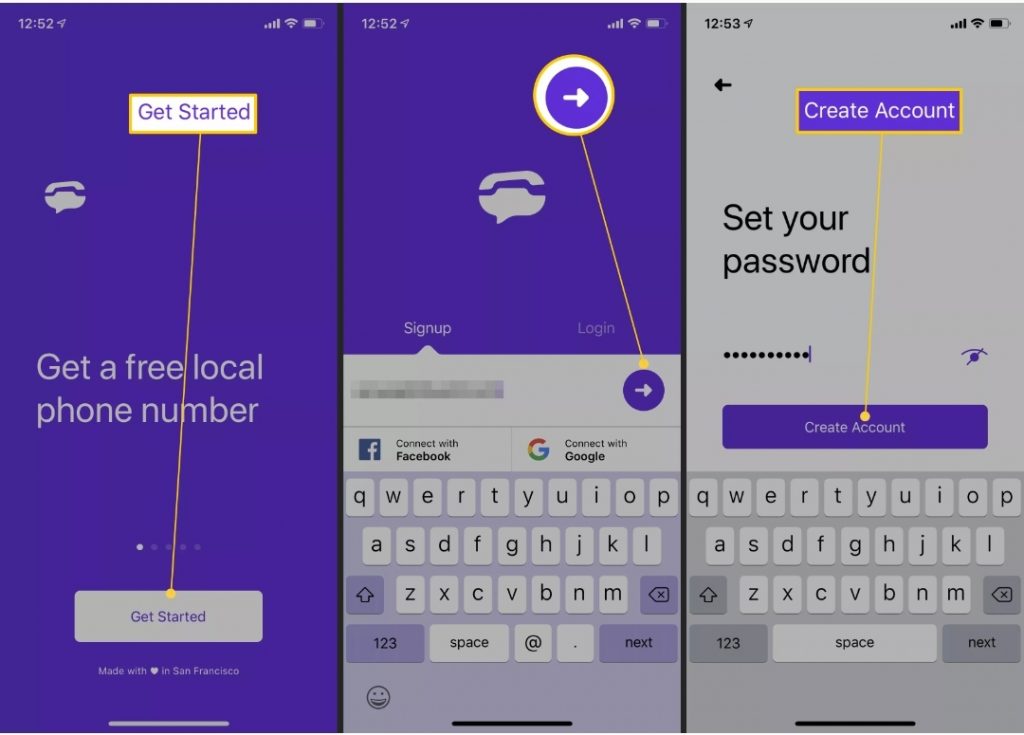 TextNow is free of cost for US and Canada numbers that you can use. For other countries you have to buy subscription.
Applications like Hushed allow you to create a virtual number – for a fee – which, in reality, works almost the same as a conventional telephone number. We have to choose the country, then select the numbering from among all those available and, once we have everything configured, we can create our WhatsApp account. Simply take the phone number created, put it in the WhatsApp registration process and register the account in the typical way.
As long as it is a virtual phone number, the WhatsApp account activation SMS will arrive directly to the Hushed application – or whatever we use. We will only have to copy the code and paste it into WhatsApp. And of course, from this, we must bear in mind that the number to give to our contacts is the virtual one, and not our own. A different way to get, for example, a separate account for your computer.
If later or on the contrary what we need is to delete our WhatsApp account, from the previous link you can see the steps to follow for this and the differences between deleting an account and deactivating it so that we can make the correct decision in each case.
If we use Burner we can have temporary or permanent phone numbers through an app for our mobile phone. You can buy credits that will allow us to use these numbers during the time granted by the so-called mini burners, which are like rates that give us 20 minutes of calls, 60 messages and 14 days of operation. We can purchase plans for a month or the whole year that will give us total operation without any limit. Another option would be to hire a plan for three lines that includes a system to configure bots for messages, being able to save them if we want. It is an application not exactly easy to understand, but it is extremely complete.
Actually we cannot create an account on WhatsApp without a phone number. We can use these alternative ways as above without using our real number.