After a few weeks as our home, leisure and even professional team, we tell you our opinion of the iMac M1 2021 in an analysis in which we tell you what type of user is this all in one that boasts of having a unique processor.
This year, after the paradigm shift in processors, it was the ideal time to renew the iMac. It is an iconic Apple line that, except for changes to internal components, had not been updated for years at the design level. And boy he has.
They have eliminated the apple from the front, we have a very characteristic design, white frames instead of black, a thickness like that of the Apple Watch and, in addition, the new M1 giving life to the team. It is a "mobile" processor, with many quotes, but what you are going to be able to do with it is amazing.
It is, in short, the most important iMac redesign in ten years and it is something that is very good, but there are some questions that need to be resolved such as "is the new iMac worth it?" "Do I buy it as a home kit?" "Is it worth it for a video / photo professional?" We will try to give an answer in this review.
| | |
| --- | --- |
| | iMac M1 2021 |
| Dimensions | 54.7 x 46.1 x 14.7 (bottom of base) cm | 1.15 cm thick |
| Total weight | 4.5 kg |
| OS | macOS Big Sur |
| Processor | M1 |
| GPU | 8 cores |
| RAM | 8 GB |
| Storage | 256 GB |
| Screen type | 23.5 "IPS | 500 nit brightness | True Tone Technology | P3 range |
| Screen resolution | 4,480 x 2,520 pixels | 218 pixels per inch |
| Wireless connectivity | Wi-Fi 6 | Bluetooth 5.0 |
| A / V data connectors | 2 Thunderbolt 4 | 2 USB 3.1 Type-C |
| Feeding | External power supply with Ethernet |
| Price | 1,669 dollars |
Although the apple falls, it is still unique
We usually start our analysis by talking about design, but this time it is almost more important than usual. And it is that, we must applaud the team of Apple designers because, finally, they have removed the apple from the front. 
Apple is one of the first brands that opted to eliminate the reference to its products on the front since you, as a user, already know that you have bought something from Apple. The important thing is that whoever was in front knew it. Apple users are "walking billboards," so to speak.
However, the apple on the front of the iMac was reluctant to fall, but it is finally ripe and has disappeared from the chin. Still, we have a design that is recognizable. "It's an iMac" and I know that I have bought it, but anyone who sees it in a store both from the front and from the back will know it, where the apple is.
It is not easy to have a recognizable product without a logo, but Apple has succeeded and yes, congratulations to the infamous chin. The whole computer (speakers, heatsink, processor, storage, RAM, etc) is in the chin and, not without reason, some of us think they could have made the equipment thicker to hide those components in the back and eliminate the chin.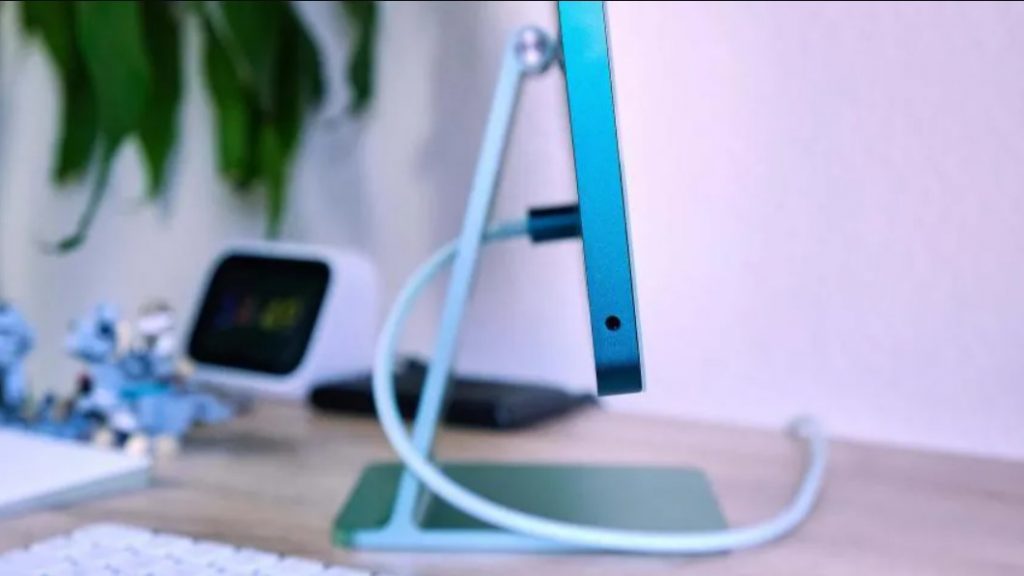 However, if I did, the iMac would look like a Windows all-in-one or monitor, and it's not really what Apple wants. In addition, it seems to me a sterile debate because we are talking about an after-dinner table and the chin, from the first minute, does not bother at all.
And yes, I already said that it would not bother me if it were something thicker, but neither does the chin and, in addition, it gives a touch of color to the room that comes in handy. My model is green with a more pastel tone on the chin and a more intense green on the sides and on the back, made of aluminum.
The peripherals come in that color to match, as well as the cable and some trim on the box. Apple takes care of the details to the millimeter, but here they have been exceeded. And yes, the colors depend on the version (the "Pro" or the standard with the 7 GPU cores), something that is also very Apple.
It is a really beautiful computer, which attracts attention wherever you put it and it looks very good on any desk thanks, curiously, to that thickness of only 1.15 centimeters that is not usual.
It is so slim that the headphone jack port has to go on one side, on the left, since the 3.5 jack itself is thicker than the iMac and cannot be located on the back. What we do have on the back are four USB-C ports (two Thunderbolt 4 and another two 3.1), as well as the power button and the proprietary power connector.
And stop counting, since yes, it is very good to eliminate cables and work only with the current, but in practice you are going to have a USB-C dongle hanging from the iMac to be able to connect a memory card or a USB- TO. It's not operational to begin with, but it's not fancy either. Although good, if you are MacBook users it is something you will be used to.
That power port also transmits a signal and in the case of the most expensive model, the one with four USB ports instead of two, we have Ethernet input at the source itself. This does seem great to me because we are going to feed the iMac with light and internet with only one cable, since the RJ45 goes to the external source.
We don't see air intakes either, since, well, there aren't. In the lower strip we have a honeycomb design with different perforations that are air vents in the most central part and sound exits at the ends. 
This is a guarantee because, although the fans have not been activated more than a few times during these weeks, it does not passively get dust inside.
It was a necessary redesign not so much at a functional level as a brand image, but if you ask me, I think they have nailed it. Of course, in addition to having more ports, it would have put a glass with oleophobic protection on the chin, since the fingers are very easily.
A panel that literally shines
The design draws attention, but when we turn on the equipment, the screen is the one that captures all the eyes.
It is, in short, one of the best screens that we can find right now not only for its brightness, its uniformity or its resolution, but also for the color profile, True Tone technology and automatic brightness.
We are talking about a panel that Apple does not detail, but that due to its characteristics, viewing angles and color, we could say that it is an IPS, and one of the well calibrated ones.
There are no light leaks and the panel is 23.5 ". This is very interesting because the size of the front is the same as that of the 21.5″ iMac, but gaining some diagonal in the case of the new model.
The bezels are white and it is something that, in particular, has not bothered me and, in addition, the screen has a thin perimeter in black color that, here yes, I think it is expendable. And to get rid of what I don't like very much, I'm going to talk about the glossy finish.
Apple computers, except the MacBook Air of previous generations, have a glossy finish on the screen, a glass, directly, that protects the panel, yes, but that makes the reflections constant.
Here you are also going to find this and, depending on where you place the equipment and the angle of the screen, you are going to have very, very annoying reflections.
That said, the good thing is that the brightness is quite high, 500 nits that, in addition, can be easily adjusted thanks to the keyboard control, but that we can also leave it on automatic so that the integrated sensor is the one that best adjusts the panel light. depending on the room you are in.
In addition, it also has True Tone technology, one of Apple's best "inventions" because it changes the tone of the screen to suit the ambient light. I recommend leaving this on because, in addition, it helps take care of your eyesight.
And the resolution is the vaunted 4.5K, which translates to 4,480 x 2,520 pixels with a total of 218 pixels per inch. It is a delight and it will allow us to see all the content from a few centimeters away without distinguishing the pixels. 
That, coupled with the P3 color gamut, allows photo and video professionals to be very comfortable working on this iMac M1. 
And, if it falls short, you can connect an external monitor with resolution up to 6K and 60 Hz through Thunderbolt 3. I think it is not the intended use for this equipment, but you know that it supports it.
The M1 continues to surprise, but be careful what you install
The biggest change in the latest batch of Mac is the SoC. From Intel and a 'traditional' architecture we went to an ARM architecture that, yes, is the day-to-day of mobile devices, but not of a computer.
Much has been said and written about the M1, which seems like the third advent and has come to be compared with processors like the more powerful Xeons, but in addition to being an unhelpful comparison, it is very relative.
The iMac is not a professional team, at least this model, so we are going to focus on explaining what we have done these weeks and how the M1 has surprised us, as well as the points where the SoC leaves something to be desired in the present.
Before that, however, I am going to put a comparison between the M1 of the 512 GB MacBook Air and that of the iMac 2021. It is the same SoC with 8 CPU cores and 8 GPU cores, in addition to having the same 8 GB unified memory, but with the difference of the fans.
The Air does not have and the iMac has two that, yes, have rarely been activated in my tests and use. We are going to put in the comparison the MacBook Pro of 2017 with a 2.4 GHz 4-core i7, 16 GB of RAM and with the 2 GB AMD Radeon Pro 555:
| | | | |
| --- | --- | --- | --- |
| | iMac M1 8 + 8 | MacBook Air 8 + 8 | MacBook Pro 2017 |
| Geekbench 5 multi core | 7,683 points | 7,725 | 3,532 |
| Geekbench 5 single core | 1,737 points | 1,732 | 895 |
| Cinebench R23 multi core | 7,800 points | 7,901 | 4,607 |
| Cinebench R23 single core | 1,499 points | 1,505 | 946 |
| BlackMagic SSD Test | 2,283 MB / s write | 2,857.7 MB / s read | 2,803.4 MB / s write | 2,735.9 MB / s read | 1,454.6 MB / s write | 2,185.8 MB / s read |
The results are obvious and we have a team that continues to demonstrate how efficient the M1 SoC is in both single-core and multi-core tasks. Apple tells us about four high-efficiency cores and four more powerful ones that are activated or deactivated when the system thinks they are necessary.
In day-to-day tasks such as the browser or a word processor, surely the inactive cores will be the high-power ones, but when the situation requires it (photo editing, video or some heavier application), the high-performance ones begin to shine.
The simplest tasks such as navigation, text editing, communication, classes, university assignments and even a video game (especially those within Apple Arcade) will go smoothly.
The integration of BigSur and iOS systems is interesting because, in addition, we will be able to install iPad and iPhone applications on the Mac to use Instagram, for example, on the computer, but when we start to demand, the M1 also behaves very well.
In the most of the video editions I have not noticed that the fans turned on, so I think that this thermal design is more intended for a more than possible M1X that will arrive in a few months, since I do not notice a real advantage between a design with and without fans.
And yes, I have been able to export very large videos, as well as work with HDR video files, but there are a couple of things that I must comment: the first is that I use Final Cut Pro, an Apple program very optimized for the M1 and everything goes like silk. When I have used Davinci… things change. 
We can work, yes, but the virtual memory starts to fill up quickly and there comes a point where the program crashes. This has also happened to me with Luminar when trying to work with about 20 RAW images in batch. The program creates 48 GB of virtual memory that is taken care of by the internal SSD and leaves a point where it crashes.
This also happened to me with Photoshop on the MacBook Air until it was updated to M1 and the reason is that the apps that are not native to the new processor run in a compatibility mode thanks to the Rosetta 2 system.
This is something totally transparent for the user: when we start an app that is not native to the M1, the system asks if we want to give permission for Rosetta 2 mode and, once we say yes, it does not ask us again with other similar applications.
I don't want to say that in all non-native M1 this happens from virtual memory, since in Capture One, for example, it does not happen, but if your workflow includes Davinci, Premiere or non-native heavy apps, you have to think about it.
And there is another thing to keep in mind. The base model's memory is 8GB and is unified. This will not matter to you if you are not going to use heavy or video editing apps, but if you are going to use these more demanding applications, even Final Cut no matter how optimized it is, I recommend 16 GB.
With 16 GB the system will be more comfortable , it will use less virtual memory and that will favor a longer useful life of the SSD.
In fact, if you are short of money, I recommend you buy the iMac with 16 GB and 256 SSD, since this can later be expanded with an external SSD via Thunderbolt.
Ready for the new normal
With the new iMac came a new 1080p camera and a new three-microphone array.
It is a change that should have come sooner because the Mac cameras and microphones were quite mediocre, but they come at an appropriate time for the "new normal", the one in which we are going to work, meet with friends and colleagues in remote and in which we need good image quality, but better audio.
The microphones have a good gain / noise ratio and also the location seems appropriate to me : two on top, just above the camera on the side, and one on the top rear.
I think that the movement is demonstrated by walking and, although the data is very good, the best thing is that you see how the iMac 2021 behaves in a video call. We did several live shows in June using the iMac and here is one of them:
The image resolution is not the best, since here it also depends on the size of the sensor, the streaming programs, etc., but the skin tone is adequate, which leaves the ISP of the M1 in a good place.
The best thing, however, is the microphone system, since they pick up a very warm sound and we did not find micro-cuts in any of the live shows we did. My colleagues listened to me perfectly and it is something that is recorded in these videos.
And yes, both in the resolution of the camera and in the processing of image to respect the tone of the skin and in the quality of microphones, the iMac has made a significant leap.
Regarding the sound, it has six speakers that behave really well. The sound is very warm and with powerful bass, as well as defined midrange and treble that will allow us to enjoy multimedia without any problem.
The volume is lower than that of the iMac Pro, but for a living room of about 25 square meters, which is where the iMac has been, it is more than enough and I have not had to raise it to the maximum out of necessity on any occasion.
Excellent keyboard and mouse when you get used to it (although you will remember Johny Ive)
The iMac is sold, in any of the models, with a keyboard and a mouse. They are the same peripherals that we have been seeing for years in iMac, but here we have the distinction of the color note depending on the chosen equipment.
They are simple peripherals, but they fit like a glove on macOS. The keyboard has a very compact size, practically 60% that has a good key travel and a good touch. It's like a good laptop keyboard, to understand each other.
It is charged using a Lightning cable (included in the box) and the autonomy is good. Also, depending on the iMac model chosen, it has TouchID. 
It is located in the upper right key and it is really convenient to open or change session with this system. It's like the Apple laptops, but it takes a bit longer due (I think) to the Bluetooth connection.
If we are in a session and we want to change to ours, we simply have to support the fingertip and we open our session, it's that easy.
The mouse is another story. It only has one button and we are going to have to get used to using gestures, touches and configuring some other system parameters to leave it to our liking, but once you get it, the truth is that it is very useful because it is a mouse, yes, but with certain functions of a Touchpad.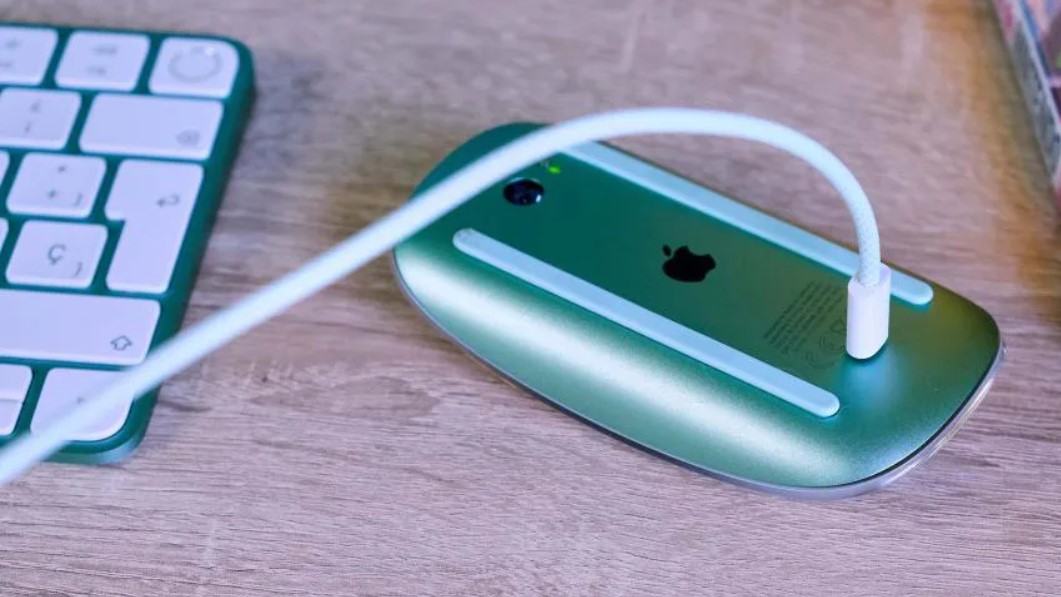 What I do not like at all is the loading system, since it is still at the base of the mouse. I still find it amazing that this charging design was approved which makes it useless if we forget to charge it and have to use it as it has to be like a beetle upside down.
It is true that autonomy is generous, but that this is maintained in 2021 is fireworks.
If you are clear about what you need, go for it
The iMac is a device that I do not consider to be for all types of users. It is a powerful computer, yes, but not enough to be the first option if what you want is a professional computer, especially if your workflow includes Premiere, Davinci or photography applications that do not have a version for the M1.
There we begin to see severe limitations in RAM that force the use of virtual memory, and it is not ideal since the life of the SSD, especially if it is 256 GB, suffers.
If you are going to edit in Final Cut Pro, edit photos in small batches and use the equipment as an office PC for studios or jobs in which the GPU is not the protagonist, even if the application is not native to the M1, you will be delighted.
It is a processor that can practically with what you throw at it, the screen is fantastic, the design attracts a lot of attention, it has good sound from both the microphones and the speakers and it is very, very energy efficient.
With 8 GB you will be left over if you do not edit video or photo, but if you want to be more sure and you hope that the equipment will last several years in good shape, I would buy the model with 16 GB. 
In fact, I have done the analysis with my 8 GB iMac… which has already gone back to Apple and I am waiting for the same model, but with 16 GB.
Either way, it is a renewal that feels like a glove to the team and that, above all, promises a lot for future models with new versions of the Apple Silicon SoC.