Xiaomi Mi Vacuum Cleaner Mini is lightweight cleaner needed for every household. Just over a decade ago we were solving the aspiration with a sled vacuum cleaner and so happy. The sector has evolved, with the convenience of robot vacuum cleaners as the main claim for less laborious home cleaning or the versatility of cordless models (also known as broom vacuum cleaners). Xiaomi takes precisely the latest format and gives one more twist for those who want a quick and easy cleaning with this Mi Vacuum Cleaner Mini, a pocket vacuum cleaner. We have put the Xiaomi Mi Vacuum Cleaner Mini to the test to see what we can expect from it (and what not).
Technical specifications of the Xiaomi Mi Vacuum Cleaner Mini
Dimensions
26.7 x 5.5 x 5 cm
Weight
500 g.
Tank capacity
0.1 L
Suction power and pressure
Maximum: 30 AW, 13 KPa
Standard: 8 AW, 6 KPa
Filter
HEPA
Drums
Standard operation: up to 30 minutes At full power: up to 9 minutes
What is in the box
Xiaomi Mi Vacuum Cleaner Mini, brush, flat nozzle, charger and manual
Price
$69.99
Design: Fancy a hot cup of coffee?
The first time you see it, you wonder if it's a thermos or a handheld vacuum cleaner. And is that while most vacuum cleaners of this format have a handle and a shape that reminds of a dustpan, Xiaomi's is a cylinder of approximately one liter of capacity for hot drinks. It is true that the handles are very comfortable to handle, but the fact that it is so compact and of a contained diameter has a similar effect: you can take it as if it were a thick flashlight.
It also has an extra, its dimensions make it suitable for storage anywhere, even in the glove compartment. And this is a great advantage because how lazy it is to remove the vacuum cleaner to vacuum, even if there is little to vacuum. Being so small we can leave it handy and use it at any time.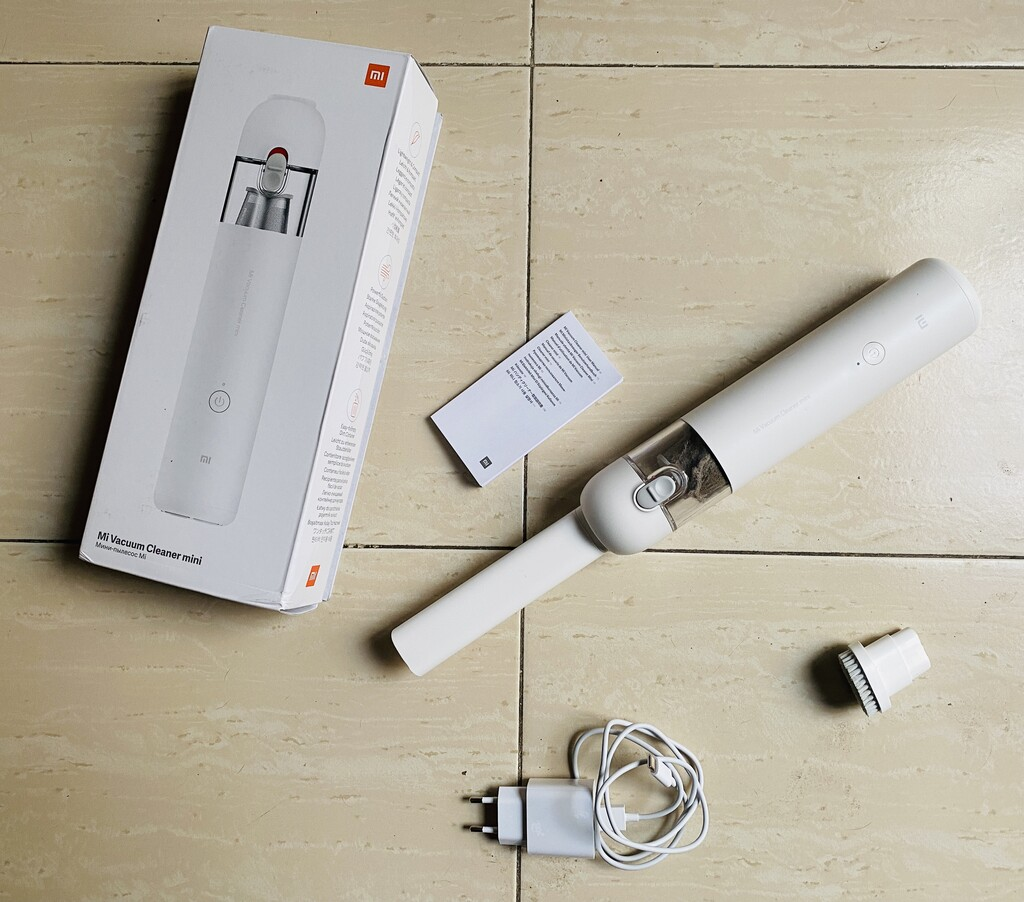 The box is also the smallest and in it, in addition to the vacuum cleaner, we will find:
Cable and charger. That it is powered through a USB-C port has a double advantage. On the one hand, the cable and charger help us to charge compatible devices such as tablet or mobile and vice versa (the charging speed is another matter), but we can also use the mobile phone to charge the vacuum cleaner
An elongated nozzle for corners and tight spots
Nozzle with brush , for places where in addition to vacuuming it is good to rub.
Manual in several languages included.
The Xiaomi Mi Vacuum Cleaner Mini is light and looks robust, with a minimalist aesthetic line with matte white finishes reminiscent of the Xiaomi Mi Handheld Vacuum and Roidmi F8 Storm of the ecosystem. In the upper part, the nozzle with the tank with a transparent cover that allows you to see how full your small tank is. On the body, a single button, and on the base the charging port.
Its handling does not have much mystery, since it only has two buttons : one located at the base of the tank that works by sliding to open it and another in the center of the body, which is the one we will use to turn it on. If we tap it, it turns on and starts sucking. If it is sucking and we press the button again, two things can happen: it goes into turbo mode or, in case of not having enough battery, it turns off.
A mini format that anticipates a "mini" cleaning
As we anticipated above, that it is so small is its main weapon, since it costs nothing to remove it for a quick cleaning. I admit that when I took it out of the box I was quite skeptical because at home we stain a lot and I also live with an allergic person, so not just any vacuum cleaner.
And I'm not going to fool you: it falls short if you want it for a deep cleaning of a sofa, mattress or car. It does so for two fundamental reasons: its suction power is rather adjusted, and although with the turbo mode you will notice a little more power, after five minutes of use in this mode it heats up uninterruptedly.
In addition, in less than 10 minutes in Turbo mode there is no battery left and with standard mode the battery is around 25 minutes, but it is limited to vacuuming very light things that are not attached, such as crumbs or hair.
Now, we do not always want to do a thorough cleaning … and this is where the virtues of the Xiaomi Mi Vacuum Cleaner Mini come out : those crumbs that have fallen on the sofa while you eat, the dust that remains on the baseboard , hairs on the ground, some sand that falls from the bikini when you come from the beach, etc. And stop counting: if you try to suck up thicker dirt (for example, a bottle cork shattered by a dog, I don't look at anyone), it gets stuck and stops.
We have even been able to give a cursory review of the entire sofa, where the brush nozzle comes from cinema. His is frequent quick cleanings , not deep cleaning for floors exposed to a lot of dirt such as a home with pets or children.
This Xiaomi Mi Vacuum Cleaner Mini is the ideal complement to a robot vacuum cleaner or the classic sled vacuum cleaner, two formats that either do not serve to clean objects or are difficult to pass.
Maintenance: open, dump, wash and go
As soon as the white LED that works for us starts to blink or red, it is necessary to go through the plug and charge it, something that requires approximately 5 hours, a considerable time taking into account the adjusted autonomy.
As your tank is extremely compact, it will often be full . Fortunately cleaning it is just as fast. Simply turn off, turn the vacuum cleaner to release the vacuum cleaner canister and slide the tab to open it. We dump it in the trash. If we want a superior cleaning, we can pull to extract its filter and put it under the tap. Before returning it to the vacuum cleaner, make sure it is completely dry.
Xiaomi Mi Vacuum Cleaner Mini, our opinion
The best thing about this Xiaomi Mi Vacuum Cleaner Mini is its size and accessories , which invite you to always have it at hand for a quick and superficial cleaning of hair, crumbs, sand and little else, which may be enough in small rooms or places that stain little. It is also very useful for those people who stare at you when you leave a chocolate wrapper on the table until you decide to throw it away (hi mommy) because they want their house clean 24/7.
Of course, by power and autonomy it is very far from the models without cable , although it does not intend to "fight" against this format in performance either. It is also noticeably cheaper than them. But they are also "only" $56. Yes, it is not a lot of money, but perhaps if we are considering buying a cheap vacuum cleaner to clean surfaces, it will be worthwhile for many to invest something more and gain in power and versatility with vertical brooms from also established brands such as Taurus, Bosch or Cecotec (to put it some). Haberlas haylas .
In any case, the Xiaomi Mi Vacuum Cleaner Mini complies in this scenario of fast and light use , acting as a useful complement to another vacuum cleaner that we already have at home.
Also Read | Apple iPhone 12, features: different in hand but more iPhone than ever