Later update of Windows 10 comes with new features & shortcut keys. This helps in improve of user experience. Windows-10 is adding new features and shortcut keys to it's windows 10 OS. The latest update of windows 10 comes with the given features. Every Windows users must know these tips and tricks. Following are some of the new features and shortcut of Windows-10 OS if you have just updated it.
New features of Windows 10
Below are the windows 10 new features that every windows users should know.
1. Snipping Tool Feature
Windows comes with new Snipping tool feature to take snaps of the screen you want in your way. The default Snipping tool is changed to Snip and Sketch tool with additional improved functions. You can use windows shortcut key to activate Snipping tool (Snip and Sketch).

2. Adding Emoji's Feature
If you feel difficulties in adding emoji's to your document or while chatting. Then windows default emoji feature is here for you. In windows latest update you can now easily add emoji by pressing
3. Using clipboard for multiple items.
We now can use clipboard to copy and paste multiple items from clipboard. That means we can store many items in a clipboard at once. Copy-Paste is the common daily task that is done in computing. Every user use this copy-paste functionality whether they use Windows, Mac or Linux systems. Windows now provides feature of pasting multiple items from clipboard. One can copy multiple items on clipboard then later paste them wherever required. This new feature is only available on new windows 10 update. If you cannot find this feature then you should first update your windows. To do that you have to press
Here I have copied some text from above, then our clipboard should look like this.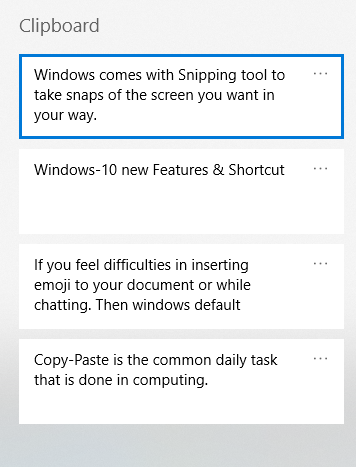 Now, you can select any of the text and paste it as you want. If you don't see this, activate this from setting.
You can copy or move items from one desktop to another. Copied items are available in all desktops. This will be helpful if you are working with multiple applications at once. If you close virtual desktops without closing applications then all the running applications will reside in default desktop.
4. Virtual Desktops Feature
In Windows 10, you can create two, three, or more virtual desktops and populate each one with different apps and windows. One desktop may house all your open Microsoft Office applications; another may house your Adobe applications; a third may house miscellaneous applications. You can create one virtual desktop after another, move an app from one desktop to another, and delete a desktop when you no longer need it. Now we can organize our open apps with multiple virtual desktops. To create virtual desktops go to
and click on New
5. Storage Sense Feature
The new feature of Windows about storage is storage Sense. New Microsoft updates cares about your storage usage. If your hard drive is getting full with junk files, unused apps, large files or desktop files. It even checks external drive for storage. We can take actions based on it's storage recommendations. The PC will automatically clean the residual files once the storage is full. We can manually free up space by running storage sense.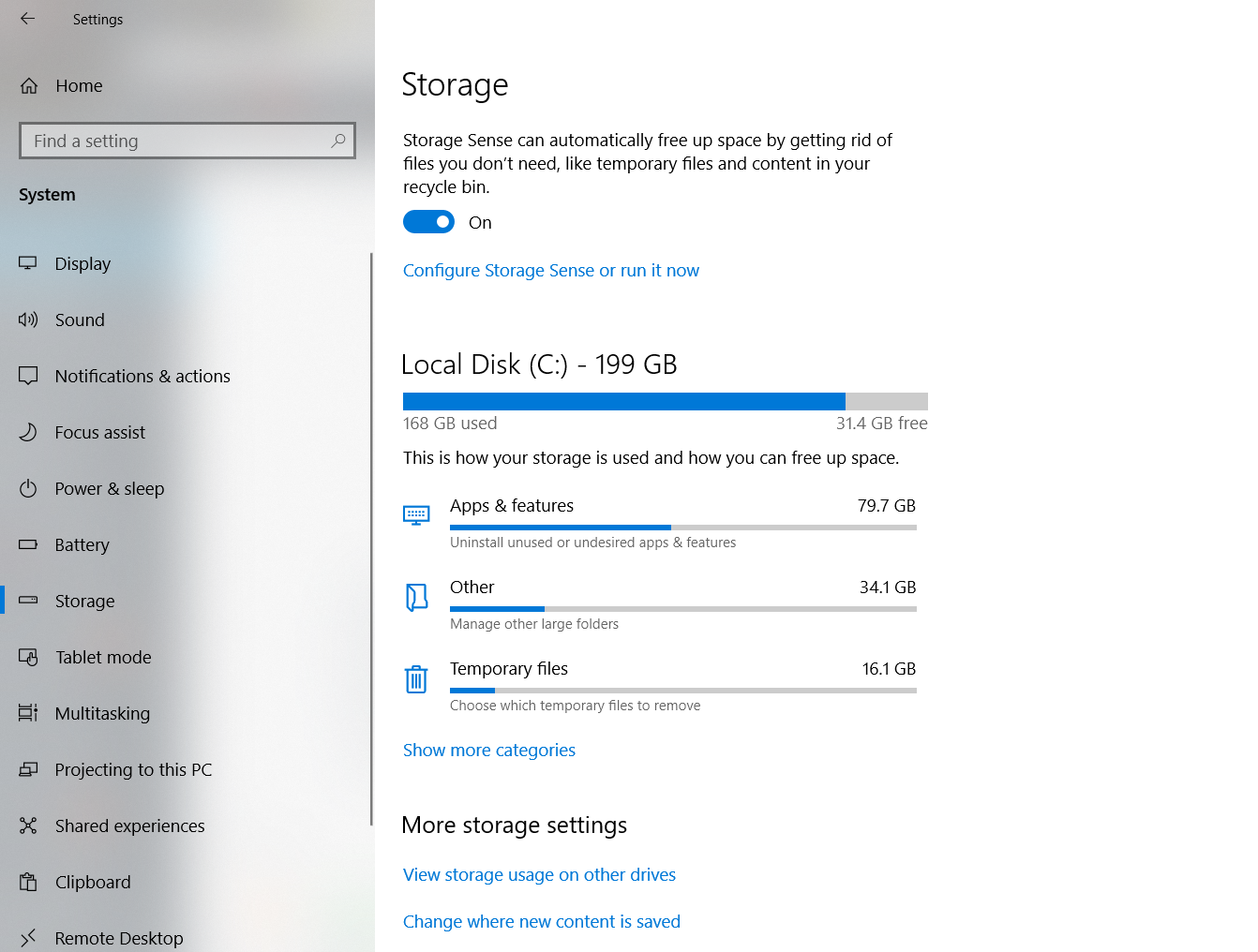 6. Activity Timeline Feature
Now you can check your past activities done in your laptop. Windows stores the history of your activities that you can view via Task View option from task bar. Windows 10 allows you to view your activity timeline by date and time. You can also search your document, app or website by typing related keyword in search bar that is available at top of Task View button. If you have multiple signed in or shared accounts connected, you can see other users activity. we can turn on/off which accounts we want to sync. To clear the activity timeline just right click on the activity and remove it. Cloud activities can be cleared via Microsoft website.
7. Dictate Feature
Windows 10 includes a new feature speech-to-text. We have to talk with with our PC and our voice changes into text. This feature speeds up our typing large paragraphs. If we feel boring using our keyboard pressing, then you can use this new feature. To turn on this feature just you have to press Windows + H key on your keyboard. You have to understand some of the commands these commands to properly give commands to your PC.
Commands
Activity
Select "word"
Selects specific word or phrase
Select that
Selects recent dictation result
Select the "next three words"
Select the "previous two paragraphs"
Selects multiple blocks of text
Start spelling
Stop spelling
Enables and disables spelling mode
Clear selection
Unselect that
Clear current selection
Delete that
Strike that
Deletes recent dictation result or selected text
Delete "word"
Deletes current word
Go after that
Move after "word"
Go to the end of "paragraph"
Move to the end of that
Moves cursor to the first character after specified word or phrase
Go after "word"
Move after "word"
Go to the end of that
Move to the end of "paragraph"
Moves cursor to the end of the text
Press "key"
Tap "key"
Supported keys: Tab, Enter, End, Home, Page up, Page down, Backspace, Delete
Comma, period
for punctuation ',' and '.'
8. Get (or give) tech help
Quick Assist is a new app in Windows 10 that enables you to receive or provide assistance over a remote connection. We encourage you to try Quick Assist for a more streamlined, easy-to-use experience.
Open Quick Assist
Select Start > Windows Accessories > Quick Assist.
Give assistance
Select Start > Windows Accessories > Quick Assist (or select the Start button, type Quick Assist in the search box, then select it in the results). Select Assist another person, then send the 6-digit code to the person you're helping. When they've entered it, select either Take full control or View screen. Select Continue and wait for the person you're helping to allow the connection.
Get assistance
Select Start > Windows Accessories > Quick Assist (or select the Start button, type Quick Assist in the search box, then select it in the results). In the Code from assistant box, enter the 6-digit code you were given, and select Share sceen. Wait for your helper, then select Allow in the window that displays.
Though Windows 10 dictation feature is great to us. It is not fully developed. We hope improvements will come on later updates of windows.
9. Find Photos Faster
Organize, edit and share your memories with Microsoft Photos. The new Photos app makes it fun and easy to enhance your digital memories. And if you liked making videos with Windows Movie Maker, you'll love what you can do with Photos.