Sometimes we may want to recover permanently deleted emails in gmail, then we can do with these tricks. Many times we are "bored" and we can delete emails from the Gmail inbox. Later, after a few days, we remember that there was an email on that day with such a document that we now need. We tell you how to recover it from the dead … deleted emails.
Deleting an email by mistake is more common than we think. The first thing is not to lose your nerves since even if we have eliminated it, we can recover it, but there is a small letter that should be known.
To bring that email back it must have been deleted in the 30 days prior to the search we are doing today, otherwise, we will have to resort to Google and for this we will have to give explanations and be clear with our instructions.
The process to recover permanently deleted emails in Gmail is simpler and faster than we might think and, as we say, all is not lost, but we have several emergency exits.
If we urgently need to recover deleted emails in gmail, the first thing is to take a deep breath and then follow the steps that we leave below:
We open Gmail and look at the left side panel.
Click on More and then on Trash.
Inside there will appear the emails that we have deleted in the last 30 days.
We look for the one that interests us and then we select the folder-shaped icon and then we choose where we want to move that mail.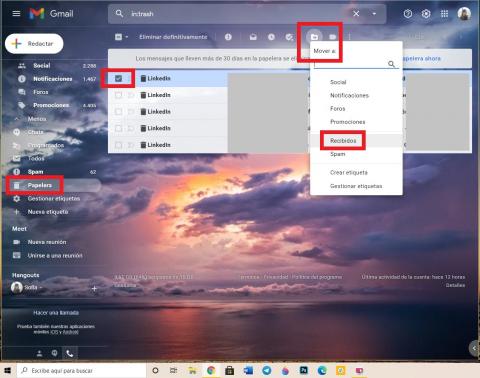 Recover permanently deleted emails in gmail
These steps work as long as the deletion of the email is recent, however, if the deleted email has been in the Gmail trash for more than 30 days, unfortunately the email will have been deleted forever … or not.
Messages that have been in the trash for more than 30 days will be automatically deleted , this is what can be read in the Gmail trash, but there is still a solution and it is the one that we have next.
Google has an email recovery tool that consists of a form that we have to fill out and where we have to be as precise as possible.
Google offers an extra 25 days to retrieve an email after it is permanently deleted, but there is no guarantee that they will consider our request or that they will locate our email.
Ultimately there are some tips that can be very useful such as prolonging the cancellation time of an action in Gmail, downloading the emails on our computer to have a backup, among others.
Also Read | Most used apps in Android and iOS