Apple has started deploying its M1 chip in its Mac mini. A team of $976 cannot be more powerful (in almost everything) than equipment several times more expensive. And yet it is. Welcome to a review of the Mac mini that uses M1 chip, a computer that is probably the "ugly duckling" of Apple's new family of computers. It can boast of an M1 chip, but not so much (or so visible) of one of the clear advantages of these revolutionary SoCs: energy efficiency.
That leaves the Mac mini theoretically at a disadvantage, but this analysis tries to prove the opposite: we are facing a compact desktop computer that is capable of leaving behind much more prepared PCs (theoretically). This little guy may seem simple and even small, but be careful, because he comes with sharp claws. Those on your M1 chip, of course.
Mac mini datasheet: welcome to the Apple M1, the first of a line
We are facing a spectacular renovation of the internal hardware of Apple equipment, and this Mac mini that uses M1 chip is one of the first examples along with those 13-inch MacBook Air and MacBook Pro that have also been chosen for the launch of the teams based on the ' Apple Silicon '(Apple Silicon).
As with the laptops that accompanied it at launch, this Mac mini stands out essentially for integrating the Apple M1 chip, a SoC based on ARM architecture that represents a radical leap for Apple laptops and desktops.
CPU
Apple M1
8 cores, 4 x Firestorm (most powerful), 4 x Icestorm (most efficient)
GPU
8 cores
NEURAL ENGINE
16 cores
MEMORY
8 GB of unified memory
Configurable up to 16 GB
STORAGE
256 GB of SSD
Configurable up to 2 TB
VIDEO
A monitor with resolution up to 6K at 60 Hz via TB3
A monitor with resolution up to 4K at 60 Hz via HDMI 2.0
AUDIO
Integrated speaker
3.5mm headphone jack
PORTS
1 x Gigabit Ethernet
2 x Thunderbolt / USB 4
1 x HDMI 2.0
2 x USB-A (USB 3.1 Gen 2, up to 5 Gbps)
1 x 3.5 mm
WIRELESS CONNECTIVITY
Wi-Fi 6 (802.11ax)
Bluetooth 5.0
DIMENSIONS
197 x 197 x 36 mm
WEIGHT
1.2 kg
PRICE
$669.99
In terms of connectivity, this minijack is accompanied by two USB-C ports with Thunderbolt 3 / USB 4 interface (Apple uses both names interchangeably, something that is perhaps a bit cumbersome), a 3.5 mm connector, two USB-A ports (USB 3.1 Gen 2), one RJ45 GbE connector, and one HDMI 2.0 connector.
Wireless connectivity is also served thanks to the Broadcom chip that provides both support for Wi-Fi 5 (802.11ax) networks and for Bluetooth 5.0 devices.
Here it should be noted that curiously the first start-up and start-up of the Mac mini M1 processor cannot be completed with a Bluetooth keyboard and mouse : we will need to connect devices via the USB cable or, as was my case, connect wireless devices with their own USB receiver. We had no problems with a Logitech mouse and keyboard connected via the Unifying receiver, for example.
Design: nothing new under the sun (or so it seems)
Many have been the criticisms that Apple has received with this first generation of equipment with the M1 chip in terms of design. The essence of all of them was the same: why has Apple not taken advantage of an internal revolution to also make an external revolution?
Those responsible for Cupertino have not commented on this, but it is likely that these first products are just a kind of spectacular initial salvo : one that serves to prepare us for everything that will come later, which by the way, it seems that it will be a lot and good.
We will then see if Apple actually gives a twist to the design of its equipment, but until it does – if it does – the truth is that there is little to tell about the design of the Mac mini , which maintain exactly the same exterior design of its predecessors.
We are facing a compact 19.7 x 19.7 x 3.6 mm chassis that weighs 1.2 kg and maintains that aluminum-based construction and is absolutely smooth in all visible part except for the logo of Apple on top.
At the bottom we find a circular plastic support foot, while at the back we find both the power button and the connection ports already mentioned in the specifications section.
The only element present on the front is the small white LED that indicates that the equipment is on, and in essence we are dealing with a device exactly the same – except for the connection ports – to what Apple already had on the market.
The differences, of course, are on the inside. And those are important, especially when we see how in reality the Mac mini could have been much more mini.
This is demonstrated by the exploded view that appeared a few days ago on YouTube and which allowed us to see how there is a lot of free space in that chassis, especially considering that the motherboard with all the components occupies a very small portion of the equipment.
That reality makes us think not only of the possibilities that are open to Apple in terms of new formats, especially in their desktop computers, and although the Mac mini is certainly not surprising on the outside, it does on the inside. Of course: there is also some bad news.
Many lights, but there are also shadows
Before going to the expected analysis of the team's performance we wanted to make an important stop. One in which to emphasize that not everything is good news in these unique specifications.
Thus, with this new approach, the ability to expand memory or storage is over. This was more normal to see in Apple MacBooks for a long time, but now the expandability of Mac mini, although it was not exceptional, disappears .
What you buy is what you will keep for the life of the product, so before you do, make sure that you will be happy with the configuration you choose, because there will be no going back .
This small tragedy -which may not be for many- joins another that does concern some users: in Mac mini, as in its launch brothers, we can only opt for a maximum of 16 GB of memory (not RAM " pure ", we insist, but UMA memory).
That might seem like enough to most users because it is, but there are certain scenarios in which PC owners want more leeway and would like to have 32 or even 64 GB of memory on these PCs.
That is not possible today with these Mac minis, but there is no reason at all to think that Apple does not prepare future members of its new family of chips with those 32, 64 or even more GB of RAM.
The same happens with the storage capacity: the SSD units integrated in these computers are not replaceable either, although here we are better covered with models that reach up to 2 TB and that therefore should meet the needs of most users.
The problem both in one sense and another is in, as we said previously, all these configurations are absolutely closed, and once chosen there will be no way to expand or change them except, of course, in the case that we connect external disk drives through the ports USB-C or USB-A from the computer.
There is a note -and never better said- striking in the equipment: the Mac mini has, like its version based on an Intel micro, a speaker , something that is somewhat surprising in a computer with these characteristics, but in reality maybe Apple could have saved: its quality is very poor .
In fact, it is out of step with the Apple tradition in the care of details, and although it can save us from some trouble, the sound quality is poor . Fortunately, in the Mac mini we have a headphone port that we can use to connect it to speakers or headphones (although in both cases we can take advantage of Bluetooth devices).
The connectivity section is interesting, but it has some drawbacks. The Thunderbolt 3 ports (which are two and not four, as in its 2018 predecessor based on an Intel CPU) are probably one of the clearest, because although they offer the ability to connect many devices that take advantage of their high width of band, eGPU boxes are not compatible with them .
Thus, it will not be possible (at least, for now) to connect an external graphics as up to now allowed the MacBook or Mac mini based on Intel processors, something that again distances these teams from the world of video games. The door is not completely closed for a future support of this type of accessories, but of course those who need this type of support will have to choose other alternatives .
In addition, the RJ-45 port offers support for Gigabit Ethernet networks, but not 10 GbE as with the Mac minis based on Intel microphones, another unique difference that can be important for certain types of users who, for example, want to use the Mac mini. as a file server.
Surprise: everything is exactly the same in everyday life with a Mac Mini with M1
During these last few weeks I have frequently used the Mac mini that uses M1 as if it were my work computer on a day-to-day basis. Although I have used Windows 10-based computers as tools for this area for years, I am very familiar with macOS: I also had a MacBook Air for several years, and this reunion with the Apple platform has been unique thanks of course to the M1 chips.
The first thing that makes it clear that you are facing a Mac is that traditional sound that the computer's speakers emit as soon as you press the power button . Unfortunately the quality of that speaker is, as we mentioned, very low in these teams and that makes one twist the gesture and wonder if it will be all like that.
Of course it is not. Not far .
MacOS Big Sur performs exceptionally well with the new Mac minis based on Apple's M1 chip. The response times of native applications (Music, Maps, Photos, Terminal, etc.) are instantaneous , including what is undoubtedly one of the star applications of any operating system, the internet browser, which in this case is, of course, Safari.
Like many other users, I carry out a good part of my work (and leisure) in front of a PC in a browser, and here Safari has proven to be fantastic . It is possible to install other options, and in fact both Chrome and Firefox have for a few days precompiled versions for the M1 chips in these Mac mini.
In the case of Chrome, that option between the precompiled version and the native version for the M1 chips appears when downloading the browser from the official website , but this behavior of the Google browser download will probably be unusual in the future.
In fact, some applications such as the Firefox browser already behave like universal applications: they integrate native code for both their new M1 chips and Intel CPUs. There is no "M1 version" and "Intel version" as such , because that application will work interchangeably on both architectures without problems.
The funny thing is that Apple does not seem to have any intention of differentiating those applications from each other. In almost no section does it do so – as we will see later – and of course the operation of the operating system itself does not reveal any concern for that detail.
The user does not have to worry, the Cupertino company seems to tell us, because the idea is that they never need to know if the application is prepared to take advantage of the M1 chip natively or not . This information is not necessary, because all the user needs to know is that the application works.
And the truth is that (almost) everything works .
That is actually the big surprise of the Mac mini and the MacBook Air and MacBook Pro 13 ". And perhaps the great disappointment for some who still expected something that would give away the new chip. Everything works as before.
That is not entirely accurate: everything works (much) better than before and there are more options in almost all sections (not all), but the important thing for the user is that everything remains the same .
You do not have to do anything special to continue using the applications that were used before , and only in a very specific case may there be conflicts with a tool that you use in your day to day life.
We have n't actually encountered any conflicts while using the Mac mini, but other independent reviews have made it clear that there may be problems. It is normal that there are, we believe, especially given the magnitude of this transition. And yet we have not experienced them.
Any user will probably have a hard time something really different in their day-to-day life compared to the "old" Macs. At best, you will notice that everything goes faster or that (in the case of laptops) the battery will last much longer doing the same thing as it did on your computer with Intel mics.
It is curious and, as we say, it may even be disappointing for some. So much revolution and nothing has changed? Neither the design nor the operation of the applications?
Actually it has, of course, but it is difficult for anyone to notice changes "in real time". Everything works as it already did, but as it does it faster and more efficiently, the benefits are seen more in the medium term: we "scratch" a few seconds off the clock in everything we do — launch applications, switch between processes, execute intensive tasks – and we will theoretically do more without realizing it, but we also do it without consuming so much energy.
This is a great revolution, but it is also a transparent and silent revolution . The latter, by the way, in more ways than one.
Mac Mini that uses M1: Silent as few, efficient as none
The Mac mini doesn't work like a MacBook Air or MacBook Pro and is always plugged into a power outlet to function. It can't boast battery life like those early M1 chip-based laptops, but what it can boast of is equivalent power efficiency.
In fact, the consumption of this equipment is surprising, as shown by several independent analyzes that reveal that the consumption of the Mac mini (M1) with intensive load is only 26 W: that consumption was 85 W in the Mac mini of 2018 . If you need a computer running non-stop and without the electricity bill skyrocketing, this is undoubtedly an excellent option.
This consumption also has an impact on another area that many users will appreciate: noise. Or rather the absence of him, because during these days that we have been able to work with him, we have never heard a sigh from a team that seems to have plenty in the field of refrigeration.
Even with high workloads during the toughest tests we did not hear the activation of fans that have never run at a speed that would allow us to perceive them. That seems to make it clear that the Mac mini seems to have plenty of room for maneuver to work even with high loads without suffering in dissipated temperatures and therefore without causing the fan to end up making noise that we can notice.
A whole world of applications at your feet
One of the most curious aspects when analyzing this equipment was its behavior with the software.
The challenge here for Apple was enormous, since an architecture change should be especially complex in the field of applications and games, but nothing could be further from the truth: practically everything works "without more", and except for the situation of iOS and iPadOS applications the solution proposed by Apple is really effective.
This solution consists of four different types of application, and we have been able to draw conclusions about each of them.
Native applications for the M1 in Mac Mini
First, the native applications precompiled for the M1. These tools are part of the comprehensive macOS Big Sur offering pre-installed on the Mac mini that have M1 chips in them, and unsurprisingly they benefit the most from the new SoC.
If you are users of that ecosystem to which the famous Safari, Maps, Mail.app, Music or Photos (among others) belong, you will be able to see how these tools are launched instantly and work especially smoothly.
But of course, there is a whole world of applications beyond those that Apple pre-installs as part of the operating system. This is where the App Store comes into play, which in macOS Big Sur takes on special importance because that is where we will find all the available applications, of which a fraction (still small) are available and precompiled for Apple Silicon and therefore for the chip M1.
The App Store does not identify which applications are available in precompiled version for the M1 and which are not. In fact, when we select an application we will not see clearly if it is precompiled for the M1 or not, and the only confirmation will probably be in the version history of each application, in which the developers may have included that data if it is indeed already an application " native "for the new Apple chips.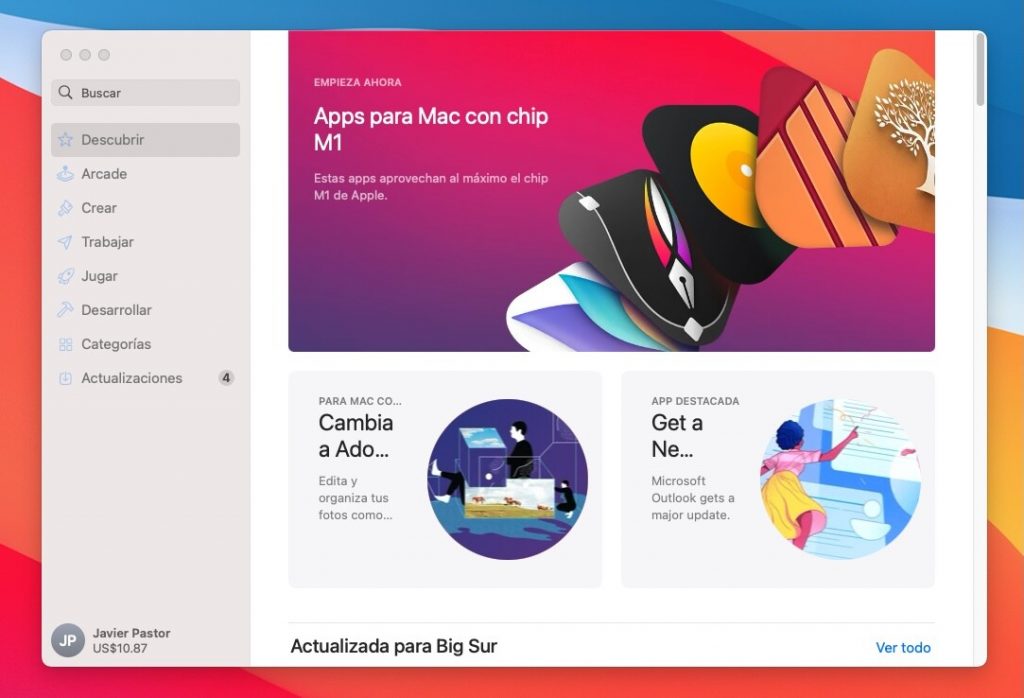 This happens, for example, in the case of Adobe Lightroom, where when accessing the version history, the confirmation appears that the tool already "works natively on computers with Windows ARM or Apple Silicon hardware."
However, there is no indication of that native support in that initial classification and when displaying search results. Yes, a special section has been created that is displayed right now when opening the App Store and that leads to a selection of applications that are precisely precompiled to work natively for Apple Silicon chips.
The selection is not particularly extensive, but it does have solutions that are really popular in the Mac world in various areas such as creativity (Pixelmator Pro, Adobe Lightroom, or djay among others), productivity (Fantastical, OmniFocus), development (BBEdit, Transmit 5 or of course Xcode), and others that Apple qualifies as "Essential" (Twitter, Instapaper, Magnet or Night Sky).
Intel Applications: Long Live Rosetta 2
Although the ideal would be that all the software was prepared to run natively already in these new Apple machines, the reality is very different, and it will take some time – Apple was talking about a couple of years – until the hardware transition is complete.
It is impossible to know how long the software transition will take, but it appears that developers are in much more of a hurry than in the previous transition from PowerPCs to Intel . We are seeing it with solutions such as Office 365 or Adobe Premiere Pro or Audition, which already have preliminary versions with support for these new Apple chips. It took both Microsoft and Adobe about a year to offer native binaries for Intel when the previous transition from the PowerPC platform occurred.
At that time Apple offered the Rosetta emulation layer so that users could continue to run PPC applications on their new machines, and now it has done exactly the same with Rosetta 2, which completely dismantles the old saying that second parts never were good.
In fact Rosetta 2 is quite a prodigy: we will only know of its presence the first time we run an application that does not have a native version for the M1 and continues to run with a precompiled binary for Intel microphones and the x86-64 architecture.
Although it is an integral part, it is important to point out that for the user the whole experience is totally transparent: one does not know for sure when an M1 or an Intel application is running , and the only signal that can tell us at first glance that data is the time that These applications take time to launch and run: binaries for Intel-based Macs take a few seconds to run, or at least they do the first few times we load them.
It is possible, of course, to force the execution of some applications pre-installed with Rosetta . It happens for example with Safari or Photos, but not with iMovie: when selecting the option "Obtain information" of these applications from the Finder, the box "Rosetta" will appear (or not) (again, nothing from "Rosetta 2") that we can enable to run those applications in "Intel mode." The only function of doing this is to compare performance with respect to the precompiled versions for the M1, but beyond that we assume that this option will end up disappearing in future versions of macOS.
Except for that detail, the "magic" of Rosetta 2 is that it seems that it is not there. We are running applications through an emulation layer, and that should make the applications slow.
The surprising thing is that they are not at all, and in many cases both our tests and other independent analyzes have shown that the M1s run Intel applications (under emulation, we insist) faster than the Mac themselves based on Intel microphones. It is simply amazing, and gives a good account of how the behavior of these applications is remarkable in most cases.
There will be scenarios where of course some users will notice performance losses or conflicts, but generally longtime Mac users will probably not notice anything and will be able to work exactly the same as before with a Mac with an M1. In fact, we insist, they will usually do better thanks to the power and efficiency of these chips.
It is evident that the performance is better when we have an application in a native version compared to an emulated one. We have a good way to prove it by running Geekbench 5 in Intel mode with Rosetta 2 or in M1 mode .
This benchmark offers both options to appreciate the differences, and the results shown in the table show how the execution gains integers in native binaries for Apple Silicon chips, but even in emulation the x86-64 binaries do not clash at all : those scores of Geekbench 5 on Intel are extraordinary and difficult to find on computers based on Intel or AMD microphones.
As we say, the only problem – to call it something – with these applications is that they take a little longer to launch , but otherwise it will be difficult for any user to notice that they are using a precompiled application for the M1 or for Intel.
Except for potential conflicts, which are normal in a transition of these dimensions, what the M1 and Rosetta 2 achieve is certainly spectacular . It is as if there is no change in architecture, in fact Amazing.
Apple Mac Mini, we have to talk about the iOS and iPadOS apps
The third part of the solutions that help make the Mac catalog more diverse than ever is the absolutely native support for iOS and iPadOS applications.
The M1 chip is a descendant of the Apple A14, and all Apple mobile device software works directly on Macs with these SoCs. That he does it, yes, does not mean that he does it well .
In fact, this is the most limping part of the software experience with M1-chip Macs right now. In the App Store, when searching for an application , we will be able to separate the results between those that refer to Mac apps and games and those that were created for iOS and iPadOS.
The installation of these iOS and iPadOS applications is straightforward and does not differ from what we could experience in macOS applications: it is as if once again Apple had no intention of differentiating some applications from others. That works quite well with M1 apps and Intel apps, but that's not the case for mobile apps .
In fact, the normal thing is that these applications do not work as one expects, but the fault here is not with the developers: they created these apps thinking of an iPhone or an iPad that is controlled with the fingers. Suddenly those apps have to work on laptop and Mac desktop screens, and do it with a mouse and keyboard.
This conflict logically makes many applications work erratically, especially since handling them with a mouse and keyboard can be a small disaster, especially in the case of games.
There are some that work great – my dear Tiny Wings – and others that are notably complicated because they are designed to be controlled with two hands taking advantage of the touch controls.
Apple here offers its so-called Tactile Alternatives (available from the Help section of these games), but none are especially effective in some games like 'Sky: Children of the Light', for example.
With applications, three-quarters of the same thing happens, and we even see a certain paradox here: why do I want iOS or iPad applications that do nothing more than replace fully functional web services ?
It happens with applications like Airbnb that have a functional version of iOS (but not 100% functional) and their web version, which certainly works much more naturally and comfortably when you want to use that service through a mouse and keyboard.
Here it is clear that there is still a lot of work to be done , both on filtering applications and games that cause conflicts and on developers, many of whom may want to seize the opportunity that these applications designed for mobile can now also take advantage of the power of mouse / trackpad and keyboard on Macs.
That also gives rise to another possibility: that Apple ends up adding touch support to the screens of the MacBook (convertibles at sight?) And who knows if (it seems much less feasible) to a monitor for the desktop. Considering that they already did the reverse in iOS and iPadOS by adding mouse support, we would not rule out such a possibility … just in case. If that option occurs, we would be facing a curious and surprising situation for the entire catalog of iOS and iPad OS applications.
Virtualization as a gateway to Windows and Linux
We also had the opportunity to test the benefits of virtualization in macOS Big Sur and these Mac mini. This fourth solution of this new software platform on Mac is the one that raises the most questions for the future because we still do not know what its true scope will be.
In fact, what we do know is that at the moment it is an interesting way to run Windows and Linux applications. Initially we did not test the Linux option although it was possible to do it in a somewhat "artisan" way, but we were able to test how Windows 10 (ARM) runs in a virtual machine through a version of QEMU specially compiled for the M1 as explained here.
The result is surprising, and although it is only possible to have a system running in Full HD resolution and the integration is not total, it is even possible to work with that virtual machine that can be configured to have an internet connection.
The performance of Windows 10 under QEMU ARM is surprisingly good , and we wanted to run the benchmark Geekbench 5 Also in this virtual machine to check performance. As you can see from the image, the result is not bad at all.
It is still too early to talk about the potential of this solution, but that even in this very preliminary phase it is possible to achieve those performances, it is very optimistic to see the future of solutions such as Parallels or VMWare, which are already working on native versions for the M1. that allow creating virtual machines in a much easier way.
Precisely in the last days of the analysis, Parallels announced the availability of a version of its virtualization software ready to work on machines with Apple's M1 chip. At the moment there is an important limitation: it is only possible to create virtual machines with precompiled operating systems for ARM.
We take the opportunity to create a virtual machine with Ubuntu Server , a distribution that has an ARM version. Installation is relatively simple, although this particular version of the famous distribution does not pre-install any desktop environment. Solving that is very easy by installing the 'ubuntu-desktop' meta-package, which brings us, after a reboot, to a fully functional Linux machine.
In this case we were limited by the available screen resolution (only 1,024 x 768) because the Parallel Tools that allow access to other resolutions are not yet compiled for the M1, but hopefully future versions will correct that limitation.
Except for that detail, the truth is that using Linux on the Mac mini is perfectly feasible . The performance is remarkable, as we could see in a quick test with the Octane benchmark under Firefox in that virtual machine, and of course the feelings are very good in that interaction with Linux in a virtual machine.
A spectacular performance
We arrive at what is probably the part that will most interest our readers, since it allows us to answer the question that many asked themselves with more or less skepticism about the launch of this family of chips and machines based on them.
Are they really that powerful? The answer is simple: yes, they are.
In the Mac mini it is not so easy to notice the other great asset of these M1 processors: their efficiency. The MacBook Air and the 13-inch MacBook Pro have shown in analyzes like those of our technoeager colleagues that their autonomies are outstanding .
In the Mac mini, the efficiency has no clear impact on the user because we always have it plugged into the power, but those who have analyzed the consumption of the equipment in other analyzes highlight how, even with high loads, the maximum consumption of the chip, as we mentioned before, It reaches 26.8 W, an absurd figure when we see how equivalent Intel processors have TDPs of 65 or even 95 W to achieve the same performance.
What we have been able to analyze is the performance of these computers, and for this we have used a series of benchmarks to compare their performance with that of other computers that may not be ideal in some cases due to price or hardware, but that precisely allow us to establish various landmarks.
In fact, we wanted to compare the performance of the Mac mini with that of a powerful recent MacBook Pro but still based on macOS, and also with equipment that by hardware and price should be in that line of performance and others that are different because they are desktop cigars and they can also be quite expensive.
The computers with which we have wanted to compare the performance of the Mac mini are disparate. The idea here was not so much to compare the new Mac mini with the old Mac mini – you can find great articles about it like this one from Ars Technica and the idea was to broaden the spectrum and see if the new chip can also compete with more or less similar proposals in price and performance (like the Acer Swift 3), but also with other alternatives both in the field of laptops and traditional desktop PCs based on Intel and AMD chips.
We wanted to intersperse these tests in various teams whose results you will see in some of the tests. Thus, the equipment used are:
MAC MINI (M1, LATE 2020)
MACBOOK PRO (LATE 2019)
PC "RYZEN"
"INTEL" PC
ACER SWIFT 3 SF-314-42
PROCESSOR
Apple M1
Intel Core i7-9750H
Ryzen 9 5950X
Intel Core i5-8400
AMD Ryzen 5 4500U
CORES / FREQUENCY
8 / nd
6 cores at 2.6 GHz (up to 4.5 GHz)
16 cores at 3.4 GHz (up to 4.9 GHz)
6 cores at 2.8 GHz (up to 4 GHz)
6 cores at 2.3 GHz (up to 4 GHz)
RAM
8 GB
32 GB
16 GB
16 GB
16 GB
GRAPHIC CARD
Integrated GPU (Apple M1)
AMD Radeon Pro 5300M
NVIDIA RTX 2080 SUPER
NVIDIA GeForce GTX 1070
Integrated AMD Radeon Graphics
PRICE*
$699.99
$1229.92
Approx. $2350
Approx. $1200
Navigating, which is gerund
Many of us spend a good part of our lives in front of the computer in a browser , and this scenario is therefore especially relevant when it comes to knowing if we can expect good behavior from a computer.
To analyze this section there are a good number of tests available in which capacities such as the speed of the execution of JavaScript code or also the ability to render content with more graphic load through these browsers are analyzed .
We have used several of these tests that in the case of the Mac mini we have repeated with various browsers available in native version but also using versions that we could activate in Rosetta 2 mode to find out what the difference in performance was between one and the other. Let us begin.
In Octane 2.0, Chrome curiously won the game over Safari, Apple's own browser. It did it with its native version, but in both cases the conclusion is the first indication that something strange is happening here: the M1 crushes theoretically well-prepared competitors , but even when executing code under emulation with Rosetta 2 the Mac mini can come close with Chrome to processors such as the Ryzen 5 4500U.
The JetStream 2 test combines a series of tests from both JavaScript and WebAssembly to try to evaluate how a system handles heavy browser workloads. The Mac mini once again surpassed them all, but it did so with Safari, a browser that Apple has prepared very well to meet the needs of the most demanding in this area. The MacBook Pro this time is not that far away, while the difference with non-native code is more notable.
MotionMark is a well known graphical benchmark that evaluates the GPU and tries to minimize the impact to pure JavaScript performance . The difference of the GPU integrated in Safari demonstrates that competitive advantage that Apple exhibits in certain scenarios in which it can fine-tune the performance of its software with its hardware: inheritance with Chrome and with Firefox 85 Beta (which performs especially well) It is surprising, but it is more so with the implementations of Chrome and even Safari on x86-64 architecture.
For its part, Speedometer runs a series of demonstration applications that try to imitate the actions that a conventional user would perform with a mouse and keyboard, but also runs a large number of jobs simultaneously. The Mac mini again clearly beat the teams with Intel processors, but there were also surprises with the performance of this benchmark in the case of Firefox 84 forced to work "in Intel mode".
Kraken is a JavaScript code execution performance test that was created by Mozilla and that measures browser behavior in various scenarios . It is the only one of the benchmarks used in which the result is evaluated according to the time it takes to run all these tests: the one that invests the least time is the best browser. Here the Mac mini with Safari running naturally (natively) once again crushed the competition, and even Chrome was in evidence against that power.
Geekbench 5
The developers of this benchmark have made it one of the clear references when comparing all types of systems and platforms. That is its charm, in fact: we can run Geekbench on Android and iOS mobiles, on tablets and of course on desktops and laptops , both those based on Intel or AMD x86-64 chips and the new M1 chips that also already have native version for this application.
The M1 is not the best in Single-Core performance, but we are talking about the cores of an SoC with a TDP of about 15 W (which can consume about 10 W more in high load) compared to CPUs like the Ryzen 9 5950X of 105 W or the 45 W Core i7-9750H which is the one that actually wins the game thanks to its large IPC and its ability to go up to 4.5 GHz.
In the multi-core test, more surprises for an M1 that only falls to the 12 cores and 24 threads of the mighty Ryzen. We have to remember once again that it is an absolutely unfair comparison , and a whole Mac mini costs 799 euros, while the Ryzen 9 5950X is priced at 849 euros on its own.
The Acer Swift 3, which costs precisely 799 euros, has a Ryzen 5 4500U and its performance in both tests is much lower , although it is true that it is a complete laptop and not a desktop PC (even if it is compact).
Cinebench is another good alternative to evaluate the behavior of a system because it tries to check how the cores of a CPU behave when rendering a scene in 3D.
Its multiplatform availability is again very interesting for our purpose, and Cinebench R23 has a native version for the M1 chips , but it is also possible to force its execution "in Intel mode", which allows us to see the difference in performance between both scenarios.
Once again the Mac mini proved to be exceptional in its behavior in this test and left behind all its rivals except in the case of the Ryzen 9 5950X with which once again the comparison is almost anecdotal for the price of this microprocessor.
The Ryzen 5 4500U behaves remarkably also in single-core mode, but things change in multi-core mode where except for the aforementioned Ryzen the M1 even dominates the MacBook Pro . For such a team to achieve this is simply exceptional.
Novabench and the surprise of the code emulated under Rosetta 2
Another of the tests that, like GeekBench, are available on several platforms and that allowed us to establish references and comparisons between this equipment with the M1 and equipment with Intel or AMD processors is NovaBench .
This application performs a series of tests that allow scoring the general performance of a system and also scoring specific areas such as its CPU, GPU, RAM or disk.
It is important to note however that the Mac mini here came out at a disadvantage, and with a very important one: Novabench does not yet have a native version for Apple's M1 chips , so all the results of these tests are especially remarkable for how the M1 behaves. emulating an Intel application when the rest can run it natively.
Still the data is spectacular: the Mac mini is almost as good as its competitors even emulating them through that build layer upfront that is Rosetta 2.
It is true that the PC surpasses it in global score and the MacBook Pro surpasses it in CPU (again the TDP matters) and RAM (32 GB compared to 8 GB of our Mac mini also matter), but look at the speed of that " RAM memory " , which thanks to this approach to the unified memory architecture of the M1 achieves transfer speeds much higher than those of its rivals.
The surprises occurred again in the graphics tests (in the MacBook Pro the dedicated GPU of AMD was not used but the one integrated in the Core i7 itself), and only having that GTX 1070 allowed the PC to so notably outperform the "Poor" GPU of Apple's SoC, which still comes out very gracefully in the test and leaves far behind, for example, the integrated GPU of the Ryzen 5 4500U.
The behavior in the disk tests is somewhat more erratic , at least according to this test, which returned somewhat strange (so different) read and write data for the two Macs. Once again we insist that the tool was running under the layer of Rosetta 2 emulation, adding even more value to what the Mac mini M1 achieves.
Graphics matter in Mac M1
The M1's CPU performs exceptionally, of course, but Apple itself has already noted that the jump in GPU performance is even greater . It is something that we wanted to verify in our tests, although it was somewhat more complicated since the Mac is not traditionally that machine to play on which we can measure performance in FPS nor do we have access to a large catalog of games.
However, we had the opportunity to test the performance of the Mac mini M1 chip in 'Shadow of the Tomb Raider' , a 2018 title that is available on macOS Big Sur thanks to Steam, although this Feral Interactive title uses CodeWeavers Crossover, es that is, the same WINE layer that is used to be able to play it on Linux.
This "trick" is already widespread in other developments that are available in macOS: they are actually PC games wrapped in layers of emulation , and there are not too many native games.
The 'Shadow of the Tomb Raider' results were shot in two resolutions, 720p and 1080p, with low graphic detail and no antialiasing , something that would otherwise make the game much more difficult to move by the Mac mini's integrated GPU.
Under these conditions the game gave in its internal evaluation test a rate of 27 FPS for 1080p mode and 45 FPS for 720p mode. Modest figures until we take into account that in addition to being achieved with an integrated chip, they do so with two layers of emulation in between : the one imposed by Crossover with the Windows executable, and the one imposed by Rosetta 2 to translate the code and make it can run on the Mac mini M1. Getting the game to still run smoothly on the Mac mini is almost a miracle.
After the test we played the game for a few minutes in 720p, low detail level and without antialiasing. It is true that the visual experience lags far behind many current PCs, but even so the game was surprisingly playable if we left aside the demand for graphic detail a bit. Taking into account once again everything that is necessary for the game to run and also that this is the first iteration of Apple's ARM chip for its PCs and laptops, things are promising.