It is, in fact, the best-selling games in history, with more than 70 million copies sold according to the data of a complex segment to deal with in absolute terms but in which there are certainly already legendary titles.
Fortnite has been the fashionable game for a long time, but if we talk about the number of copies sold, its predecessor, PUBG (PlayerUnknown's Battlegrounds), is a real mine.
Selling many copies is not everything in a world where Free-to-play has prevailed
It is important to remember that even though the PC is an important part of the video game segment, its contribution is lower than that of consoles. In 2018, the share of the PC in the video game market was 25%, which means that one in every four euros that users spent on video games went to titles available for the PC.
It lost some relevance compared to 2017, when its market share was 28%, but it is still one of the favorite options for gamers, and in fact the eternal debate of which is better to play – the famous PC Master Race, whether or not its protagonists are tiresome- it is always the order of the day.
Below we show you the best-selling games that according to the statistics have been the best sellers in history in the PC market, something that for example we have already done with the PS4, the Xbox One or the Switch. It is a difficult list to compile because many video game developers are not especially transparent with the number of copies sold , but there are also other factors that make the games included here are only part of the equation .
In fact, outside of it are some already legendary titles such as Fortnite precisely due to the fact that it is a Free To Play title, a philosophy that has conquered the market in recent years and that leaves the relevance of the copies sold in the background. to focus on that parallel revenue you earn – and do so at a frenetic pace – with purchases offered as add-ons to enhance the user gaming experience. But if we focus on copies sold as such, the best-selling games for PC are the following:
PUBG (42 million copies)
In 2019 alone PUBG has sold almost 5 million more copies, and that's not including in-store purchases , 'battle pass' revenue and other derived revenue.
PUBG may give the impression of being in the shadow of Fortnite and other great titles that are often talked about in this area, but the game is a real hit for its creators.
Comparisons with Fortnite are inevitable, and in fact the "piques" were clear since this other great success "copied" the Battle Royale mode with which PUBG was born. Many others ended up doing the same, but it is clear that Fortnite and PUBG are the clear references of a genre that was a success since its appearance in these two titles that despite their similarities have important differences. It has been the best-selling games over time.
Minecraft (33 million copies)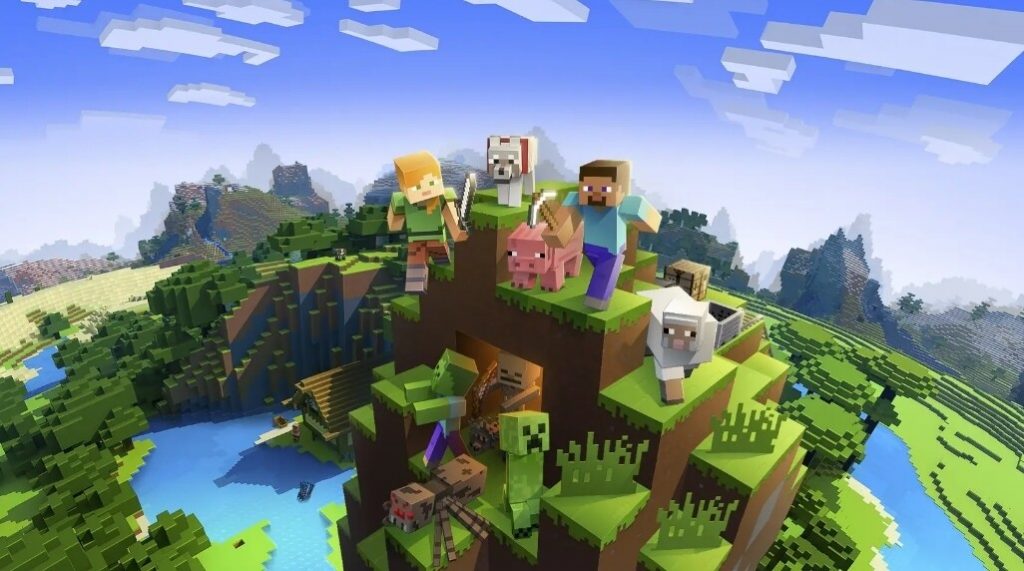 The sandbox of blocks is experiencing a new golden age: it became the great revelation of the world of video games when it appeared at the end of 2011, and its appeal to all types of players – including the smallest – soon made it a caramel in this segment.
So much so that Microsoft acquired Minecraft in 2014 and strengthened its legacy to definitively promote it.
According to some studies, it is the best-selling game in history if we count all the platforms for which it is available: in May 2020 it exceeded 200 million copies on PCs, consoles and smartphones , of which more than 30 belong to the PC world. Its active users are also legion: 112 million players enjoy it on one of these platforms every month, a really dizzying number that shows the success of a game that is already an institution.
Diablo III (20 million copies)
This benchmark of the RPG world that has been on the market since 2012 became another of Blizzard's successes as soon as it was launched.
There is no very current sales data, which makes it difficult to assess the current number, but in 2015 a combined sales of 30 million copies were estimated, of which 20 million would have been for the PC (although the version also contributes in this case for OS X ).
In recent times the franchise has announced the leap to mobile devices thanks to 'Immortal Diablo', which is not an adaptation or reduced version but is a complete game directly related to the saga . There is no set date for that release, although there are already some complaints from traditional players, who are in the mood for a 'Diablo 4'.
World of Warcraft (14 million copies)
One if best-selling games is World of Warcraft. careful with WoW that its creators have returned to their old ways with ' World of Warcraft: Classic ', a title that has just hit the market to recover much of the essence of that original 2004 title.
For many, including its players, WoW has transcended the entertainment world itself and has become part of our cultural heritage.
With the latest installment, of course, the tradition of a game that may no longer have the impact of the past is confirmed, but that despite this continues to conquer a very strong user base that is more aware of the game than we might think.
Terraria (14 million copies)
In May 2011, the developer Re-Logic launched 'Terraria' a really curious action-adventure sandbox that would be launched for Windows but would end up reaching a lot of platforms.
Its curious graphics, almost a tribute to 16-bit machines , caused a sensation alongside an original development that ended up being spectacularly successful.
In April 2020 it had 30.3 million copies sold on all types of platforms , of which almost half have been reserved for PCs based on Windows, Mac and Linux, systems for which it also appeared in 2015.
The Sims (11 million copies)
Another one of the great classics that they have been with us for practically their whole lives and that it is not strange to see on this list. It is one of the oldest on the list, and was released in February 2000 by Maxis and Electronic Arts.
Its initial success made both companies want to take advantage of the pull, and franchise spin-offs of all kinds ended up appearing, from expansions to repackaged editions.
In March 2015, the game already had 11.29 million copies sold for PC, although its success on other platforms has been even more exceptional, and according to EA, by 2009 it had exceeded 100 million copies on all platforms for the ones that appeared a game that has taken advantage of our appetite to simulate real life like no other.
StarCraft (11 million copies)
The segment of strategy games has been a true pillar of the philosophy of Blizzard Entertainment, which has left no opportunity to explore new fields to which to apply the principles of this type of titles.
With StarCraft they got it right very soon : the game, released in 1998, quickly became a bestseller, and indeed its legacy has continued to make StarCraft one of the best-selling titles in the world.
Like other titles of this generation, StarCraft and its military and futuristic science fiction proposal has given rise to a second part as famous (or more) than the first and to several spin-offs. Lately, StarCraft gives as much to speak for the game itself as for the ambition of artificial intelligence to surpass human players in this video game.