Scratch is a visual programming language for child focused on fostering creativity and logical thinking. Although any age is good to learn, children are ideal recipients for Scratch. By teaching them to use Scratch we are helping them to face and solve situations and problems of all kinds in a logical and structured way.
When we begin to teach a child to program in Scratch, the main objective should be for him to gain fluency and assimilate concepts, basic ideas and workflows on programming and computational thinking in a fun and attractive way, so that an interest and technical base is generated that encourages you to continue.
Benefits of children learning to code with Scratch
Scratch is a visual language developed by MIT which, based on blocks that are put together like a puzzle, is an easy way to learn about programming. But that simplicity of the interface or its color should not hide the fact that we are dealing with a very powerful language that supports large projects that can be achieved gradually. It is the most recommended programming language for child.
The use of Scratch encourages the development of logical thinking through the search for different solutions to a problem. By programming, the child is able to develop their ability to be more structured and organized in the management of resources and the use of tools that lead them to reach the resolution of a specific task.
It is also a fun programming language for child that is attractive from the moment they are put in front of the screen. Drag and drop blocks of color and grouped by functionality for immediate results. In the case of the little ones, it allows them to create movements, add sounds, change scenarios or create games in a simple way, helping to develop their creativity.
The recommended age to start using Scratch would be 6-7 years old, just when they start to read fluently. But if not, there is the Junior version in which, on the same basis, the language is purely visual.
How to get started with Scratch. Installation and first steps
Starting to have fun and learn with Scratch is quick, easy and free. The new version Scratch 3.0 leaves Flash behind and this allows that now we can use it in practically any current device without problems.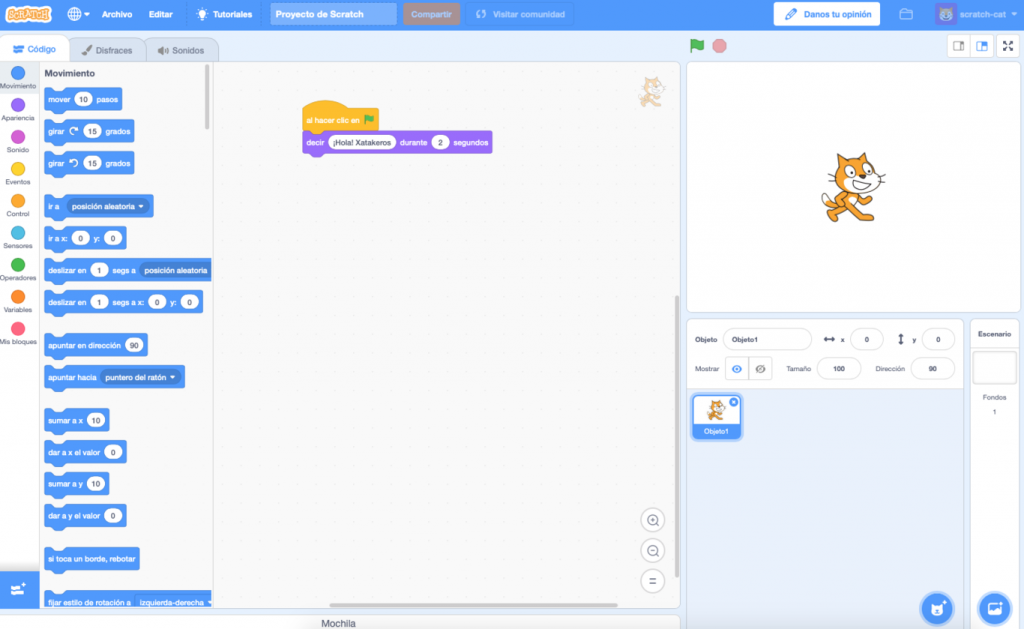 It works via web browser, so we could program or run programs made with Scratch on computers, tablets and even smartphones. Just go to the Scratch web address and get started.
If we prefer to use a local version that does not require an Internet connection, there are desktop versions of Scratch 3.0 for Windows, Linux and Mac operating systems.
Although to use Scratch it is not necessary to register, it is advisable to create an account for the child and so that they can save the projects they are doing. Or to continue with one that has already been done or that has not finished.
Registration is open and there are no minimum age requirements, but it is necessary to confirm the account with an email from the parent / guardian.
Although it is not essential, an interesting way to introduce the child to the world of programming is to start playing with kits and board games that help us introduce programming concepts such as loops, functions or simple instructions. There are highly recommended options to buy such as the Think Fun Robot Turtle, the Code & Go robot or Let's Go Code!.
An option that has little cost and that we can make ourselves are cards to prepare cooking recipes with ingredients and steps in card format, or simple printable grids to transfer instructions into actions on a board.
First projects with Scratch
Once we have the necessary resources and equipment, the most important and awaited moment of all arrives: start programming language with Scratch . At these young ages it is vital that learning is meaningful and also fun. If we get the child to learn Scratch while having a good time, we have a good chance of achieving it.
The ideal way to start programming language for child with Scratch is to learn based on challenges with games and small projects where children can unleash their creativity.
The MIT Scratch tutorials have always been a comprehensive tool for getting kids started with Scratch programming from scratch. They could start with the Scratch Getting Started Guide created by MIT itself.
With the new version 3.0 this resource has been strengthened and is now more intuitive, allowing practice while watching the video or animated images. In addition, they now include a teacher's guide and schedule cards associated with that specific project.
Once the children know the interface and some of the options, MIT offers simple projects associated with different areas and objectives. In these projects, children must freely modify the base project, modifying or adding elements according to their criteria.
Another recognized and video-guided resource is Hour of Code. Through short and even thematic activities such as the Carton Network, the child can have a short first contact about programming. Google, through its CSFirst project, also has guided activities with videos and lessons.
Although they are projects or guided games with a fixed structure that they must follow, it is recommended that the children themselves can make personalization decisions or trial / error tests with elements that do not alter the main objective of the programming exercise but that help them be more involved in their learning.
Another recommendation to teach Scratch to children is that we have new functionalities or improvements planned once the project base is finished. With this we continue to promote their creativity as well as learning at their own pace and personal, and the desire to improve.
In all these first projects we can resort to the so-called Scratch Cards, which are printed and given to the children so that they have a visual reference of actions or small step-by-step exercises with which to build more complete projects.
Videos on YouTube, books and online courses to learn Scratch
The videos and screencasts on the use of Scratch are a very valuable resource both for commenting and following with the children and for them to advance at their own pace in their own learning.
Its 22 introductory videos have the advantage that they have already been updated to the Scratch 3.0 interface. And they have a free online introductory Scratch course that we can follow. The BQ Educacion Scratch playlist is also a resource that we stand out for being very educational and fun to follow.
In ProgramoErgoSum we can find a section dedicated to Scratch, with text and video tutorials both to start and to deepen. In English, the YouTube tutorials from the MIT Scratch team are also highly recommended.
Another very useful application in the Scratch learning process is Dr.Scratch. This online tool is an analyzer for Scratch projects where Scratch projects are evaluated in relation to various aspects of computational thinking.
If we prefer paper, there are a large number of books dedicated to learning to code with Scratch. The levels of use are very varied, but to start with children, we would recommend Program your games with Scratch from the publisher DK, Super Scratch or if we dare to use English, the most current on Scratch 3.0: Coding for Kids in Scratch 3.
Join physical elements with Scratch, a good idea
When children already know the Scratch interface, the main blocks and have completed their first projects, it is a good time to further enhance their creativity with the help of physical elements that can be programmed using Scratch directly. The little ones will see that they can build robots with recycled materials or pianos using fruits, and later be the ones who decide how they should work.
The motivation to continue programming language for child with Scratch can be strengthened with the use of physical elements as few and directly programmable robots using Scratch
The Makey Makey board is a classic of physical projects that involve programming language for child with Scratch. The kit allows physical objects to be connected to a computer and when touched, they act as a remote control, joystick and globally, data input interface to a computer. On the product's own website there are numerous projects to program games in Scratch that work with Makey Make.
Another not very expensive board that supports programming with Scratch in version 3.0 is Micro: Bit. This small electronic board has been precisely designed to help children learn to program and be more creative using technology. It has an LED display, buttons and a motion sensor. It can be connected to Scratch and easily join the digital and physical world.
Right with version 3.0 of Scratch, another robotics kit that has gained direct and easy programming is Lego Wedo 2.0. This science and elementary school focused LEGO educational solution supports wireless programming, both using a computer and a tablet. Together with Scratch 3.0, creative, scientific thinking and problem solving are reinforced from a practical and real point of view.
If we want to go a little further and introduce children to more serious robotics, mBlock is a learning environment based entirely on Scratch and whose interface will not be strange to the child. Here you change the cat for a panda and add specific blocks to control Makeblock robots.