This is the guide to fix Windows 10 slow performance issues of your PC. If you feel that your computer, with the Windows 10 operating system, works slower than you want or that some programs have performance problems, there are various tricks that can offer solutions for better performance.
If your computer has a weak processor, if it is an old computer or if it has too many programs, it can run very slow. Another problem is that you may have certain applications that take up a lot of space. Some of the main tricks that you can carry out to solve typical performance problems in Windows 10 are these:
Uninstall programs you don't use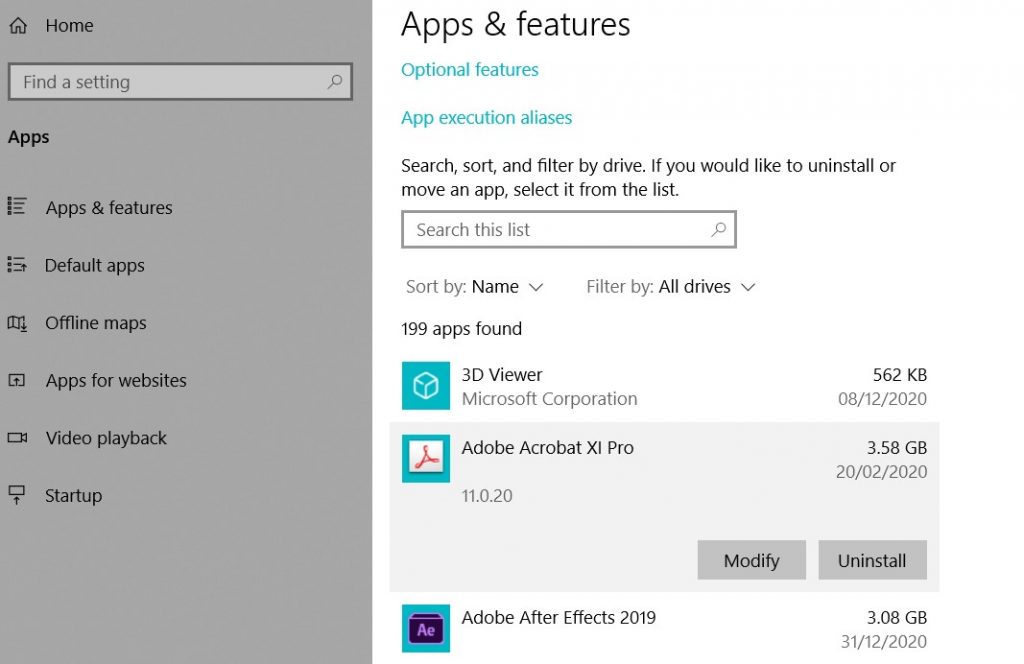 It is very important that you uninstall the programs that you do not use and that are occupying your space slowing down your computer. For it, Enter Windows 10 Settings, and in it click on the Applications option. There is a search engine to find specific apps, although you also have the complete list of applications installed on your computer.
Simply click on the ones you don't use, and in the options that will appear click on Uninstall to proceed to delete them from your computer. Of course, there are programs created by Microsoft for the basic functions of the system and other basic ones for the computer. So if you are not sure about an application, do not delete it without informing yourself.
Disable Cortana
The Cortana voice assistant can take a lot of capacity and resources from your team. Unless you put it to great use, you can disable it. How? If you have the Windows 10 May 2020 update or later, you will find that Cortana appears as a separate process in the list of applications at the beginning of the Task Manager.
Eliminating it from there is a simple way to increase the startup speed of Windows 10 and not have Cortana consuming resources from the moment you turn on the computer. You just have to press CTRL + SHIFT + ESC to open the Task Manager, click on More details, go to the Home tab, click on Cortana and then on Disable.
If you want to uninstall Cortana you can do it with a simple and single command from PowerShell. Open the Start Menu, search for "PowerShell" and click on "Run as administrator".
Look for alternative programs with better performance
Some Windows 10 proprietary programs such as the Photos application have a reputation for being Windows 10 slow performance. The Windows 10 Photos application allows you to view your photos, edit them, put filters, color, crop them, remove red eyes or draw on them. It also orders the images according to collections. Also, it is the video editing application built into Windows 10.
But many users complain about its lack of performance . With this program and many others there are free alternatives (also paid) that may be better for your needs and have better performance, taking up less space on your PC, such as XnView, Apowersoft Photo Viewer or Nomacs, among other alternatives.
Prevent your programs from opening when you turn on Windows
There are programs such as Skype, from Microsoft itself, or others that you can download as uTorrent (software to download) that are very common in users' computers, which open automatically when you start your Windows 10-based computer, making this startup process slow.
To speed up the performance of Windows 10, there is the option of deactivating the applications so that they do not open when the operating system starts to prevent the computer from starting slowly. To remove applications from the Windows startup, use the Windows Task Manager. To open Task Manager, right-click on an empty part of the Windows taskbar and choose Task Manager from the menu.
If you have opened the Task Manager in simple mode, click on "More details", where the Start tab will appear, where you must access, to find all the applications that are configured at that moment to start with Windows. The list includes many tools to check for updates and support applications for printers, graphics cards or sound cards. Disabling applications from Windows startup is very simple: select an application in the list and then click "Disable".
Turn off search indexing
Search indexing is one factor for Windows 10 slow performance. If you have some of the recent versions of Windows 10, you can disable content indexing. This Microsoft operating system has a search engine that allows you to find files and programs on your computer immediately. For this, the software has an internal indexing process carried out by the system itself. This greatly slows down the performance of the computer. The tool for this purpose has suffered significant problems with abnormal consumption of resources.
The Redmond company also has Indexer Diagnostics which arrived in beta in January 2020. Its purpose is to analyze the Windows file indexer and detect possible problems. Indexer Diagnostics, after carrying out an analysis of the equipment in question, shows how many files can be searched and how many recently added files have not yet been indexed and, therefore, could not be found by tools such as Cortana or Explorer.
If you want to disable this feature of Windows 10 to prevent it from running in the background, you have to go to the search box of the Windows 10 Start menu and press the button with the three dots in the upper right corner. Choose the "Indexing Options" feature to go to the Windows 10 Settings feature. Another way is to access Settings, click on Search and access "Searching in Windows 10". Choose the "Classic" option to stop the operating system from performing the aforementioned periodic indexing that consumes a lot of resources.
In Technoeager | Tips to increase download speed in Windows 10 unlocking all bandwidth