Browse faster with prefetching and compression of Internet content with free tools. We take a look at the beginnings of the Internet, when such tools dominated, and present alternatives that still do similar things today.
It usually surfed with narrow-band Internet technology. Fast DSL was not yet widespread, whereas dial-up and ISDN dominated. In contrast to today's flat rates, users do not pay a fixed monthly fee for their online sessions, but rather by the minute. The phone was blocked while surfing. The telephone set made strange noises until the computer was online.
The principle and advantages of shrink tools for online data traffic are the same today as they were in the past, but the advantages have become less important – they are still interesting: When less data flows from the network to your PC, the associated Internet presences are built up faster on.
The tools receive the components of websites for you, reduce the amount of data by compression and send the content back to you in hardly worse quality.Back then, faster loading times meant fewer minutes of surfing; You could go offline sooner and save money.
There are some software still births in this segment. We present such abolished applications to you here as well as current free tools, thanks to which you are faster on the net. An advantage in addition to the increased surfing speed (which is marginally noticeable today) is reduced traffic: This is currently at least moderately relevant on the PC, as volume tariffs for Internet access are obsolete.
However, if you go online on your computer via cellular network, a traffic reduction may still be welcome.
Free tools to speed up your surfing:
The classic: Google Web Accelerator
The search engine giant Google, meanwhile, also provider of a web browser, a co-developer of the Chromium source code and a provider of a DNS server and a CDN ( D omain N ame S ystem, C ontent D elivery N etwork), offers a range of techniques for accelerated Web Sessions.
In addition to what has been listed, this includes the Google Web Accelerator – at least it used to be. It is a program that was designed for broadband connections and was intended to increase their Internet speed. It was questionable whether users needed something like this with DSL, for example. The configuration of the tuning tool took place in the web browser.
The program intercepted internet inquiries from the user and forwarded them to a Google cloud computer. He took care of the data processing in the manner of a proxy and should bring speed increases thanks to various optimizations. The official download page of the Google Web Accelerator has now been taken offline. With a little research you can get the installation file from sources, installed from there, but the program remains ineffective after setup.
The Google Web Accelerator was a Google Labs product. The Google Labs are meanwhile closed; The search engine company bundled experimental products here. The web accelerator download was previously available from webaccelerator.google.com.
In a support document the group explained the exact mode of action: The Google Web Accelerator used several strategies for faster website loading processes. Page requests from client PCs were sent to the provider's server.
Although this only happened with HTTP and not with HTTPS connections, it was still problematic in terms of data protection law – because this would allow a detailed personal profile to be created. The provider stores (e) copies of frequently used websites in a Google cache; The Google Web Accelerator delivered these to its users, which should be done quickly.
Downloading page updates should only be necessary if something has changed on one page of the cache. The pre-loading of websites (prefetching) and the compression of data before sending it to client computers were added.
At that time, users of slower internet access technology than DSL – the little-known dial-up (remote data transmission) – may not feel any major improvements, according to Google, as the Google Web Accelerator is optimized for broadband connections.
The tuning tool only affected website visits, not data downloads from MP3s and video streaming. The system requirements were Windows XP or Windows 2000 Service Pack 3+, as well as Internet Explorer 5.5+ and Firefox 1.0+. Statistics could be called up on how long it would have taken to load websites without the tool, or how much time you saved.
Another classic: Opera with turbo mode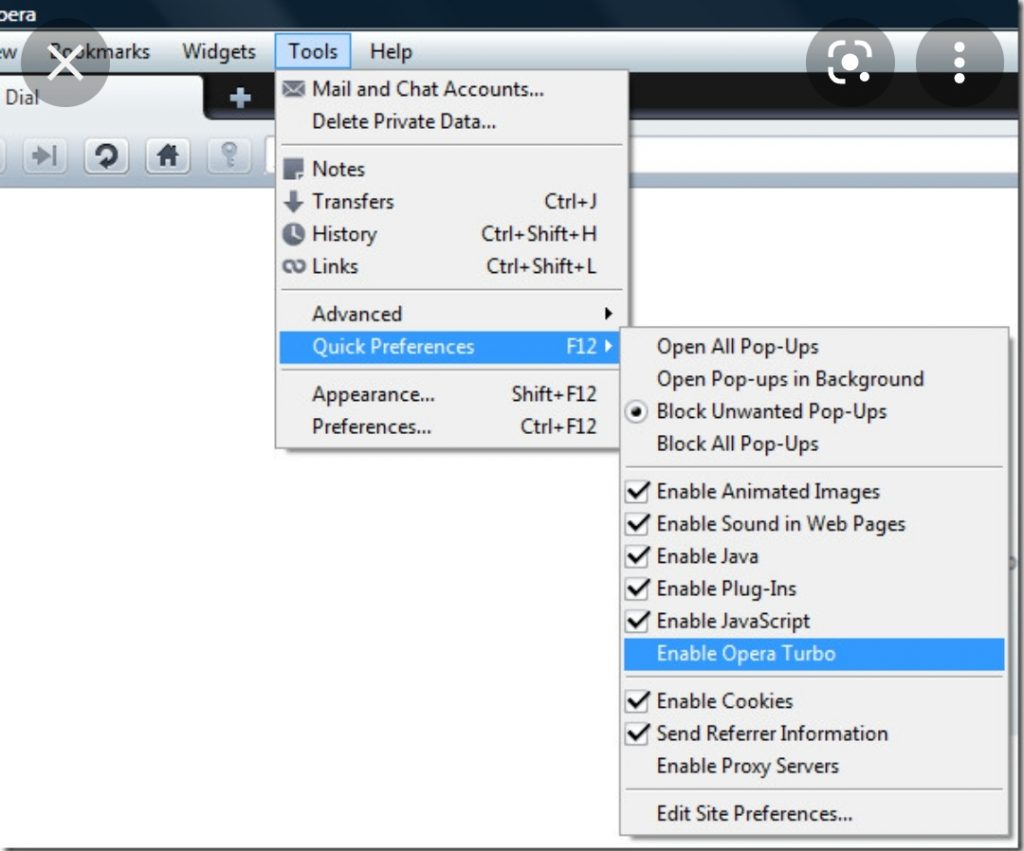 One of the user of the Opera web browser had to make do with the integrated VPN for anonymization or Opera Turbo, a proxy compression method? It was not intended to use both techniques simultaneously. Newer Opera versions no longer have the turbo function on board, so you only have to choose between the surfing types "Web use with normal IP address" and "Web use with VPN-related IP".
The official description on the internet was as follows:
The pages you visit are routed through one of our servers. The server identifies page elements that can be compressed. It reduces image pixels and corrects buffering. Then it sends these reduced elements back to your device."
According to the former help page, the Opera provider saw the purpose of using the WLAN in a cafe, which is slow due to the large number of users.
You can find more information about Opera Turbo in the article " Opera Turbo: Surf faster thanks to the proxy function ". There, the manufacturer answered a press inquiry about why it had abolished Opera Turbo. He goes into whether there are any plans to restore the turbo function one day.
And then there was the classic "OnSpeed" product
The paid software OnSpeed should get slow internet connections going . For 39.99 euros, users acquired a one-year right of use. According to the description on Amazon it is a "program that uses a compression process secured by unique patents to speed up your Internet connection up to five times".
The tool served as "a solution for millions of Internet users who are frustrated by the low speed of their Internet connection" and is "a real alternative to broadband". In addition to website visits, proprietary compression algorithms should make downloading e-mails faster.
According to the advertising copy, it felt like "you were connected to a broadband connection". Despite mostly positive Amazon reviews, the application did not work miracles. When DSL was significantly more expensive than it is today, OnSpeed ​​was an alternative that had to be considered.
1st alternative: use a modern browser
As an alternative to Google Web Accelerator and OnSpeed, you can use a fast browser. The currently denominated benchmark tests flottesten you have a Windows 10 licensees probably already know: Chromium-Edge .
Also, Google Chrome , Opera and Vivaldi (all also Chromium-based) rendering of house quickly. The clients do not turn lame internet connections into rocket connections, but they bring a lot of web content to your PC in a short time thanks to the modern HTML code interpreter engine Blink.
Compress images while surfing in real time.
You can try to browse faster with the Google Chrome extension Bandwidth Hero. The open source extension can also be used in other browsers based on Chromium source code. The maker of the additional program promises to reduce images when surfing by 50 to 75 percent. The compression service downloads an original image, converts it into WebP format and sends it back to the user's browser.
This is useful for 3G (where 3G / UMTS is currently being switched off by Germany's mobile network providers) and LTE, where the monthly data contingent for surfing at full speed is limited.
One disadvantage is that the extension can no longer simply be used: Due to the increased load and complaints from the ISP (Internet provider), the in-house data compression service was discontinued. According to information from the installed add-on, users can, among other things, host their own data compression service via the Node.js app on their own server.
Preload websites in Google Chrome
Faster Chrome takes up the prefetching aspect of the Google Web Accelerator or the discontinued Firefox add-on Faster fox Lite . According to the developer, the browser extension preloads websites with a 65-millisecond mouse-over on a link. If you call up such a cached page later with a click of the mouse, it should be available more quickly.
Compress images for upload to your own website
Do you run your own website and do you want to ensure that visitors can quickly see integrated images? You can minimize waiting times by uploading photo files that are compressed in their size. If you have no problem with a loss of quality, you can use tools such as TinyPic or The grandiose image reducer to achieve smaller volumes.